12 AFFORDABLE BOAT INTERIOR DESIGN IDEAS
When we first moved aboard, our sailboat interior was a mess and we didn't have the money to update it. We wanted to go cruising and our priorities were things like new sails, rigging, fiberglass repair, and electronics.
As much as I wanted a beautiful boat interior it was impossible to justify hiring an interior designer or updating the upholstery when we didn't even have a dependable bilge pump! Fortunately, I found some creative boat interior design ideas and was able to makeover our sailboat for next to nothing.
In addition to sharing our boat interior restoration ideas, I've included my favorite boat interior photos from Pinterest and Instagram to further stoke your inspiration!
A quick note that this post contains affiliate links (so if you purchase through a link we'll earn a small commission). The opinions are our own.
1. START BY DEEP CLEANING
As un-fun as it might be, a deep clean is the cheapest way to radically brighten your interior. It's especially affordable if you use homemade boat cleaners. Dirty boat upholstery, mildewed cabin liners, and salt-encrusted hatches made our boat feel damp, dark, and generally unpleasant.
Deep cleaning (after years of neglect) drastically improved the boat cabin's appearance and gave me a better idea of where to focus our boat interior makeover.
Professionally launder your upholstery
Wipe down the cabin liners with vinegar to prevent mildew and mold
Wash hatches to maximize natural light
Clean under all the cabin soles and the edges of any rotting boards
Wash the walls and treat any wood with the appropriate wax, oil, or varnish
Scrub out the bilge to prevent that boaty smell.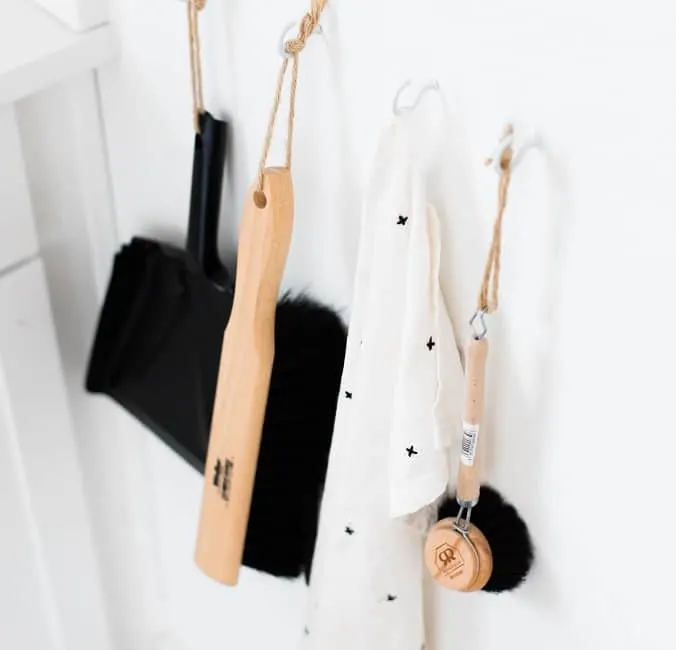 2. INSTALL INTERIOR BOAT LIGHTS
One of the great challenges of sailboat interior design is lighting. I've always felt that living on our sailboat is like living in a basement apartment because it is totally lacking in natural light!
One of the quickest ways to brighten things up is to install marine LED lights. The key to making LED boat lights look great, is placement.
You can avoid buying expensive interior light fixtures by using LED strip lights (a.k.a. LED rope lights). Not only are they inexpensive, there are SO many places you can use them on a boat. Buy a roll, cut them to whatever length you need, and stick them anywhere (they're adhesive-backed so it's simple).
The 3 best places to places to put LED strip lights on a sailboat
1. Under counter lighting. They look especially nice under cupboards or overhangs because the light strip is hidden.
2. LED rope lights make great courtesy lights. Tuck strip lighting on either side of a walkway to help guests navigate in the dark.
3. Between panels or around hatches. LED strip lights don't look good floating mid-wall. If you tuck them in around a natural border like a panel or hatch, it looks much tidier.

Battery operated fairy lights look cute coiled in a jar of seashells and are another easy way to add decorative lighting because no wiring is required. For the same reason, Solar Luci lamps and Solar Luci strings are a great option for lighting the cockpit.
3. COZY-UP TO NEW BEDDING
Ditch those damp cotton sheets and invest in hydrophobic options like 100% polyester. If you have a vberth, quarter berth, or non-standard sized bed, you may want to spend a few extra bucks on custom fitted boat sheets.
I know many cruisers who swear by memory foam mattresses and the Hypervent mattress pad for preventing condensation. If you like duvets and comforters, consider a mulberry silk option because it's mold and mildew resistant.
Get Embed Code

4. FRESHEN THE HEAD
Add a splash of color to a dark bathroom with cheerful microfiber towels, Or, if you don't want to feel like you're camping, try the more luxurious quick-drying Turkish towels.
Tie them in with a cute wall-mounted soap dispenser and a spill-proof whicking air freshener and you're on your way
flove.
5. GO GALLEY GOURMET
6. BOAT INTERIOR UPHOLSTERY IDEAS
Reupholstering a boat is the single most expensive part of a sailboat interior refit but it makes a huge difference. It costs thousands of dollars if you hire someone to do it. Fortunately there are a few tricks we used to avoid a full upholstery overhaul.
Fun throw cushions and blankets can give your interior new life (and cover stained or threadbare upholstery)
Packed out seat cushions can be easily fixed by inserting a layer of high-density foam and batting on top of the existing foam.
If your upholstery is in really bad shape you may want to sew elasticated cushion coverlets that go over the top side of the cushion (it's also a good way to protect nice new upholstery from boat projects (see: dirt, grease, and sweat stains).
You can reupholster your boat for a fraction of the cost if you do the sewing yourself. It's possible to score good deals on durable materials and marine-grade fabrics online. Also, if you're not a sewer but you're going cruising, you may want to bring your boat interior fabric with you and have the cushions sewn up in a place like Mexico or Fiji. We eventually had all of our saloon cushions sewn up for $100 USD in Ensenada, Mexico.
If you choose to reupholster your boat, look for boat interior upholstery fabric. You don't have to worry (as much) about finding a waterproof or UV-resistant fabric (because it will be inside). However, always choose a synthetic fabric, heavy-duty nylon thread, and plastic zippers. Cotton will eventually rot and metal zippers will rust. You can get away with not using marine upholstery but natural fibers are a big no-no!
If you're concerned about resale value, choose "safe" neutral tones for your upholstery. You can always experiment with different colors in your decorative cushions and blankets. A light color will do wonders for brightening your interior space, but it's a lot more challenging to keep clean. Having lived with both light and dark upholstery on a boat, I would probably opt for a mid-toned neutral upholstery fabric.

7. CUT A RUG
Depending on the state of your cabin sole, it may be possible to refinish it – but be warned, it's a big job and results are not guaranteed. A practical solution is to cover worn cabin soles (and prevent further wear and tear) with cheerful boat-friendly rugs. Don't forget to add slip-proof matting underneath and ensure your rugs are secure underway.

8. LOVE YOUR WALLS
Securely fasten art, photos, and souvenirs to your walls. Mirrors are great for creating the illusion of space.
Privacy curtains are also a good way to add a splash of color and are straightforward to make
9. WHITEN AND BRIGHTEN YOUR SAILBOAT INTERIOR
Painting panels in light colors can brighten and modernize a boat cabin and set off teak trim. We repainted our red and blue fiberglass bathroom white and it made the space feel much bigger. It also makes it easy to clean because you can see the dirt.
10. STOW SIMPLY WITH CUTE STORAGE SOLUTIONS
Boats are always short on storage space but a few decorative baskets and storage containers can really improve the look of the space while giving you more room to tuck things away.
11. FUN AND FUNCTIONAL WINDOW COVERINGS
The interior of a boat is usually function-first – after all, you can't go sailing if you've got souvenirs and ornaments cluttering up every surface. However, window coverings are a great way to personalize your space and incorporate your color scheme. Choose a material that gives you privacy and keeps out the sun, but otherwise, be as creative as you like. If you have a sewing machine and enjoy DIY, boat curtains are very easy to make.

12. CHOOSE A FUN FEATURE
Let your imagination run wild. A feature wall, table, or piece of artwork can really change the feel of a sailboat interior. Have fun with colors, patterns, and make your new floating home your own.
If you're still feeling overwhelmed about revamping your sailboat interior you may want to consider hiring professional help. There are plenty of interior designers who would welcome the challenge of working on a boat! Look for someone who has experience designing for small spaces and tiny homes.
We hope you enjoyed this list of custom boat interior ideas…
GOOD LUCK WITH YOUR SAILBOAT MAKEOVER!
Fiona McGlynn is an award-winning boating writer who created Waterborne as a place to learn about living aboard and traveling the world by sailboat. She has written for boating magazines including BoatUS, SAIL, Cruising World, and Good Old Boat. She's also a contributing editor at Good Old Boat and BoatUS Magazine. In 2017, Fiona and her husband completed a 3-year, 13,000-mile voyage from Vancouver to Mexico to Australia on their 35-foot sailboat.