Sailing around the world is a major undertaking, but you don't have to be super rich, athletic, or have salt water running in your veins to do it.
I know bluewater cruisers and round-the-world sailors from all walks of life: young couples, single women, families with kids, and an 85-year-old Reverand.
This post includes affiliate links. If you click on a link and purchase an item, a small percentage of the proceeds will go to supporting Waterborne.
Our story
When I was in my late twenties, my husband, Robin, and I spent three years sailing 13,000 nautical miles from Vancouver, Canada to Mexico and then across the Pacific to Australia in our 35-foot sailboat.
We didn't complete a full circumnavigation of the world—our goal was to reach Australia—but that's pretty common for cruisers our age (I'll talk more about routes and timelines below).
I grew up dinghy sailing and Robin had no sailing experience at all. We had office jobs, average incomes, and knew almost nothing about bluewater sailing when we started.
It was two years from buying our boat to casting off the dock lines and setting sail. However, we did 95% of our preparation in the year before we left. This just goes to show how quickly you can go from "dreamer" to "doer".
How to sail around the world
For every bluewater cruiser I know, I can think of dozens of "armchair sailors" who dream of sailing around the world but never get out and do it.
Why? There are some big hurdles to overcome before you set sail: getting offshore experience, finding the right boat, outfitting it with all the right gear, learning how to be self-sufficient, and fixing things that break.
Not to mention finding a way to finance it all.
There's also a strong psychological and social element: "What will my parents, friends, and colleagues think?" "Will I be able to find work again with a big hole in my resume?"
Going bluewater cruising is a radical departure from the norm and an entirely new way of living. You'll be faced with challenges, but that's what makes it such an incredible experience.
If you want easy travel, get a camper van. Sailing around the world is a life-changing adventure.
So, I wanted to share how we made our transition from landlubbers to bluewater cruisers and share a few resources to help you on your way.
1. Get some offshore sailing experience
Sure sailing around the world sounds romantic—the freedom of the open ocean, sunsets on a beach in Bora Bora, sipping fresh water from a coconut you picked yourself (words of caution: climbing a palm is much harder than it looks!).
But are you willing to put up with the not-so-fun stuff that comes with it? Seasickness, scary conditions, sleep deprivation from sailing at night, repairing your boat when it breaks (which it will), and being thousands of miles from friends and family?
Some of the best moments in my life were on the boat, but I've also had experiences that put me way out of my comfort zone.
It's not simply a matter of being mentally tough (though that helps), some people are just never going to enjoy the sailing life.
The question is: is it right for you? What about your partner, your kids, or whoever else is coming along for the ride?
Bluewater sailing can blow up relationships. I've heard many stories about sailing couples investing tens of thousands in their boats, only to set sail and discover that one or both of them hate it.
So, before you buy a bluewater boat, quit your job, or give up your studio apartment, you (and your crew mates) should go and get some offshore sailing experience.
Spending a week on an offshore passage will not only teach you valuable skills, but it will also give you a taste of the challenges and joys that come with bluewater cruising.
There are plenty of ways to get experience if you don't already own a boat:
2. Find your community and immerse yourself in cruising culture
If you want to go cruising, you're going to need a support network of people who've been there and done it.
We received so much help leading up to our trip (and along the way). Our liveaboard friends and neighbors in Vancouver helped us fix up our engine, rewire our boat, and find a great deal on a new set of sails, just to name a few.
There are lots of ways to find your sailing community, either online or in person. I highly recommend mooring your boat in a liveaboard marina, where you'll likely be surrounded by other bluewater cruisers.
You can also learn a lot from other people's stories. Immerse yourself in bluewater cruising culture: read the classic sailing books, subscribe to a magazine like Good Old Boat or Cruising World, listen to sailing podcasts, and follow a few sailing Youtube channels or sailors on Instagram.
3. Make a plan
There are many different routes for sailing around the world. Most cruisers sail the easier legs—following the trade winds across the Atlantic and Pacific, transitting the Panama Canal —and spend their time exploring beautiful places and cruising grounds like the Galapagos Islands, French Polynesia, and New Zealand.
Only a few cruisers take on the harder routes—transiting the Northwest passage, Southern Ocean, or Indian Ocean (perhaps you've heard of the infamous Cape Horn or the Cape of Good Hope?).
For route planning, I highly recommend picking up a copy of Jimmy Cornell's World Voyage Planner which shows you how to sail from anywhere in the world to…well, anywhere in the world.
How long does it take to sail around the world?
The current world record for sailing around the world is 40 days, 23 hours, and 30 minutes (IDEC 3, skippered by Francis Joyon). But unless you're going for the speed record, you're going to want to visit the different countries you sail to.
I know cruisers who've circumnavigated in as little as five years and others who spend decades making the big loop.
In my experience, it doesn't pay to be in a rush because inevitably things don't go to plan.
Your boat will break down and need repair which often means spending time in a boatyard.
You may find yourself waiting weeks if not months for crucial parts.
You may need to fly home in the middle of your cruise (as we did) when a relative is ill or dies.
Or, you may just fall in love with one of the remote places you visit and want to stay for a while.
Bad weather and hurricane season will dictate when and where you sail. For example, we had originally planned to cross the Pacific in 2016, but we didn't feel ready. So, we waited a whole year for the right conditions and crossed in the spring of 2017.
My recommendation is to give yourself a minimum of three years to trial the cruising life. Make a plan but don't be disappointed if you have to throw it to the winds.
4. Make a cruising budget
When people learned that we were traveling the world on our sailboat, they often assumed that we were independently wealthy, which couldn't have been further from the truth!
We've cruised for as little as $1000 a month, but when it comes to cruising budgets, the sky is the limit. It all depends on:
Your boat. Smaller boats cost less to buy and maintain.
Destinations. We found places like Mexico and Fiji very affordable, while places like French Polynesia and Australia were quite expensive.
Your timeline. Most of the young cruisers we knew were on three-year timelines (because that's what they could afford). The retirees and families we met often had the financial means to cruise for longer (sometimes indefinitely). Some had houses that they rented, and others would take breaks in places like New Zealand where they worked regular jobs.
Whether you're willing to work along the way. We wrote for sailing magazines while we were cruising, but it wasn't enough money to fund our trip. We mostly relied on savings. With technology like Starlink and the post-pandemic remote work boom, it's probably easier today to earn money while cruising. However, cruising is a full-time job. It can be challenging to cover ground while keeping up with work commitments
Your lifestyle. As I mentioned, it's possible to sail around the world on a budget. But we lived pretty rough: no air-conditioning, no freezer, no hot water—at one point, we hadn't taken a shower for 8 months!
When making your budget, I'd suggest perusing a few sailing blogs where cruisers post their monthly expense.
Also, there are plenty of creative ways to finance a sailboat. Some people even manage to travel the world for free by buying and selling their boats in the right markets.
5. Buy a bluewater boat
You can't sail around the world in any old sailboat. Bluewater boats have specific design characteristics that make them appropriate for offshore sailing.
I love data, so I made a list of the best bluewater sailboats by looking at 2,000 boats that were entered in the Pacific Puddle Jump, a cross-Pacific rally, over the last decade. We also have a list of smaller boats which I recommend if you're on a budget.
Once you have your list, you can get busy searching YachtWorld, Craigslist, and these other great places to buy used boats.
Keep in mind that a bluewater boat isn't necessarily a seaworthy boat. It may have structural damage, unsound rigging, or need an expensive retrofit. Uncover any lurking issues (and know what they'll cost to fix) before you sign on the dotted line.
We had a very in-depth boat checklist that we used to inspect every boat we considered buying. We also hired an accredited marine surveyor, twice, to survey every detail of our boat. The first time was for the purchase, the second time was when we were preparing to go offshore.
For more on how to search, understand boat values, and close the deal, check out our series on how to buy a boat.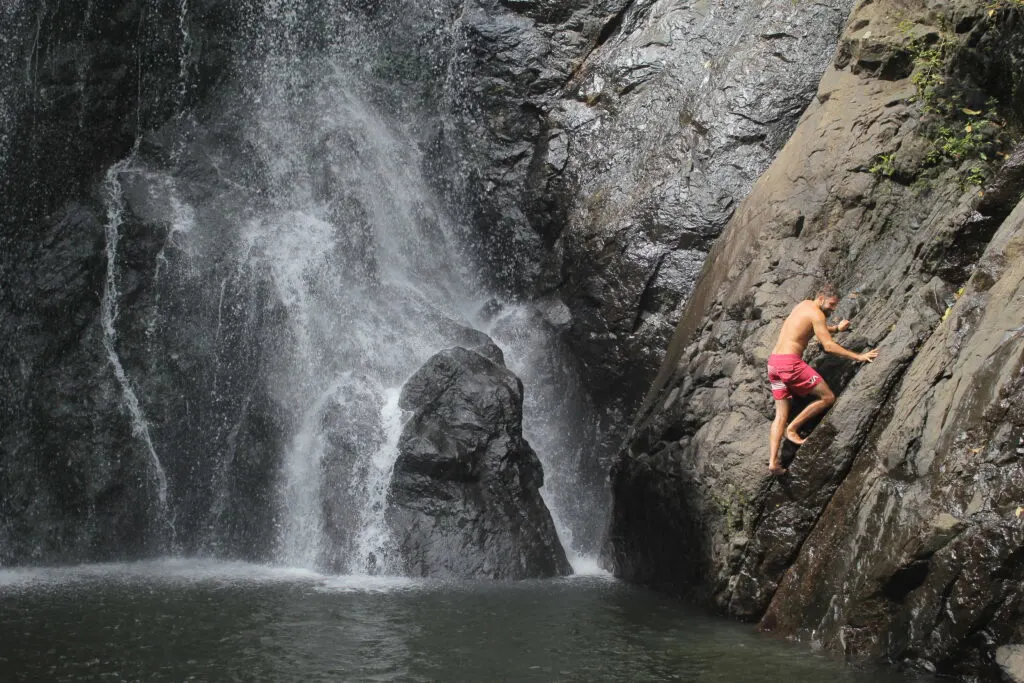 6. Live on your boat
The next big step on your cruising journey will be moving onto your boat.
We lived on our boat for two years before we set sail and it taught us so much about the boat (read: what needed to be fixed) as well as ourselves (and whether we could handle close-quarter life).
By moving aboard you'll learn if living on a boat is right for you and your family. You can also save a bunch of money for your trip. After two years of living aboard, our rent savings paid for the purchase of our boat.
7. Prepare yourself
Preparing yourself for going offshore is a major undertaking. You'll need to learn advanced navigation, weather, and excellent seamanship, among other things.
It's not enough to know the theory. Get out and practice with your gear and become comfortable with maneuvers like reefing, heaving to, sailing downwind with a pole out genoa, and anchoring under sail.
In addition, you should become intimately familiar with your boat's systems. Sailboats break down at sea (here are the most common problems). So, you have to be capable of fixing your boat when you're hundreds of miles from shore.
Become an expert in your boat's electrical system, propulsion, rigging, sails, and plumbing, before you go.
When the pandemic hit, a lot of sailing education moved online. Now there are plenty of great online sailing courses covering everything from learning the parts of a sailboat to celestial navigation.
That being said you can't beat on-the-water instruction and offshore experience (see #1 for offshore sailing courses).
8. Outfit your boat
Preparing your boat for offshore will take dedicated effort and money, especially if it's an older boat that's not been previously equipped for bluewater sailing.
In addition to fixing existing issues and replacing old equipment, you'll want to add offshore gear like a watermaker, a boom brake, downwind sails, self-steering wind vane, life raft, satellite phone, AIS, solar panels, and inverter.
Not to mention all the spare parts you'll need to keep these systems running.
Needless to say, outfitting can get pretty expensive but you can save money by buying used boat parts and second-hand sails.
We spent six months in the boatyard, working full-time on our 1979 Dufour 35 to get her ready to sail. We built a solar arch, installed panels, replaced our rigging, added a roller furler, replaced our anchoring setup, removed 30 years of antifouling paint, and much much more.
9. Do a shakedown cruise
Next, it's time to test your boat (and yourself) by taking it on a shakedown cruise. The idea of a shakedown is to test your boat's performance after any major changes or repairs. The goal is to find any issues (and fix them) before going farther afield.
We circumnavigated Vancouver Island for our shakedown cruise. It took us a little over a month and allowed us to test our systems in a variety of conditions including ocean swell, fast currents, and light and moderate wind speeds.
Despite checking and fixing every system on our boat over the preceding months, we still had issues. Our engine quit, we struggled to get our wind vane working, and we had to make a few adaptations to our brand-new sails. But that's the whole point of a shakedown cruise!
10. Go now!
"Go small, go simple, go now" is a popular cruising philosophy and one that we adhere to.
Life is short and we've seen poor health and other life situations bring cruising adventures to a halt.
There's no ideal time to go cruising. You can be young or old, with or without kids, retired or working.
Certainly don't wait until you can afford a larger boat. A small boat was our ticket to cruising early in life because it made it more affordable.
If your dream is to sail around the world, start working towards your cruising dream NOW. You won't regret it.
Let us know how we can help you on your bluewater journey and what topics you'd like to learn more about by leaving us a message in the comments.
Fiona McGlynn is an award-winning boating writer who created Waterborne as a place to learn about living aboard and traveling the world by sailboat. She has written for boating magazines including BoatUS, SAIL, Cruising World, and Good Old Boat. She's also a contributing editor at Good Old Boat and BoatUS Magazine. In 2017, Fiona and her husband completed a 3-year, 13,000-mile voyage from Vancouver to Mexico to Australia on their 35-foot sailboat.