If you're looking into buying a set of used sails, you've probably realized just how expensive brand-new sails can be.
Fortunately, you can buy used sails (that are still in good condition) for very affordable prices. Potentially saving yourself thousands of dollars.
Finding a good deal on a used sail that fits your boat is just a matter of knowing how and where to look.
In this guide we'll cover:
How much do used sails cost (and are they worth it)?
How (and where) to find great deals on used sails.
Cost-saving tip: Did you know you can also save money by buying used boat parts?
How much do used sails cost?
While pricing varies by size, material, and condition, you can expect to spend a fraction of the price that you would on a set of new custom sails.
As an example, when we were preparing our Dufour 35 for bluewater cruising, we spent $5,000 on a brand-new main and genoa (a hefty chunk out of our cruising budget).
I recently priced out a similar set of used sails in good condition and came to a total of $1,200. That's a 76% savings!
Do used sails save you money over the long run?
You might be wondering if a used sailboat sail will save you money over the long run. After all, used sails are "used" and presumably don't have as much life left in them.
As sails age, they lose both their shape and structural integrity. They gradually stretch which makes them less efficient airfoils and impacts performance. They also become more prone to tearing as the material degrades.
Imagine paying $1,200 for used sails that only last one season. You would have been much better off spending $5,000 on new sails that last 10 or more seasons (i.e., $500 per season).
So, when you're shopping for a used sailboat sail, it's important to look closely at how the used sails are rated.
Most sail brokers have ranking systems that describe their sails as being anywhere from "Like new" to "Good" to "Useable". These rankings can differ from broker to broker.
So, to find out if my $1,200 sail set ranked as "good" is still a good deal, let's take a closer look.
We'll use Atlantic Sail Trader's used sail ranking system as an example:
Fair – 45-50% of life left
Good – 70-80% of life left
Very Good – over 90% of life left
If my sails cost $5,000 new (with 100% life left), you'd think that a "good" set with 75% life left should cost should cost $3,750. Instead, I found them for $1,200.
So, in reality, you're saving more like 68%, which still seems like a good deal.
What about performance?
It's worth pointing out, that sails have two "lives":
An ultimate life: how long it will stay in one piece. Never use a sail for so long that it risks breaking while underway.
A performance life: how long it will retain an aerodynamic shape, allowing you to point higher and sail faster.
A sail's performance life is generally shorter than its ultimate life. How much shorter, depends on the type of sailcloth.
According to North Sails, woven polyester sailcloth has a performance life that is less than half of its ultimate life. For cruising laminates these figures look to be more in the 70-75% range.
These numbers might sound dismaying, but it's worth investigating what "performance" means and how much it matters to you.
In our experience, new sails were nice to have but not life-changing. They did noticeably improve our boat's sailing performance, allowing us to point a bit higher and eke out a fraction of a knot more boat speed.
Whether or not this matters to you will depend on the type of sailing you're doing.
If you're a competitive racer, new sails might be quite critical, giving you that winning edge.
If you're weekend cruising, they probably won't make much of a difference, maybe getting you to your destination 10-15 minutes earlier on a half-day sail.
If you're planning on doing bluewater cruising you may want to buy new, as we did, because we didn't want to be faced with replacing our sails halfway through our trip. Or budget may be the determining factor, and a 50-80% savings is nothing to sneeze at.
What about all those ugly stains?
Don't let a few rust and mildew stains put you off buying a used sail. These stains are pretty common and aren't necessarily indicative of a problem (though it might suggest the last owner didn't clean their sails very often!).
With a few sail cleaning tricks you can greatly reduce the appearance of stains and brighten the overall appearance of your sail.
How to search for used sailboat sails
Before you start your search, you'll want to have a clear idea of what you're looking for. You'll need to know:
What type of sail and features you're looking for?
Your sailboat's key rig measurements
Where to search for used sails (e.g., online marketplaces, sail brokers)
Used sail types
You'll find a wide variety of sail types on the second-hand market. Here are some commonly available used sails:
Mainsails
Headsails

Jib sails (triangular sail set forward of forwardmost mast)
Staysails (the innermost headsail on a cutter-rigged sailboat)
Genoas (a headsail that is large enough to overlap part of the mainsail)

Light air sails

All-purpose asymmetrical spinnakers (for sailing 80-150 degrees off the wind)
Symmetrical spinnakers (for sailing 110-180 degrees off the wind)
Code Zero (for sailing 40-110 degrees off the wind)

Storm sails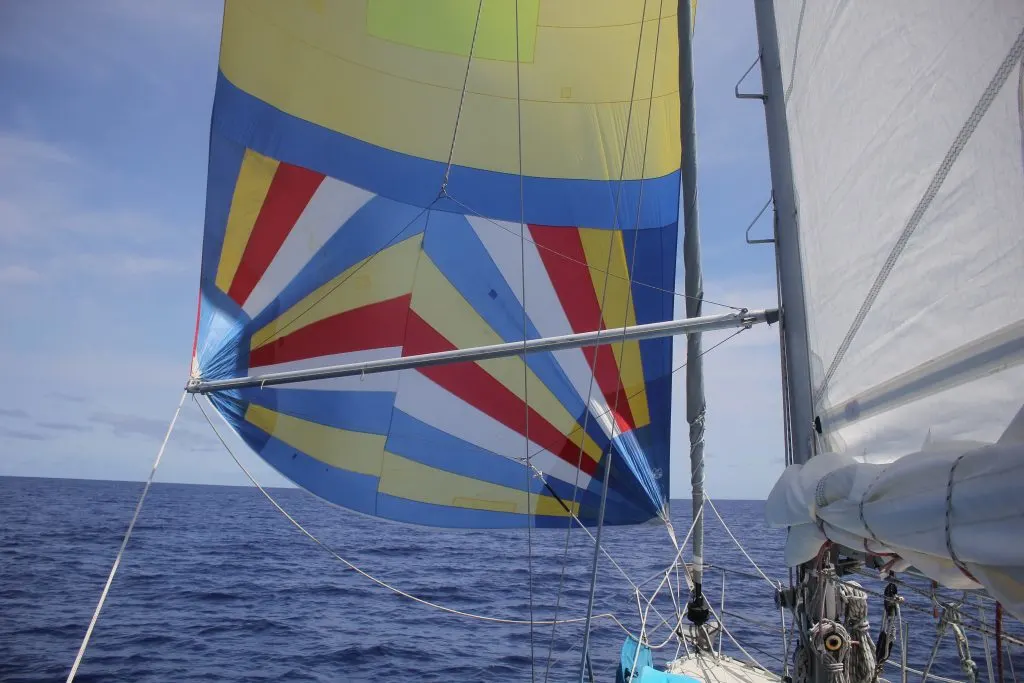 Used sail features
There are many options and features that affect a sail's performance and longevity.
While you may not get everything you want in a used sail, understanding sail characteristics will help you narrow down your search.
Battens
Mainsail battens are flexible inserts, often made from fiberglass or vinyl, that help support the roach and improve the airfoil shape.
A standard mainsail has short battens but you can also get full battens which help reduce the flogging of a luffing sail and make it easier to stack the sail on the boom.
Furling
Roller furling headsails are common on the water today and you'll find plenty of used options. Furling mainsails are also available second-hand if you happen to have a boom or mast that accepts a furling sail.
Reefing
Reef points allow you to reduce the size of your mainsail when the wind speed picks up. The more reef points you have, the more flexibility you have to adjust your sails to match the wind conditions.
Do you want a used mainsail with a single reef, deep reef, or even two or three reefs?
Sun covers
UV damages sailcloth, ultimately shortening the life of your sail. Sail covers are built-in and keep the headsail protected when it's fully furled.
Sail bags
Some used sails come with a custom sail bag for storing your sail when it's not in use.
Leech Lines and foot lines
Leech lines run along the leech, from the head of the sail to just above the clew.
Foot lines run from the tack to the clew along the foot of the sail.
Both lines are used to tension and reduce any fluttering in the edges of the sail.
Pro tip: Can't find all the features you're looking for? You can pay your local sail loft to make alterations or even do it yourself with a basic sail repair kit.
Used sail materials
Woven polyester
Most of the used sail market consists of woven polyester, a material known for being affordable, durable, and reliable. It's often called dacron, in reference to the DuPont trade name.
Charter companies expect to change out their dacron sails every two to three years or 1500 to 2500 hours. For the average weekend cruiser, this might amount to 10 years of serviceable life.
Laminated sails
Laminated sails are a step up from dacron. They tend to be lighter and hold their shape longer, though generally aren't as long-lived (expect 5-7 years).
Laminated sails are made by combining a load-carrying fiber (e.g., polyester, aramid, Spectra/Dyneema, carbon, or a mix) with a laminate (e.g., Mylar film).
You may find a few used laminated sails on the second-hand market place but they're not as common as dacron. They also tend to be pricier.
Nylon
Nylon is a lightweight and low-cost fabric commonly used in spinnakers.
Cruising World has a good overview of sail materials if you're looking to get into the nitty gritty.
Material weight
When choosing a sail, you'll have to choose a material weight that's appropriate for your boat's size and displacement.
For instance, a 20-foot boat might use a 5 oz Dacron mainsail, but a 50-foot boat might use a 10 oz Dacron mainsail.
From there, you'll be looking to balance how easily the sail fills in light winds with the sail's longevity. Generally speaking, heavy sails will last longer while lighter sails are better for sailing in light air.
Take your sail measurements
The most important step in used sale shopping is getting accurate measurements.
At some point, you'll need to hoist your sails and take detailed measurements of your rig. You can work with your sail broker or use this downloadable sail measuring guide from Sailrite.
However, to start your search, you only need to know four basic rig and sail dimensions.
Quick search tip
If you're just looking to get a rough idea of used sail pricing and availability, you can look up rig measurements (I, J, P, E) for your boat on SailboatData.com and input these into the used sail websites listed at the bottom of this post.
Remember, it's CRITICAL that you take hoisted measurements before ordering a used sail as your boat's rig measurements may differ from those on SailboatData.com.
For example, your boat may have a tall rig, or a previous owner may have made alterations to the spars, stays, or added a roller furler. All of these may impact your rig measurements.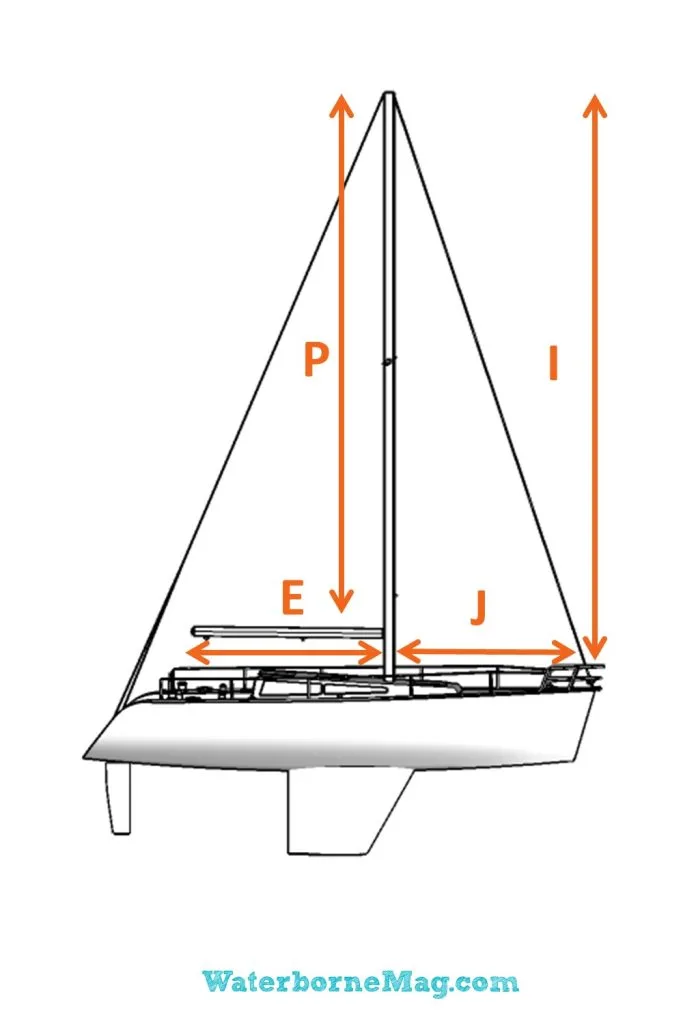 Mainsail measurements
Luff length (P)
Hook the end of your tape measure onto your main halyard (alongside your old sail) and hoist it right up to the top of the mast. Then measure to the top of the boom to get your maximum luff length.
Leech length
While you've got your tape measure hoisted, take the other end and measure to the end of the boom where you want your clew ring will be.
Foot (E)
Lastly, measure from where the tack of the sail attaches at the front of the boom back to the farthest back point where you could attach the clew. This will be your maximum foot dimension.
Luff attachment
Depending on how your luff attaches to the mast (e.g., slides, slugs, rope luff) you'll need to know the width of your existing track or slot. However, it's fairly easy to add or change out slugs and slides if you can't find a used sail that will fit your mast track.
Headsail measurements
Luff length
Hoist the end of your tape measure up to the top of the mast with your jib halyard. Measure down the forestay to the deck. If you have a roller furling headsail, you'll attach the tape measure to the top spindle and hoist it up. Measure down to the top of the furling drum.
I dimension
With the tape hoisted up the mast, measure straight down to the deck.
J dimension
Lastly, measure from where the forestay connects to the bow back to the base of the mast.
Luff tape
If you have a roller furling system, you'll also need to measure the diameter of the luff tape, the small cord on the luff of the sail that serves as the attachment point to the roller furling system.
Luff Perpendicular (LP%)
Have you ever heard someone mention a percentage when talking about a headsail (e.g., 135% or 150%)? They're referring to the sails LP% or Luff Perpendicular percentage, which describes a headsail's size/overlap relative to a boat's J dimension.
The LP is the shortest perpendicular line from the clew to the luff.
The LP% is the LP divided by the J dimension (measurement along the deck from forestay to mast)
LP / J * 100
Deciding what LP% you want, will depend on a few factors including:
Where you sail. In an area like Vancouver Island, British Columbia, where summer winds are often light, you may want to opt for a higher LP% than if you were in San Francisco Bay, where the winds blow more consistently.
Racing or cruising. If you race, your LP% will likely be determined by race regulations. Most cruisers and weekend sailors opt for an LP% in the 135% range which offers plenty of flexibility for moderate sailing conditions.
Rig. It's important to balance your headsail with your mainsail and ensure that your track position can accommodate the sail you're interested in. If you're buying a used sail that is considerably different from your existing one, you may want to contact one of the used sail brokers below for help with fine-tuning your setup.
Fine-tuning
Remember that these measurements are just a starting point to help you narrow down your search.
There may be other factors to consider:
Do you have a masthead or fractionally rigged boat?
Will a new headsail be balanced with your old mainsail?
Will your new sail work with your existing track position, furling system, and clew heights?
Will you need to make adaptations like installing a pennant or spacer?
Once you've narrowed down your search to a few sails, contact a sail broker (see below) and they can give you tailored advice for your particular situation.
Where to buy second hand sails
Online marketplaces
eBay has a wide assortment of used boat sails. You may also have luck finding a good deal on a used sail on Craigslist or Kijiji.
One downside to these marketplaces is that you're buying sails from the original owner, who may not provide precise measurements and likely won't be an expert in sails.
Used sail brokers
Several stores specialize in selling used sails. They all vary in how they present their inventory. Some have retail locations, though you'll find far more selection if you're willing to shop online.
Some used sail websites offer better or more services than others.
Most sail broker websites allow you to search by luff length, rig dimensions, or boat make and model (though user experience and ease of navigation vary!).
Some companies will take your old sails on consignment and give you credit towards your new purchase.
Some sail brokers will make alterations to your sail for a small fee before sending it to you.
Many have return policies or satisfaction guarantees, though you may be required to pay for return shipping.
Minney's Yacht Surplus in Costa Mesa, California is a must-visit for cruisers sailing down the coast. Not only do they have the largest new and used sail inventory on the West Coast, but they also offer a huge assortment of used boat parts. Their sail list is available on their website.
All sails are priced under $2,000 and sold on approval. So, if it's shipped to you and you decide it isn't suitable, you can return it within five days.
Second Wind Sails started out serving the sailing community in Ft. Lauderdale, Florida, and has since expanded internationally. You can search their site by sail type, luff dimension, and foot dimensions. If they don't currently have a sail that fits your needs, you can sign up to be notified by email when future sails match your search. For every sail they sell, they offer a 100% satisfaction guarantee.
Atlantic Sail Traders has been supplying sailors with new and used sails since 1985. They have thousands of new and used sails for sale including mains, jibs, genoas, spinnakers, mizzens, drifters, and storm sails. They'll even take your old sails in on a trade towards a new or used sail or sell them outright for a 50% commission.
Bacon Sails has an extensive database of used sails and have been sail brokers since 1959. It's very convenient to search their database because you only need to specify your boat's make, model, and desired sail type. Though you'll want to confirm your rig specs before finalizing your order.
Sail Exchange is based in Australia but ships worldwide for a flat rate of $99. They have a wide selection of used sails for sale and, unlike many other websites, each listing includes a photo of the sail in question. They also offer a 30-day 100% money-back guarantee. If you want to trade in your old sails, they'll give you 15% off a new sail (of a similar size). They also sell used spars, sail bags, and other rigging.
Masthead Sailing Gear has a page where you can search for used sails by luff dimension.
Fiona McGlynn is an award-winning boating writer who created Waterborne as a place to learn about living aboard and traveling the world by sailboat. She has written for boating magazines including BoatUS, SAIL, Cruising World, and Good Old Boat. She's also a contributing editor at Good Old Boat and BoatUS Magazine. In 2017, Fiona and her husband completed a 3-year, 13,000-mile voyage from Vancouver to Mexico to Australia on their 35-foot sailboat.