The one thing we wished we had read before we left on our Pacific crossing was an account of what the most common sailboat problems are.
So, I've put together data from 153 yachts that crossed the Pacific Ocean from 2012 to 2017 to identify the most common major problems experienced during their trips.
The data from 2012-to 2016 is self-reported via a questionnaire sent out by Latitude 38 magazine as a part of the Pacific Puddle Jump recap and is publicly available on their website. I personally collected the data for 2017 from fellow Pacific crossers I met in French Polynesian anchorages.
This post is adapted from an article that was first published in Good Old Boat magazine.
Everybody told us to take spares of everything, which is a nice idea in theory, but nearly impossible in practice. A spare mast? Spare engine? How much spare hose?
It's completely impracticable, short of towing an identical boat behind you, to have spares of everything.
So, this article will look at:
What are the most common things that break?
What spares should we have on board to fix or replace them?
The relevance of this data extends beyond offshore yachts. A long ocean passage can be thought of as accelerated aging, especially where chafe and loads occur.
A shackle that breaks after a week at sea of sailing 24 hours/day is the same shackle that breaks after a few years of weekend cruising. For the most part, the lessons learned from these boats can be taken and applied to day-sailors, Wednesday night racers, and coastal cruisers.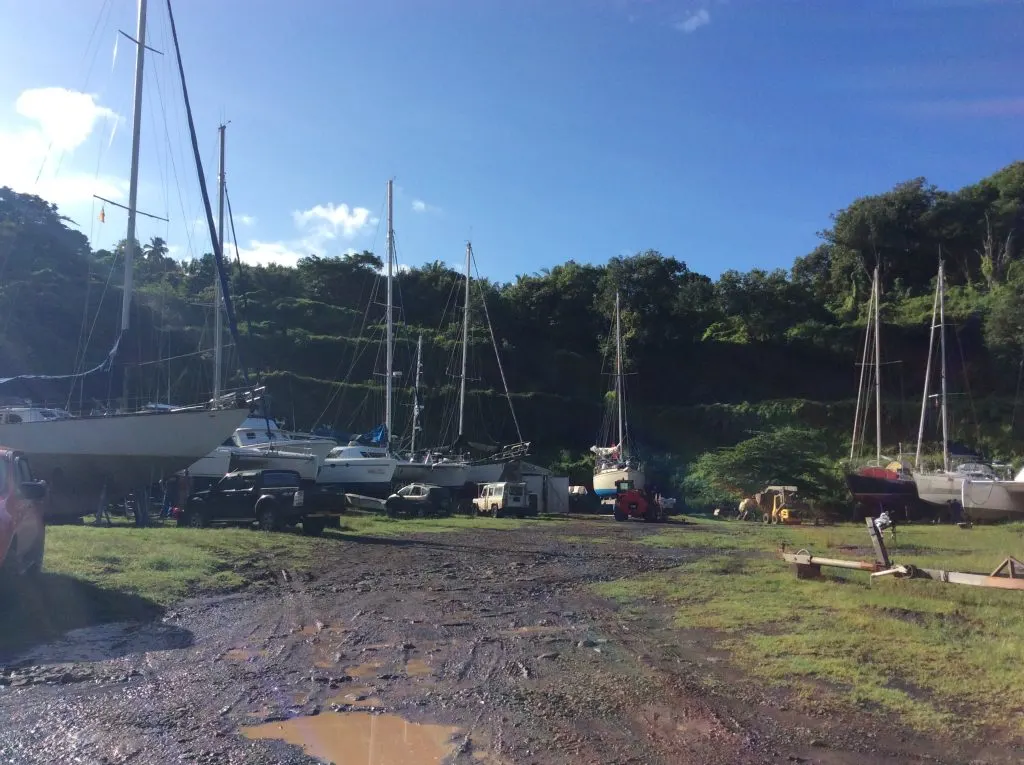 The definition of a breakdown
The definition of a major breakdown is subjective in most cases. Most sailors would consider losing an autopilot a major failure, but there are a few crews who left on their crossing without an autopilot aboard.
The data in this article is all self-reported. Respondents were asked what major breakdowns they encountered. For the most part, major malfunctions include anything that adversely affects the functioning of the sails, standing rigging, running rigging, rudder/steering assembly, engine, navigation, electrical generation, water production and storage, autopilot/windvane, and communication.
Overall
Of the 153 boats that reported data from their Pacific crossing in the last six years (2012-2017), 127 (83%) reported major breakdowns. In almost every case the breakdown was reparable at sea with on board spares or other equipment.
In some cases, the boats limped into port where repairs could be made. The lucky few, 26 boats (17%), reported no major breakages during their crossings.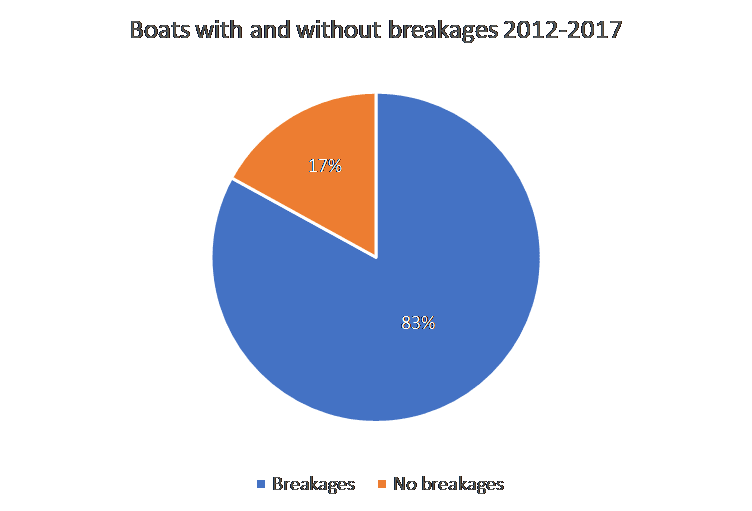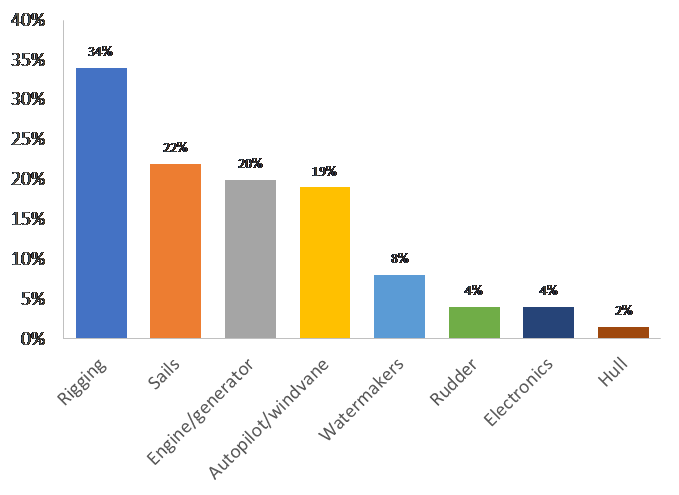 Rigging (34%)
Running rigging
Rigging tops the list with 52 boats(34%) experiencing failures during the Pacific crossing. Chief amongst these is halyard failure which is caused by either main or spinnaker halyards chafing through or shackles breaking.
There were no reports of jib halyards chafing through, or shackles breaking, though 5 boats (4%) did report headsail furler failures. Reefing lines, because they are difficult to tension when not in use, also caused a lot of chafe on other lines, or chafed through themselves.
The rest of the running rigging failures were spread over boomvangs (7 boats), preventers (3 boats), and travelers (3 boats).
Standing rigging
Four boats (3%) had standing rigging issues. A shroud toggle broke on SV Kokomo, while SV Ladoga noticed, during a regular rigging inspection, that a lower shroud was unwinding from being detensioned on the leeside for over two weeks.
The most serious case saw both lower diagonal shrouds, D1s, on SV Fandango detach from the mast after the thru-bolt holding them broke.
The crew of three, Ian, Brad, and Liz, were able to rig up a line of Spectra around the lower spreaders to tension the mast and prevent it from tumbling down. They continued sailing for another 1500 nm before being able to make proper repairs.
In all cases of major rigging failure, the rigging was older than 10 years.
Sails (22%)
Over 34 boats (22%), including us, combatted torn sails. The most often reported sail failures were a blown spinnaker followed by a torn mainsail.
In one case, the poor crew aboard their 48' catamaran, SV Kiapa Nui, "ground" a tear into their mainsail by over-tightening the mainsheet with the winch.
We had a sail slide break out of the mast on day two as a result of light winds causing the boom to slat back and forth. Our genoa also began to tear at the tack and we were required to stitch a patch into it underway. Both sails were only 2 years old and were made by Neil Pryde, a reputable manufacturer.
Sail chafe is a constant battle whether sailing offshore or going out for the day.
John, aboard SV Jandamarra, whom we met in the Marquesas, recommended us to take 15 minutes/day when we're under sail to walk around the deck and inspect the sails, halyards, and rigging for signs of chafe or material fatigue.
Since we employed his advice we have discovered many small defects and pre-empted major problems as a result.
Engine and generator (20%)
Engine issues, especially polluted fuel, malfunctioning alternators, and overheating, affected 31 boats (20%).
The constant motion can cause debris in the fuel tank to clog the filter and/or injectors. More commonly, water gets into the fuel tank, either through bad fuel at the dock, condensation, or back-siphoning through the exhaust or fuel tank vents.
Alternator failure is surprisingly high with 11 boats (7%) reporting problems. One reason might be the increased power demands on the engine from day/night sailing and charging at relatively low RPM.
In most cases, boats had spare alternators on board that they could swap in.
SV Shakedown, on the 2017 crossing lost her diesel generator and engine. For most of their 48-day crossing, they used solar and their Honda 2000 suitcase generator, with only 3 gallons of gas, to keep pumps operating, lights on and the Iridium GO! charged.
They navigated by handheld GPS and hand steered 3000 miles to French Polynesia Their epic story can be read at sailshakedown.blogspot.com.
Autopilot and windvane (19%)
Most offshore sailors now consider autopilots essential gear, which is why it's no joke when 14% of boats have major autopilot failures.
We had to rebuild our autopilot twice on the crossing, for which we thankfully had spare belts. Our friend Rob on SV Tigerbeetle, an older Morgan IOR 2-ton race boat, had to repair his three times and went through two hydraulic rams on his crossing this year.
He still made the 3000nm crossing in 19 days. Only 7 boats (5%) reported windvane failures. It is still a good idea to have spares or a rebuild kit on board for the windvane.
Watermakers (8%)
Watermakers aren't a big concern for non-cruising boats and few even have them, but on an ocean crossing, they can mean the difference literally between life and death.
We had a scare five days out when our watermaker started producing foul-tasting water. We didn't have enough water stored on board to last the whole trip and we got nervous.
Thankfully it was just a matter of replacing the pre-filter and running some pickling solution through the system.
However, 12 boats (8%) had major failures that rendered their watermakers inoperable.
The crew on MV Idlewild, a custom-built Reyse 54, resorted to catching rainwater in squalls and used saltwater for everything except drinking and brushing teeth after their watermaker quit.
Hull
It's interesting to note that there have been no reported issues involving the keel and only two with failed thru-hulls.
In one case in 2017, SV Le Chat Beaute, a well-found catamaran, leaving Mexico had an emergency hatch break free, which created a 2'X2' hole in the hull.
With quick thinking, cushions, and some plywood, they staunched the leak and were able to sail the three days back to La Cruz.
Plugs and a plan for major hull breaches are good things to have on board any boat whether traveling near or far.
Rudder (4%)
Rudder failure is a major problem on any boat.
We escorted SV Rosinante for 1000 miles after she experienced major rudder issues. After we got into the Marquesas, two more boats showed up with rudder failures.
Of the 153 boats that crossed only 6 have had major rudder issues, but the issues are about as serious as it gets.
It behooves us to have at least a plan in place should we lose the rudder. The best-case scenario is to have a spare rudder on board (remember to try it in real swell), but failing that it is necessary to have knowledge of and practiced configurations for drogue-style rudders.
Electronics (4%)
A few boats reported communication and GPS/chartplotter issues, which seems quite low.
A likely reason for this low number is the redundancy built into the navigational systems of most offshore boats these days; the function of one failed system can usually be taken up by another and often is not considered a major problem.
Our SSB/Pactor system failed two days out of Mexico and we had to return to fix it.
We fixed the problem and bought an Iridium GO! to provide redundancy.
A couple of boats reported GPS/Chartplotter issues, but they simply changed to another GPS system to overcome the problem.
Most boats carry at least large-scale admiralty charts of the areas in which they'll be cruising, in case of total electronic failure.
Notable minor malfunctions (15%)
Unfortunately, 16 boats (10%) had plumbing issues, usually involving the macerator pump for the head.
Another 8 boats (5%) broke their whisker poles. The most common cause for whisker pole failure was a squall and rapid change in wind direction.
One boat lost its primary anchor to a large wave.
Just plain weird (1%)
Sometimes there are things that happen to boats that can't be predicted – the so-called 'one percent'.
In 2017, a Deerfoot 60, SV Just Passing Wind, had its propeller shaft decouple from the engine.
They stopped the flow of water from the now-empty stern tube but thought they had lost the shaft and propeller altogether.
Days later, when they dropped anchor in the Marquesas they dove under for a look and found the end of the shaft miraculously hanging from the cutlass bearing.
Managing malfunction
Preventative maintenance
Through careful observation, regular checks, and scheduled maintenance so many problems can be avoided or at least minimized.
Few things fail without a warning of some kind. An alternator belt failure may be only an inconvenience if a spare is carried aboard, but it is only a scheduled maintenance item if replaced before it fails.
The boats that had no major breakages all talked about their rigorous preventative maintenance.
But this kind of vigilance can only go so far, eventually, something unseen or unseeable will break and when this happens you need the right parts and tools on board to deal with it.
Sailboat spares and repair kit
It is simply not practical to carry spares for every item on the boat. However, it is a good idea to keep your boat well stocked with spares or materials that will come in handy for the more common issues.
Every boat and sailor is different and it is up to everyone to make a list of spares needed for their boat and sailing style.
Based on our own experience and the experiences of other Pacific crossers, I've come up with the following list of 18 spares I aim to keep on board to manage the most common issues.
Sail repair kit and extra sailcloth
Mainsail slides
Spare sails
Replacement halyard line and a bunch of extra snap and regular shackles
A few hundred feet of various diameter nylon or polyester line
A few hundred feet of Spectra with a block tensioning system
Spare alternator(s)
Spare v-belts or serpentine belts
Engine (and generator) raw water pump rebuild kit
Baja filter or other fuel/water separator
Many spare Racor filters
Autopilot rebuild kit and/or spare autopilot
Windvane rebuild kit
Watermaker pre-filter spares and spare membrane
Watermaker pump rebuild kit
Man-overboard drogue or similar for making emergency steering device
Backup GPS
Large-scale admiralty charts of the cruising area
There are few feelings better than quickly and efficiently managing a major malfunction at sea and there are few feelings worse than not being able to.
While maintenance is the most important step that can be taken to prevent breakages, at some point something is going to break.
Knowing what the most common failures are is the first step in defending yourself against the inevitable breakage.
Fiona McGlynn is an award-winning boating writer who created Waterborne as a place to learn about living aboard and traveling the world by sailboat. She has written for boating magazines including BoatUS, SAIL, Cruising World, and Good Old Boat. She's also a contributing editor at Good Old Boat and BoatUS Magazine. In 2017, Fiona and her husband completed a 3-year, 13,000-mile voyage from Vancouver to Mexico to Australia on their 35-foot sailboat.