How to find cheap or free boats
Did you know it's possible to find free boats for sale?
Finding cheap boats has been an obsession at various points in our lives. In the last five years, we've bought three boats and spent hundreds of hours scoping out good deals.
In all that searching, we've come across some great buys, a few free boats (yes, they do exist!), not to mention many fiberglass horrorshows that you literally couldn't pay us to take on.
Not every cheap or free boat is necessarily a good deal. Often it can cost you more to fix up a boat than it would if you'd just bought one in good condition.
However, if you're handy, have the time, and enjoy a project, there's nothing more rewarding than getting a great deal and bringing an old boat back to life.
There are three things you need to know to find a free or cheap boat:
Where to look
When to look
How to find the hidden gems
In this article, we'll share the best places to search and our search strategies for uncovering the really sweet deals.
Where to find cheap boats for sale
We've written about the best places to buy used boats before, but if you're looking for bargain basement prices, you can probably skip searching the boat dealer sites and places like Yachtworld and Boattrader, where people pay to list their boats for sale.
After all, someone who is looking to offload a boat for cheap probably doesn't need to pay for advertising.
1. Online marketplaces
There are several big marketplace sites where sellers can list their boats for free, making them great places to start your search for cheap or free boats:
Craigslist
Kijiji
Facebook
eBay
While we've found almost all of our boats on Craigslist, we recommend casting a wide net. It doesn't take much time to set up search alerts to monitor the various marketplaces (more on that below).
While these sites have thousands of boat listings they also tend to be very competitive because everyone uses them and wants a great deal!
DIY tip: Online marketplaces are also great for finding deals on used boat parts. If you're buying a used boat, you'll almost certainly need to replace or repair a few things.
2. Listing sites and magazines
There are a few websites and magazines that have pages devoted to listing free boats or cheap boats for sale. It's worth checking the following places regularly:
3. Boat Auctions
We know of other boaters who've found cheap boats for sale at auctions (though it isn't something we've tried ourselves).
Boats that have been repossessed, written off, salvaged, or seized are often put up for sale at auction.
Many auto auction companies will list boats and some even run dedicated marine auctions.
These days you can find most auction pre-sale inventories posted online.
4. Marinas and boatyards
The real hidden gems never make it online.
Call your local harbor master and boatyards to inquire about cheap or free boats. Very often they get stuck with abandoned boats that they need to move.
5. Abandoned vessels
Some states are home to significant numbers of derelict, storm-damaged, and abandoned boats. However, salvage rights vary from place to place.
For example, in Florida, it's illegal to take an abandoned boat without first getting the title to it (that would be theft). However, there is a process for having the title for an abandoned vessel transferred to your name.
If you've had your eye on what appears to be an abandoned vessel, your first step should be to report it to the local authorities. Stay clear (for safety reasons) and do not take anything off the boat.
The best time to look for budget boats
While it's possible to find cheap boats for sale at any time of year, these are the best times to search.
Off-season
The best deals will be found at the end of the boating season when owners are looking to avoid marina fees for the winter months. Search volume for boat sales is much lower in the off-season, which means less competition for you!
If you're going to buy in the spring, start your search before the nice weather hits. Competition for good deals will heat up with the warming temperatures.
Hurricane season
If you're open to looking further afield you can very often find good deals on storm-damaged boats. A great book on this topic is Sailboat Cowboys Flipping Sail Post-Sandy: The Art of Buying, Repairing and Selling Storm-Damaged Sailboats.
Divorce season
Many boats don't survive a separation or divorce. According to some research divorce filings peak in March and August.
Strategies and tips for finding cheap or free boats
If there's one place to find a screamer of a deal, it's Craigslist (or other marketplace sites like Kijiji). We've even come across a few free boats on Craigslist over the years. Most of these search tactics apply to any search platform but some of them are specific to Craigslist.
1. Set the right price range
When people are looking for boats online they usually search for certain "sticky" numbers (prices that everyone searches for). Common thresholds include $5,000, $10,000, $15,000, $25,000, $50,000.
For example, let's say I'm looking for boats for sale near me for under $5,000. If I search just above that threshold (say $6,000) I'm more likely to see cheap boats that other buyers won't.
Set your max price at 30% above your budget. While it depends on the boat and how the owner has priced it, we've found that as a general rule of thumb, sellers will come down by about 30%.
2. Search for misspellings and synonyms
Use variants of your search terms.
Craigslist's listing data is garbage in, garbage out. For example, if a seller lists their 30-foot Hunter as a "Free Sail Boat" incorrectly spelling "sailboat", it won't show up in a search for "Free sailboat".
Very often people use variants of brand names. For example, you'd want to search both "Chris-Craft" and "Chris Craft".
3. Search for types of boats, lengths, makes, and models
People are random about how they write their listings.
The detail-oriented person will list their boat with the year, make, and model (e.g., "2015 Bennington 2875 QCW").
Someone else might list the same boat as a 32-foot Bennington.
Some goofball will just list it as a "pontoon boat" or even "boat".
If you want to find a hidden gem, search for as many variations as you can think of. It's definitely a good idea to search for a type of boat (e.g., sailboat, fishing boat, powerboat, jon boat, pontoon boat).
4. Use search functions to get really specific
Learn a few of these search tricks and you'll save tons of time.
Search multiple keywords at the same time by using the "|" key
For example, if you searched "sail boat | sailboat" you'll get all the search results for both terms.
Exclude keywords from your search by using "-" key.
For example, "sailboats – ferrocement" you'll get all the search results for sailboats except for those that mention ferrocement (no offence to ferrocement boat owners!).
Get specific by combining search functions using parenthesis
For example, "Home built (sailboat | sail boat) – ferrocement" would search for posts with the terms "home built" and "sailboat" or "sail boat" but not "ferrocement".

5. Leverage technology to do the work for you
Finding a great deal on a boat is a numbers game, and we've looked at hundreds of listings before finding what we were looking for. Technology can help you save time and search more efficiently.
Set up search alerts
You can set up search alerts on Craigslist so that you receive an email or text every time a new listing meets your criteria. It's a great way to save time!
Use apps to track your searches on the go
Craigslist's mobile site can be a bit clunky to work with. The Craigslist-approved app, CPlus (Android, iOS) streamlines your search process and offers additional features (like allowing you to search multiple cities at once).
6. Save time by qualifying your search results
Finding cheap boats for sale on Craigslist is a volume game more than anything. If you're not carefully managing your time, it's easy to burn out.
If you've ever shown up to view a boat only to realize that the photos you saw online were 10 years old, then you know what I'm talking about!
Here are a few ways we've cut down on time-wasting:
Avoid scams
Avoid scams by looking for classic warning signs: typos, generic images, and sellers who don't want to meet in person. If an ad looks suspicious try googling the ad text to see if it shows up in multiples. If it does, it's a good sign that something is up.
Make a "must-have" list
Write up your list of must-haves (e.g., must have an engine with less than 1K hours, must not have a teak deck, etc.) and run through your checklist every time you find a good candidate. Ask the owner to fill in the missing information.
Ask for additional photos
Ask for photos or a video tour before you spend eight hours of your weekend driving to view a boat. Owners should be willing to send you photos because in the long term it saves their time as well as yours.
Take a sneak peek
If the boat is local, swing by the marina and quickly view the boat from the outside. This will give you a sense of how upfront the seller has been in their advertisement.
Pro tip: Craigslist can be a weird place, so remember that sellers are qualifying you too! Most people want to see their boat going to a good home. We've both gotten and given great deals simply because we (or the buyer) were honest, upfront, friendly, and didn't waste time.
7. Be more persistent than the next guy
That weird listing with spelling errors and no photos? Well, it could be a scam, or it could be a sweet deal on a fishing boat and a seller who doesn't know how to use the internet! You'll never know unless you email them.
The same goes for sellers who don't get back to you, send them a follow-up email.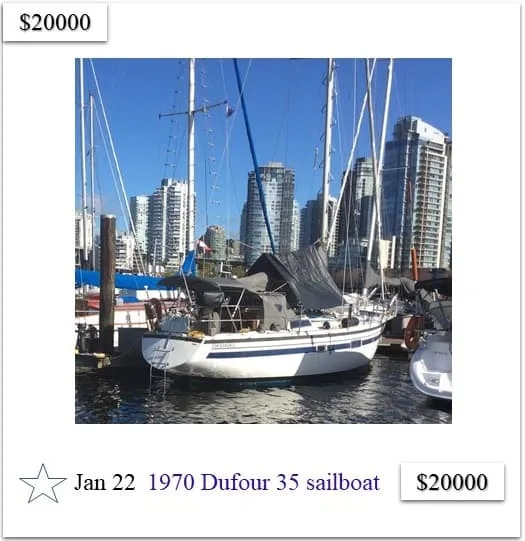 8. Know how you'll transport and store your boat
If you're looking for free boats on Craigslist, know that a seller is going to expect you to take care of all other costs. So, have a plan (especially if it's a big boat).
For example, if you're buying a boat and trailer, think about how you're going to get them home (e.g. does your vehicle have enough towing capacity?) Does the boat need to be pulled out of the water? Where will you store i
Many people sell their boats for cheap or free because they don't want to pay for another season of moorage. Depending on where you live, it may be very expensive to rent a slip or even impossible to find one. You should always know where you're going to keep a boat before you buy it.
Storing your boat in your own backyard is by far the most cost-effective option. Not only will you avoid marina fees, but you'll also have easier access for projects and repairs. For this reason, any boat that comes with a trailer is a real bonus.
9. When you find a free boat, be prepared to move quick!
Good deals can go in minutes, so be ready to drop everything and get down to the marina for an inspection if you want to score that cheap cuddy cabin.
Be clear in your mind about what you're looking for, and what you're not, especially if you plan to negotiate. You can often get lower prices by excluding certain items like dinghies, electronics, and outboard motors from the sale.
Be sure to have things like your boat inspection checklist, finances, contracts, and paperwork in order. Have cash or another payment method ready so you can close the deal—you can't just whip out your credit card.
10. Make sure you understand boat values and prices
Buyer beware! A free boat could be the most expensive boat you ever own!
Let's be real. You're probably getting a deal for a reason. Any really cheap boat is likely to be project boat (i.e., not in good condition). However, there are certain red flags you'll want to avoid (like not having a working marine engine!).
Create a budget, taking into account both time and money, for getting the boat into safe and usable condition. Be mindful of major expenses, like purchasing an outboard motor, or major issues, like a rotten deck, that may take weeks to repair.
So if you're looking for a truly good deal, you should spend some time learning about boat values and pricing.
11. Hire a marine surveyor
You may think you've found a good deal, but could there be a lurking issue you don't know about? Best to ask a professional.
Hire a marine surveyor to inspect the boat before you buy. If you're worried about missing out on a deal, you can see if the seller will accept a deposit to hold the boat while you have it inspected.
A marine surveyor will provide you with a report that lists any deficiencies they find and gives you an estimated valuation. So you can tell if you're getting a good deal or not!
Good luck and happy boat hunting!
Fiona McGlynn is an award-winning boating writer who created Waterborne as a place to learn about living aboard and traveling the world by sailboat. She has written for boating magazines including BoatUS, SAIL, Cruising World, and Good Old Boat. She's also a contributing editor at Good Old Boat and BoatUS Magazine. In 2017, Fiona and her husband completed a 3-year, 13,000-mile voyage from Vancouver to Mexico to Australia on their 35-foot sailboat.