SAILING SCHOOL GOES ONLINE
With more and more sailing schools taking their offerings online, landlocked sailors have cause to celebrate.
If you're new to sailing there are plenty of introductory courses that cover basic navigation, boating safety, and sailing lingo. If you're an old salt looking for a challenge, you can study under America's Cup winners, offshore passagemaking experts, and cruising gurus.
So, this winter, why not sharpen your sailing skills by brushing up on navigation, weather forecasting, or celestial navigation? Here's our roundup of some of the most compelling online sailing courses (listed from beginner to advanced).
Note: This post contains affiliate links.
SAILING 101 FOR BEGINNERS
Price: $29.95 USD; $49.95 CAD
Level: Beginner
Time: 3+ hours
If you're new to boating your first step should be to take the BOATsmart! course and get your official NASBLA and state-approved boating education card (or in Canada, your boating license). If you want to operate a boat, this is a REQUIRED course (in most jurisdictions).
The course will teach you all the boating basics and provide you with a certification in the form of a boating education card which you should carry with you while boating.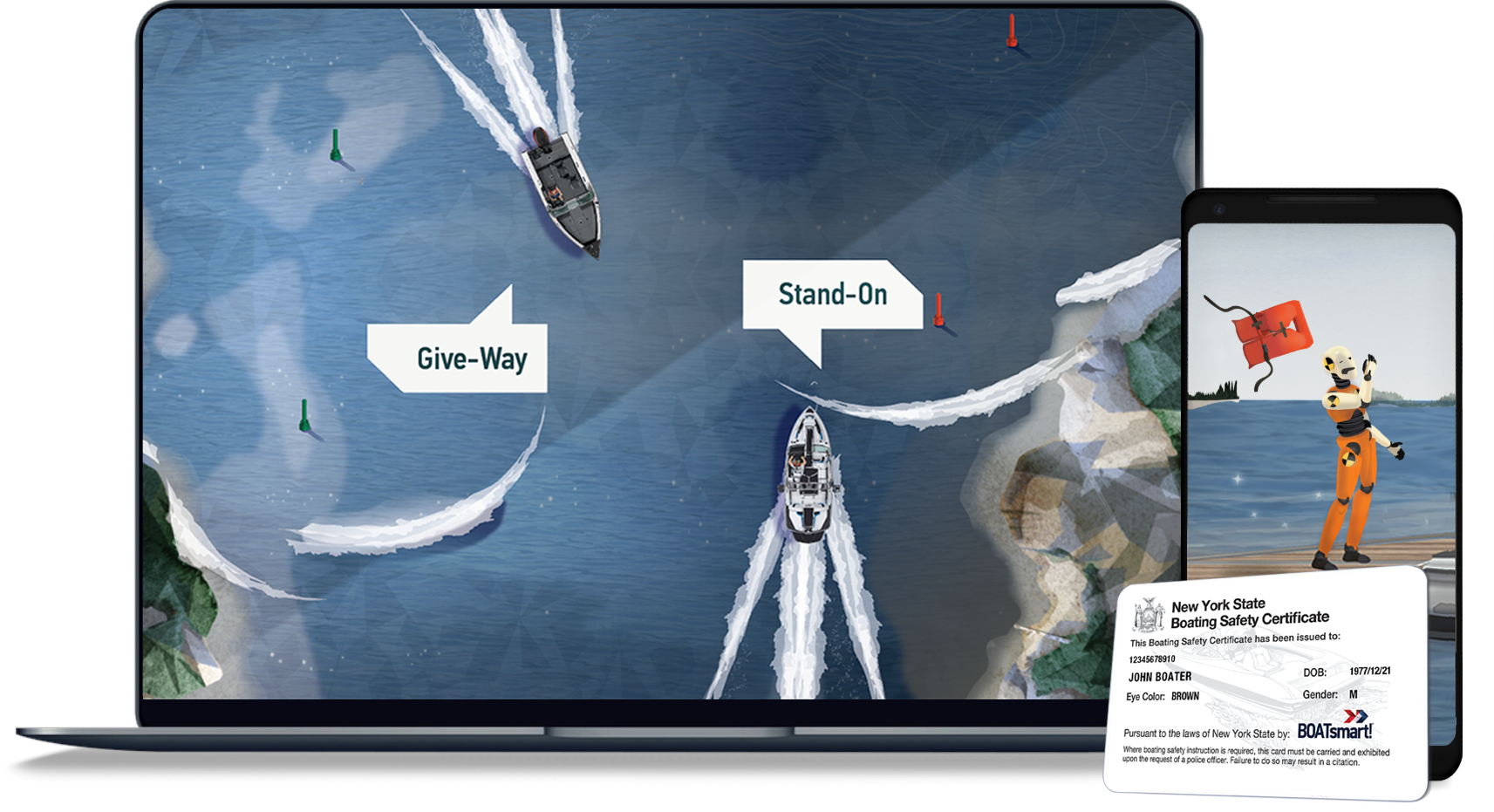 Price: $8.50
Level: Beginner
Estimated time: 30 minutes
"Raise the jib, winch the mainsheet, tighten the cunningham!" Sailors have a language all their own and making sense of it all can be overwhelming if you're new to the sport. Get to grips with sailing terminology and learn about the parts of the boat with this quick and fun online sailing course from the BoatUS Foundation and Offshore Sailing School.
Price: $39.50 USD
Level: Beginner
Time: 3 hours
Whether you're totally new to the sport or feeling a bit rusty, this learn-to-sail course will cover both the basics of sailing and more advanced information, providing the skills and knowledge needed to handle a sailboat up to 30 feet in length. The Colgate Offshore Sailing School is run by renowned sailing educators, Steve and Doris Colgate.
Once you've completed this course, you can apply what you've learned and gain higher-level sailing certifications with hands-on instruction at one of Offshore Sailing School's many locations.
INTERMEDIATE ONLINE SAILING COURSES
Price: $40.00 USD
Level: Intermediate
Time: 2 hours
This online course was created by The BoatUS Foundation and the United States Coast Guard Auxiliary to teach boaters the basics of plotting, reading charts, identifying aids to navigation (ATONs), and electronic navigation.
Whether you want to do basic coastal cruising or explore distant shores, Modern Marine Navigation will help you improve your navigation skills and is the only navigation course to be fully vetted by the U.S. Coast Guard Navigation Center.
Price: $30.00 USD
Level: Intermediate
Time: 2 hours
"Umm, err, roger that?" If using the VHF radio has got you feeling tongue-tied, this course will teach you the ins and outs of effective VHF radio communication on the water. A critical tool in case of an emergency, the VHF radio can also be extremely helpful for receiving weather information or sécurités from the U.S. Coast Guard, booking a spot at a marina, or organizing a beach barbecue with fellow cruisers.
This online course from United States Power Squadrons will teach you not only how to choose the right VHF radio, but also how to use it with confidence.
Cost: $30, American Sailing Association members get a $10 discount.
Level: Intermediate
Time: 1 hour
Learn the fundamentals of meteorology from two-time America's Cup winner, Peter Isler. The course walks you through basic meteorology and forecasting, covering topics including global wind and pressure patterns, upper atmosphere and jet-streams, and recommended sources for weather information.
ADVANCED SAILING COURSES
Cost: $30, American Sailing Association members get a $10 discount.
Level: Advanced
Time: 1.25 hours
Two-time America's Cup winner, Peter Isler, teaches about the art and science of weather forecasting, introducing leading-edge weather prediction tools, global forecasting models, and his own approach to studying a forecast.
Presented by the American Sailing Association (ASA), all ASA members get a 33% discount. There are also ASA sailing schools around the country if you're looking for in-person instruction.
Cost: FREE
Level: Advanced
Time: Not listed
Learn the ancient practice of celestial navigation from Physics and Astronomy professors at Vanderbilt University! This course will teach you how to determine your location using nothing but the stars and is completely free and open to the public.
ONLINE BOATING COURSES FOR EVERYONE
Cost: FREE
Level: All levels
Time: 1-2 hours
Being a good boater, means taking care of the health of our rivers, lakes, and oceans. The BoatUS Foundation created this free course to share simple tips for reducing the impact of boating including advice on fueling, boat care, marina selection, sewage and waste disposal, invasive species, sustainable fishing, and protecting boating ecosystems.
Cost: $3.99
Level: All levels
Time: NA
While not billed as an online sailing course, this knots and splices app created by Sailing World will take you from beginner bowlines to Brummel splices. Whether you're new to knots or just looking to stay practiced, you'll love the step-by-step instructions, videos, and animations.
This app includes 26 of the most common nautical knots and is only available at the Apple App Store. If you're an Android user (or just a total knot nerd), check out Knots By Grogg, it's not sailing focused but it does teach over 110 knots used in climbing, boating, camping, fishing, and search and rescue.
Are there other sailing schools or online sailing course that you'd like to see listed here? Let us know in the comments below.
Fiona McGlynn is an award-winning boating writer who created Waterborne as a place to learn about living aboard and traveling the world by sailboat. She has written for boating magazines including BoatUS, SAIL, Cruising World, and Good Old Boat. She's also a contributing editor at Good Old Boat and BoatUS Magazine. In 2017, Fiona and her husband completed a 3-year, 13,000-mile voyage from Vancouver to Mexico to Australia on their 35-foot sailboat.