Photo credit: chuttersnap
BOAT VALUES SHOULDN'T BE A MYSTERY – HERE'S HOW BOAT PRICES WORK
Understanding boat prices should be like understanding car prices, right? Just look up the NADA or blue book value and you're on your way. Unfortunately it's not that easy! Why? This is partly because there are far more cars in the world than boats and therefore there's better information about pricing in the car market. Fortunately there is a way to estimate boat values with a bit of simple math. We're going to show you how by walking through an example. You can download a FREE calculator at the end of this post.
WHY YOUR BOAT ISN'T LISTED ON NADA BOAT VALUES
While online calculators like NADA Guides can quickly give you a ballpark price, they pose a couple of issues:
Your boat may not be listed. The problem with online boat calculators like the NADA boat prices calculator is that they only have data for the most popular boat makes and models. If you're researching a common boat, you might be able to use this to look up boat prices. However, anything else is unlikely to be listed. But don't worry, we're going to show you how to calculate values for ANY boat using the downloadable calculator at the bottom of this post.
The listed boat prices are averages and don't consider individual deficiencies of a particular boat. Even if you find a used boat price listed in NADA, it doesn't mean that it's an accurate price for your boat. You'll need to evaluate any repairs and deficiencies (See STEP 3) before you can estimate an accurate price.
While NADA boat values are useful data points, it's important to not rely on them too heavily and do your own due diligence. Here's how:
When thinking about boat values and the price an owner is asking, consider it from all angles.
STEP 1: EVALUATE THE LIST PRICE
We always take the list price with a few grains of salt. From talking to yacht broker friends and from our own experiences, boats almost never sell for the list price. In fact, the list price is just a starting point for negotiations and it is usually set high because the culture in sailing is to offer 70-80% of the list price. We have encountered boats for which we would have paid the list price, but before we could even make an offer, they were sold. If there is a good deal out there it doesn't last long.
Craigslist is especially useful for finding cheap boats, we share the secrets for searching out great deals on Craigslist.
If we are interested in the boat we usually ask for a yacht survey to see what the most recent surveyor valued the boat at. Often the surveyor will separate hull value from add-ons like, electronics that lose their value very quickly. We have also found that sellers use old survey reports to determine valuation, in some case surveys that are ten years old. Old surveys are not helpful in determining how much the boat is worth.
Example:
I go on Craigslist and find a Dufour 35 sailboat from 1979, listed at $20,000. I contact the seller and ask for the most recent survey. They send me a 15-year old survey that lists the boat's value at the as $45,000.
Special offer! Good Old Boat Magazine is offering a special deal for boat buyers. Subscribe for 1 year and get 50+ FREE articles on boat buying from their back issues. Coupon code at bottom of post.
STEP 2: DO SOME COMPARISON SHOPPING
We always check other similar boats in the local area (yacht brokers, Craigslist, Kijiji) to see what they are listed at. If our local area is Vancouver, we consider local to be anywhere within a 500 mile radius. After that, we do a search on Yachtworld and Sailboat Listings of the exact year and model of the boat in which we are interested. However, in some places, like Mexico, boats will be much cheaper than an area like the Pacific Northwest.  So searching in other areas has limited applicability for buying a boat locally.
Here are the 5 best places to buy a used boat.
There are three important things to consider when comparing used boat values
The condition – Some boats are better maintained than others which will be reflected in the price
The location – some boat markets are cheaper than others (e.g. boat prices are lower in Mexico and higher in Australia)
The year the boat was built – expect lower boat prices for older builds (e.g. a 1979 boat should be priced lower than a 1990 boat)
Example:
I search for Dufour 35s on Craigslist, Kijiji, Yachtworld, and Sailboat Listings and here are the results: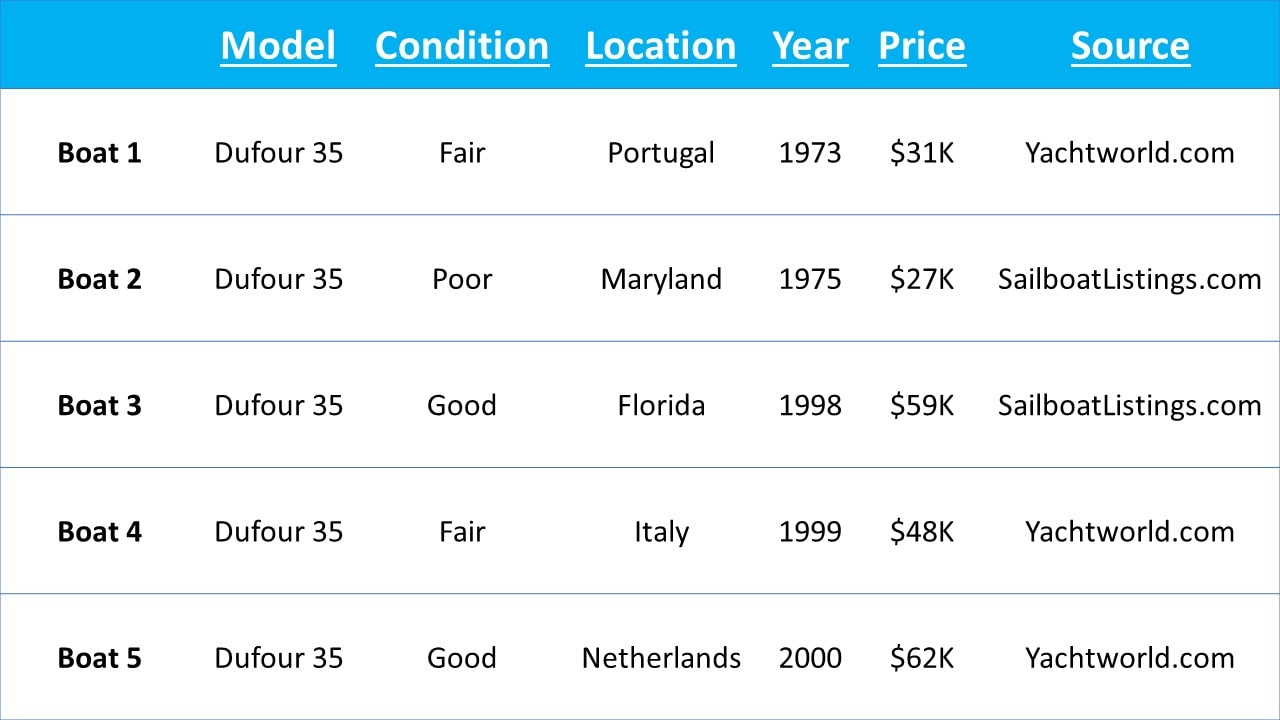 Use a price curve to estimate used boat values over time
In assessing the economics of a particular boat we have as gone as far as making depreciation curves (don't worry it sounds complicated but you can download our free calculator at the bottom of this post).  We want to know how much we will be able to realistically sell the boat for in a few years' time. We look on Yachtworld primarily, but use as many sources as possible, to gather data for a particular manufacturer.
For example, if we are looking at a 41' Beneteau, we search for all Beneteaus in the 40-43' range. We put the age and price of every boat into an excel document and plot them on a scatter-plot graph.  Then we add a trend line (usually polynomial, order 2) to fit the data. This will give us an idea of what the price of the boat is doing over time and we can project where the price will be going in the next few years. If we are planning to sell in a few years we would want to be near the beginning of a low slope segment of the trend line. Sometimes the trend line is skewed by overly-idealistic sellers or junk boats, which we consider outliers and often strike from the data.
Example:
I plug the used boat prices I find into the Calculator (download yours for FREE at the end of this post) and I get the following trend line. The more data points (comparable boats) you add to the excel sheet the better your estimate will be! 5 data points is not great, but it's all I could find for a Dufour 35. Based on this curve line I should assume that a 1979 Dufour 35 (the boat I'm thinking of buying) is worth ~ $29,000.
STEP 3: VALUE BY THE NUMBERS – WHAT WILL IT COST TO GET THE BOAT TO "FAIR" CONDITION
When we go to inspect a boat, we write down any  projects and repairs that will need to be done (see our boat inspection checklist). We detail everything that will need work, repair or replacement, immediately and over the next few years and assign a material cost and labor cost to each item.  We don't add normal maintenance costs because that would skew the value and be unfair to the seller, unless the seller hasn't been maintaining the boat and we would be playing catch up. It takes some research to determine the costs of each item, but the costs once derived can be applied to other boats as well.
We add all of the repair costs to the list price for a total (which is usually depressingly high). Often we often multiply the repair costs by 1.25 as we've found we are usually optimistic about price and time.
Example:
Upon inspecting the Dufour 35 I discover there is some work to be done! The GPS doesn't work ($1,000 replacement cost), the main sail is wrecked beyond repair ( $2,000 replacement cost) and the furler needs to be replaced ($3,000). I'll have to spend at least $6,000 fixing up the boat, which I multiply by a factor of 1.25 (because there will likely be addition fixes!). So, I estimate it will be $7,500 to get the boat into "fair" condition.
STEP 4: PUTTING IT ALL TOGETHER – STEPPING BACK AND LOOKING AT BOAT PRICES
When you combine the list price and the cost of repairs you'll be left with the "true" price of the boat. Compare this to the comparable estimated price (Step 2) and you'll have a sense of whether boat is priced too high, too low, or just right!
Example:
When I take the list price ($20,000) and add the repair costs ($7,500) I realize the boat will cost me $27,500 in total. When I compare that to my comparable estimated price of $29,000, I can see that this boat is in the right ballpark and probably fairly priced. 
STEP 5 (OPTIONAL): HIRE A MARINE SURVEYOR, BOAT BROKER, MARINE MECHANIC
While there's no replacement for doing your own research and due diligence, sometimes it's nice to get a professional opinion. Here are some of the existing service providers that can help you understand used boat prices.
Marine surveyors
Once you've done your research and if you're still serious about purchasing a particular boat, it may be time to hire a marine surveyor. A surveyor will physically inspect the boat and tell you what they think the boat is worth. Usually this takes place on the dock or in a boat yard and doesn't include sea trials. There are two types of marine survey:
Pre purchase condition and valuation: This costs upwards of $18 per foot and involves a deep 3-6 hour inspection. The surveyor will ask to see the boat both in the water and out of water (so there may be additional haul-out costs). The final survey report will list both a "replacement value" and a "market value" and should be accepted by your insurance company (provided it is recent).
Insurance condition and valuation: At $16 per foot this survey is less expensive and less detailed. It's more for boat owners who are looking to insure their boats. Most insurance companies require owners to provide a recent professional appraisal of the vessel. While not as detailed as the previous survey, it will still provide you with a suggested boat value.
In deciding whether to get a marine survey, it's really a matter of your existing boat knowledge, your financial situation, and your risk tolerance. Personally, when we bought a $3,000 boat we didn't have it surveyed professionally, when we bought a $9,000 boat that we intended to sail across the Pacific, we paid top dollar for one of the best marine surveyors around. If you're new to boating or looking at boat prices upwards of a few thousand, we recommend hiring a surveyor.
Get a recommendation on a marine surveyor before you hire
It's worth noting that some surveyors are considerably more experienced and knowledgeable than others (and charge accordingly). For example, there is a surveyor in the PNW who has been nicknamed "Dr. Doom" for his reputation of being so thorough that he almost always finds considerable deficiencies which kill the sale. Another advantage to hiring a marine surveyor is that they can help you lower the purchase price because they'll like spot deficiencies that you'll miss. Always do your research and get a recommendation on a marine surveyor in your area.
Boat brokers
While boat brokers generally represent the selling party, you can hire one to represent you as a buyer (assuming there are no conflicts of interest). This can be particularly valuable, not only because brokers have an experienced-eye and a sense for the local market, but also because they have access to a very special data set. Brokers who advertise on YachtWorld (which most do) have access to a massive confidential database that shows the actual SELLING prices for boats (not just the list prices that regular users see). If you can't hire a broker it's still worth calling their offices to get their thoughts on the value of a boat you're interested in. Usually they're very friendly and happy to share their knowledge. They may even point you in the direction of a sweet deal that you'd missed.
Marine mechanics and fuel testing labs
The value of a boat is heavily impacted by the condition of a boat's engine because engines are so expensive to replace. For example, a $10,000 boat might be worth nothing if the engine is shot. It may be worth hiring a marine mechanic to inspect the engine before purchasing. If you're considered about a boat's engine you can also take a sample of the boat's fuel and send it off to a local fuel lab, they'll send you a report with valuable information on the condition of the engine.
A COUPLE OF EXTRA THINGS TO CONSIDER WHEN LOOKING AT BOAT PRICES
Emotional pricing
We are as guilty as everyone in setting emotional prices for our boats.  We put in so much money and hard work and we form such a relationship with the boat that we value the boat higher than the market does.  It takes time and a few low ball offers to wear down the emotional seller to a more rational price point.  Sometimes, the seller sets an idealistic price and won't budge because they don't really want to sell.  We have encountered this a few times and it is usually pretty clear.  Sometimes we are just too early and we know the seller will get worn down over time, but it's time we just don't have and so we move onto the next one.
Emotional buying
The corollary to emotional pricing is emotional buying.  Sometimes we fall in love with a boat; something about the interior layout or the lines or the color of the hull, even the name can have a profound influence.  We can't help but let our emotions in to the decision making process, but we have found that they should be reserved for the final decision.  In order to minimize our emotions we try to quantify everything in terms of numbers and put it in an excel sheet.
[wpcd_coupon id=1886]
A final note, take all of this with a grain of salt and USE YOUR JUDGMENT! The calculator and recommendations above are in no way fool proof. As Publilius Syrus wrote: "Something is only worth what someone is willing to pay for it". Good luck and happy boat buying!
Summary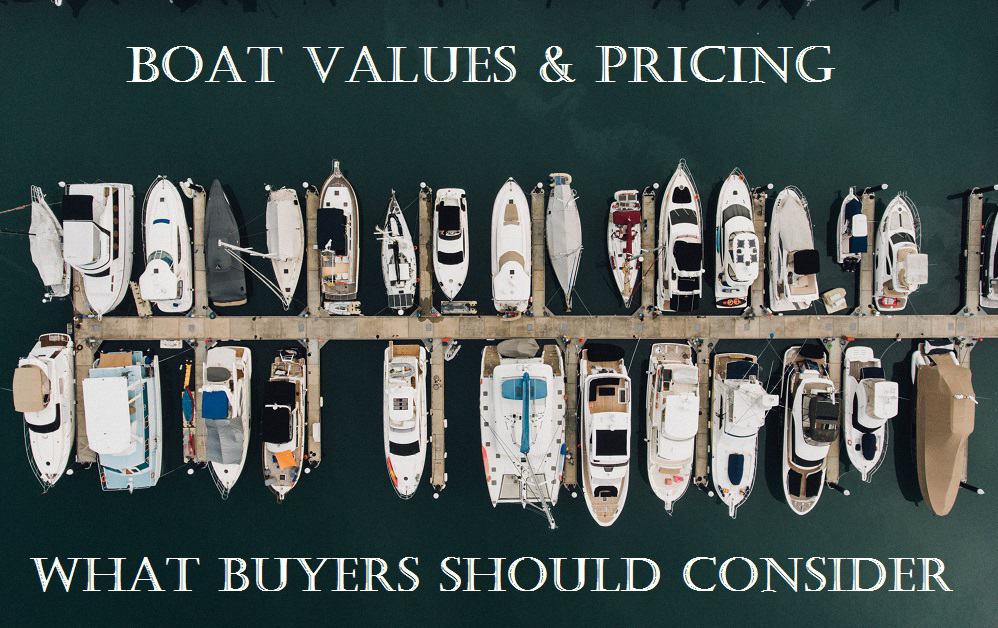 Article Name
Description
Boat values (especially used boat values) can be hard to understand. NADA boat values are often not available. Here's how to calculate boat prices yourself. Step 1. Evaluate the list price of the boat you're interested in Step 2. Compare price to other listed boats Step 3. Calculate cost to make any repairs to the boat Step 4. Step back and evaluate
Author
Publisher Name
Publisher Logo