Living on a boat sounds cool, but is it right for your lifestyle?
With real estate rocketing in cities like London, San Francisco, and Vancouver, a lot of people are ditching their pricey digs for a more adventurous and alternative lifestyle: living on a boat.
Living on a boat can afford you all kinds of benefits: cheap rent, amazing views, and may make you a more interesting person at dinner parties (results not guaranteed).
We lived on a boat for five years and it was a good choice for us, but it's obviously not right for everyone. So, before you walk out on your sofa bed and five roommates, there are 10 things you should know.
You can save a lot of money on rent!
Is living on a boat cheaper? Yes! Living on a boat is cheap. We spent two years living on a sailboat in a marina in Vancouver with a full suite of amenities (power, parking, high-speed internet access, laundry, showers, workshop) and it only cost us $550 a month in liveaboard slip fees (our next best option would have been an apartment for $1100+).
If you choose to live on a mooring ball, it can cost you even less! In San Diego, we paid $150 a month for a mooring ball.
Usually, the cheapest place to live on a boat is at anchor, which is often free.
Of course, we had to buy a boat (that cost us around $10,000) but over two years, we more than got our money back. By avoiding high rent, we were able to save enough to set out on a three-year trip, sailing 13,000 nautical miles from Vancouver to Mexico to Australia.
Some sample liveaboard budgets:
How much money do you need to live on a boat? It depends on your location, boat, and how comfortable you want to be. We spent between $600- $2,000 a month while living aboard our boat.
Cost of living on a boat
While living on a boat is very affordable, there are ongoing costs and living expenses to be aware of.
Liveaboard insurance
Liveaboard insurance rates are more expensive than recreational boat insurance. For our 35-foot sailboat we've paid:
$800 a year for liveaboard insurance (sailing in local waters)
$1,800 a year for liveaboard insurance while cruising (sailing internationally)
While some boat owners we met, didn't carry insurance, most boatyards will REQUIRE you to have insurance (and will check your paperwork) before hauling your boat out of the water.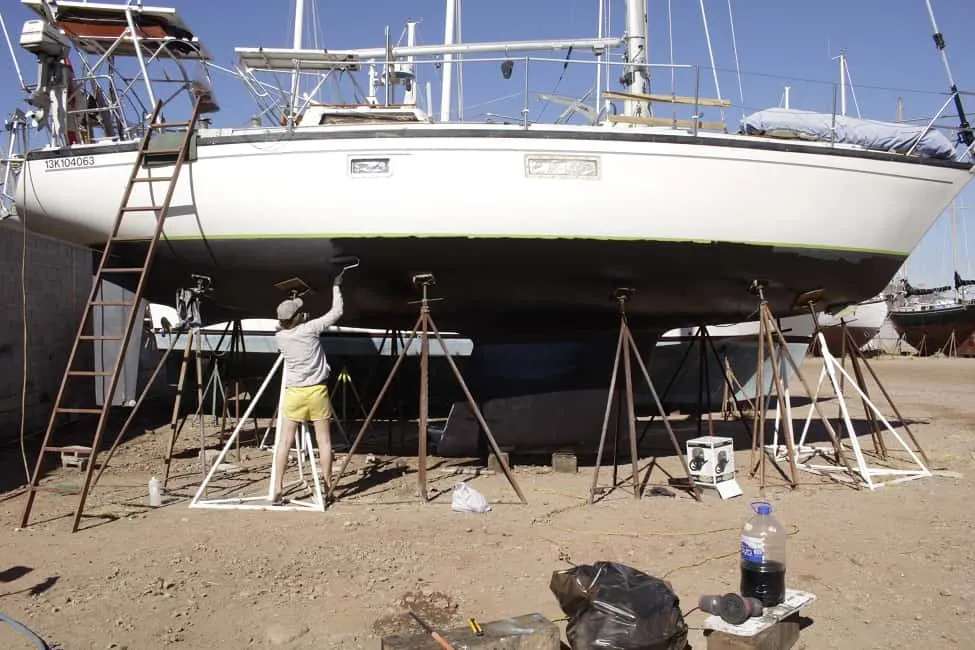 Liveaboard moorage
Liveaboard moorage generally costs more than recreational moorage. Between 2013-2018, we found it was typical to pay $550-750 a month.
Utilities
Your electricity bill will be a fraction of what you'd pay living in a house. When you live in a very small space (like a boat) you'll consume less electricity for heating and cooling, meaning you'll have a lower bill at the end of the month.
You may need to run your engine to charge up your batteries or run high-draw appliances like a water maker or air conditioner. Be sure to factor fuel into your monthly budget.
Many boaters use solar panels or wind turbines which, while pricey upfront, allow you to disconnect from the grid altogether.
Propane
Most marine stoves run on propane or white gas, so you'll want to budget for fuel if you plan on doing any cooking aboard.
Water
Marinas sometimes charge for fresh water. Our boat was designed to hold 66 gallons (250 liters) and we refilled our water tanks once or twice a week. The average person in the US uses 80-100 gallons of water per day! Refilling our tanks was a chore, so we got better at conserving water.
Another option is to buy a reverse osmosis watermaker which turns seawater into fresh water. We installed one when we were cruising but it cost us over $3,000. There are much cheaper alternatives to watermakers.
Sewage
You will also have to think about pumping out your septic holding tanks. Many marinas have pump-out stations and charge for the service. In most harbors, it's illegal to empty your holding tanks into the water.
Pumping out sewage is not only bad for the marine environment, but it also gives liveaboards a bad reputation. So, don't do it!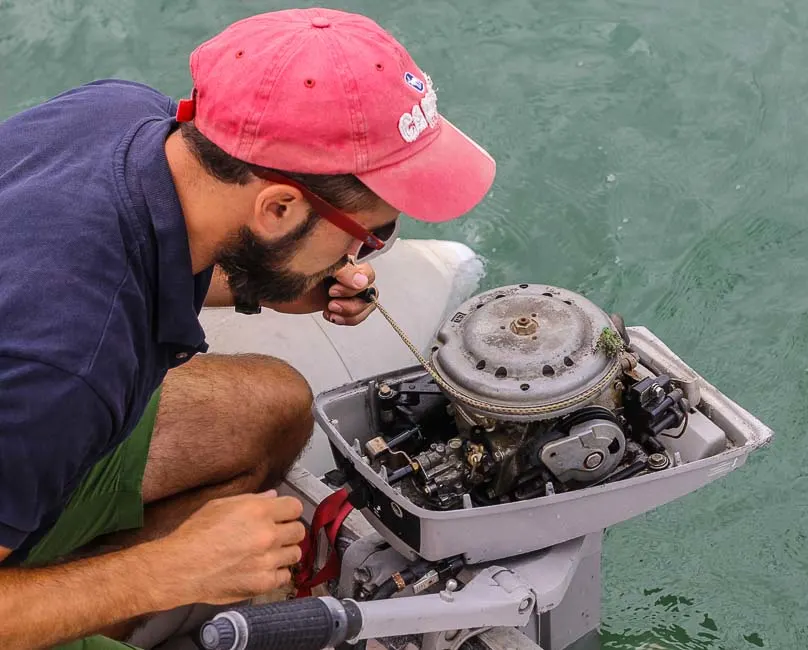 Maintenance costs
Boats are a lot of work, far more than a house. Stuff breaks all the time and you'll need to be a good problem solver and ideally handy with tools. It's hard work, but on the plus side, you'll develop a whole bunch of new skills.
Your maintenance costs will depend on whether you're doing the work yourself and the condition of the boat.
Generally, marine parts cost three to four times the price of household building supplies. A good rule of thumb is to budget 10% of the value of your boat in repairs, annually.
When boat shopping, remember that a cheap boat isn't necessarily a good deal and may cost you a lot more in repairs over the long run.
Mortgage
You may get lucky and snag a cheap or free boat, but liveaboard boat prices can run into the six and even seven figures. If you finance your boat, you will have monthly mortgage payments.
Taxes
Boat property taxes vary by location. E.g., Californians are assessed 1.1% of the vessel's current value annually.
You can't trick your partner into living on a boat.
For some people, living on a boat is a lifelong dream, for others, not so much. No matter how romantic you find the notion, do not attempt to live aboard if your partner is not game.
There are plenty of challenges: limited space, leaks, and potentially a lot of motion. Talk your partner into boat living and you may wake up one day to find they've jumped ship.
If your partner is on the fence, the best way to find out if moving aboard will work for you is to test-drive the liveaboard lifestyle before living on a boat full-time.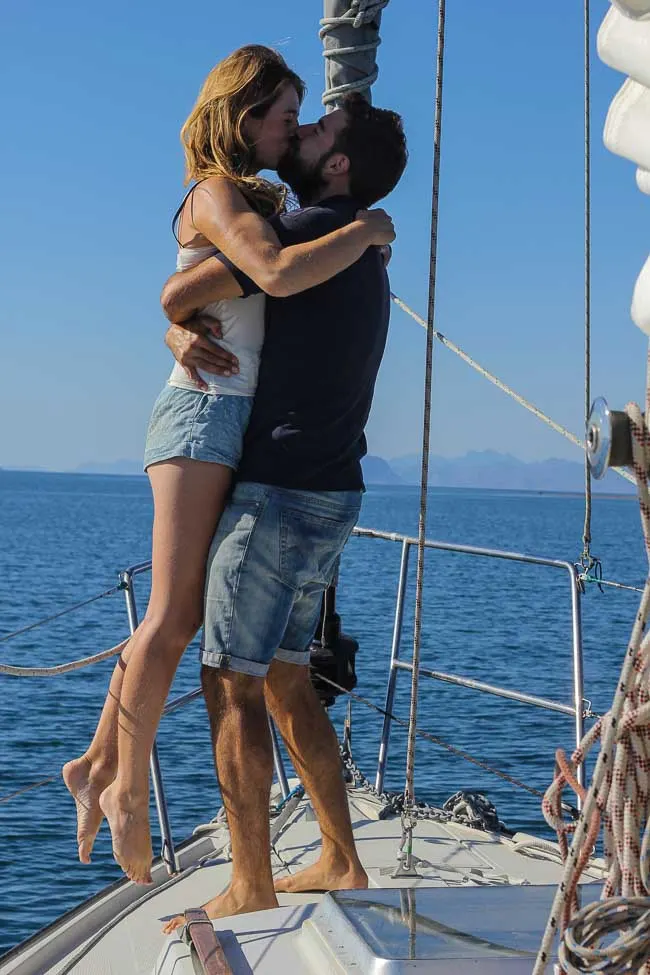 Buying a boat is easy, finding a place to put it—not so much.
It can be very challenging to find a place to moor your boat. The best places to live aboard a boat often involve waitlists and permitting.
Many big cities have liveaboard licensing requirements. As a result, liveaboard marinas often have multi-year waiting lists.
It's a good idea to call your local marinas and find out if they have available liveaboard slips before searching for a boat.
You may find your anchoring options limited, too. In recent years, many jurisdictions have started cracking down on long-term anchoring, often introducing time limits and requiring anchoring permits.
Don't buy a boat until you know where you're going to keep it. Some marinas may turn a blind eye to "sneak-a-boards" but you're really risking getting the boot at any time.
Some of the best liveaboard cities in Canada and the United States
Alameda, CA
The Chesapeake Bay Area
Corpus Christi, TX
Portland, OR
San Diego, CA
Sausalito, CA
Seattle, WA
Tampa Bay, FL
Vancouver, BC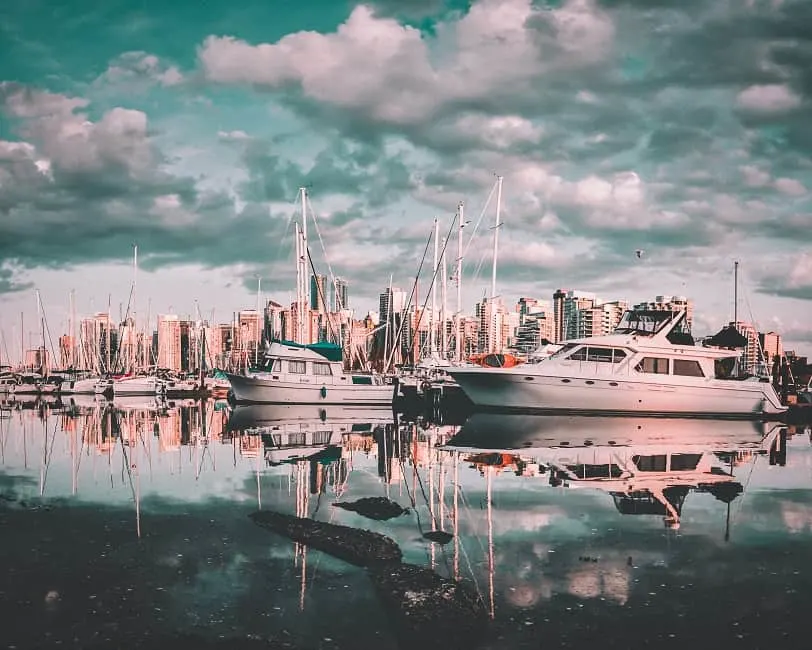 Marinas vs. mooring balls – location will affect your lifestyle
Living on a boat in a marina will be very different from living at anchor or on a permanent mooring buoy. Finding the best place to keep your boat will come down to a few factors.
Some important considerations are things like electricity and water (in a marina slip you will have 24/7 access to both, whereas on the hook you'll be living off-grid). This can make a big difference, for instance, if you want to have a shower (especially a hot shower) every day. Doable at a marina, difficult if not impossible on the hook.
Other benefits of dock life include being able to walk off the boat. Going back and forth in a dinghy every day can be a nuisance, especially if you're transporting pets, bikes, and heavy gear.
If you plan on having a boat dog, easy access to the dock will be especially important.
Other perks of liveaboard marinas are comforts like internet, cable, and laundry.
Often marinas can offer better wave protection (e.g., with break walls), which becomes important in bad weather. In a boat slip, you don't have to worry about your boat dragging anchor. Also, protection from high winds and wave action will make life aboard more comfortable (as compared with bouncing around in an anchorage).
There are so many factors to consider when deciding between a marina, mooring field, or anchorage (too much to cover here), so check out "Where to live aboard a boat?" for more info.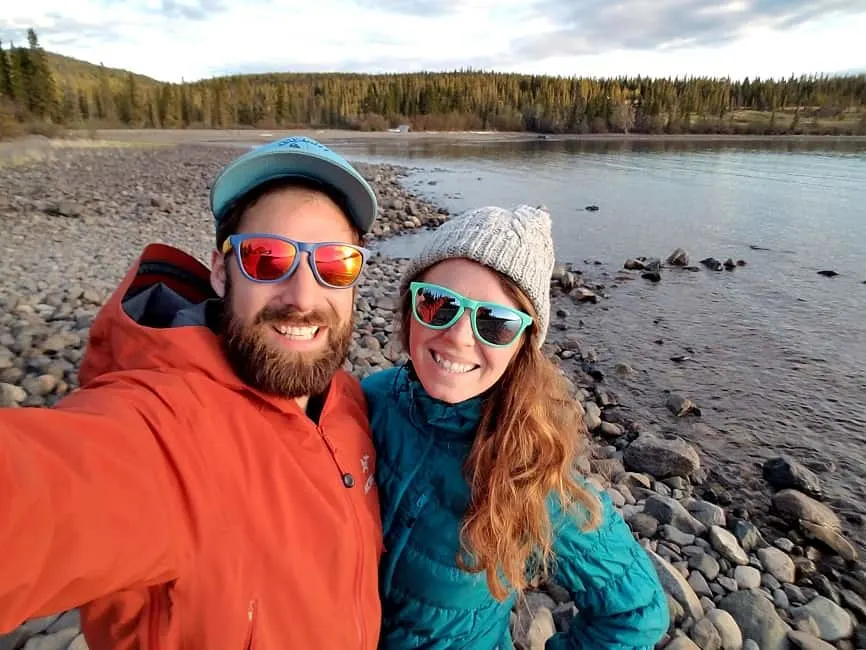 Personal space – who needs it?! Living on a sailboat versus a house
The number one question people ask us is, "How do you live on a sailboat and not kill your partner?" Unless you're living on a luxury yacht, there is no personal space on a boat.
Imagine that every time you want to walk from the kitchen to the bedroom you have to ask your partner to move out of the way so you can pass, and that about sums it up.
Also, many boat heads are often less (ahem!) private. We had a CS 24 where the head was literally under the V-berth, which made it very awkward if you had to get up to pee in the night.
That being said, we quickly adapted to not having much space. We became more organized, tidier, and attuned to each other's needs while living in close quarters.
If having less space is your number one concern, consider looking at trawlers instead of living on a sailboat as you get way more living space and light on a 35-ft. trawler, than you do on a 35-ft. sailboat.
Boats you can live on:
While in a technical sense, you could live on any boat with a cabin, the best boat to live on will offer house-like comforts including a galley (kitchen), head (toilet), and a comfortable berth (bed).
Ideally, it will also have liveaboard essentials like solar panels, a cabin heater, and a big battery bank. Though you can always add these later.
Obviously, the size of your boat is an important consideration. As a single person, you may be able to get away with living on a small boat (e.g., a 24-footer) whereas the best liveaboard for a family might be 40-foot plus.
6 types of boats you can live on
There are six different kinds of boats you can live on and they all vary in size, comfort, seaworthiness, and cost.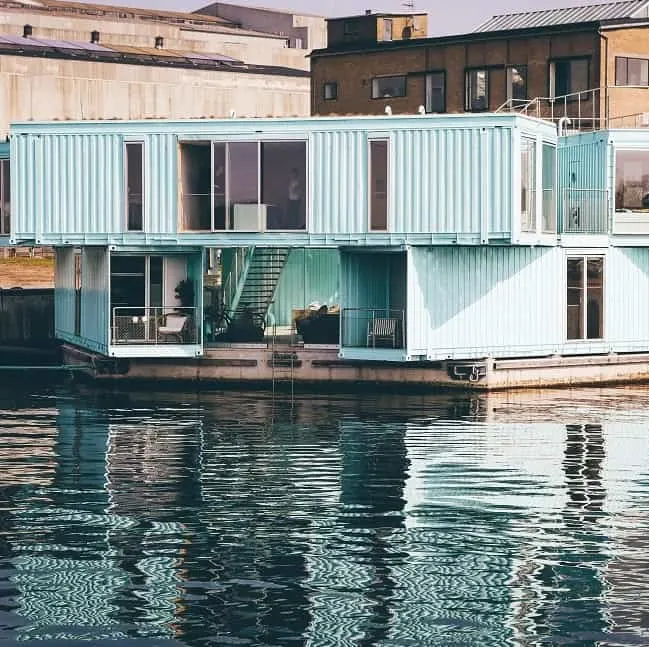 Floating homes
As the name would suggest, floating homes are a type of boat that will give you the most house-like living experience. However, they are generally permanently moored and not convenient to move or travel with. They can cost as much as land-based houses to purchase.
Houseboats or canal boats
Houseboats and canal boats offer space for comforts like a full-size fridge and kitchen. They're great for travel in protected waters and in the case of houseboats, can even be beached on the land.
Tugboats and Trawlers
Tugboats and trawlers have decent headroom and can accommodate comforts like big-screen TVs, full-size kitchens, showers, and sometimes even bathtubs. As most living space is above the waterline, they also tend to have lots of natural light.
Sailboats
Sailboats are a bit like the basement apartment of liveaboards and often do not have fridges, showers, or hot water. However, they also generally cost a lot less to purchase than motor vessels and you can travel long distances without fuel costs.
Catamarans
Catamarans are double-hulled sailboats that allow you to sail around the world in comfort but come with a significant price tag. The bridge between the two hulls creates plenty of open airy living space up top with bunks down below in the hulls. However, not only are they expensive to purchase, but they also take up twice the space and require twice the rent and maintenance cost.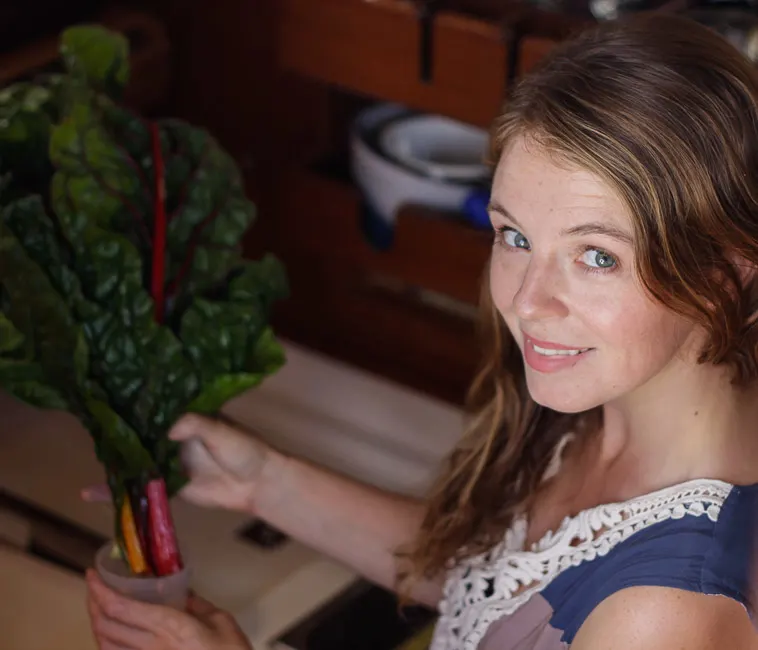 The big compromise: creature comforts
Most inexpensive liveaboard boats do not have hot showers and laundry. They also have tiny bathrooms, kitchens, and hardly any storage space.
If you can't bear the thought of giving up bubble baths, then living on a boat full-time is not for you. If, however, the idea of a minimalist, multi-purpose, stacking dish set cranks your gears – then you're probably on the right path.
Making the most of small spaces can be a lot of fun if you're up for the challenge.
Bear in mind, that some boats will be better set up for living aboard than others (we have a list of the best boats for living aboard).
You will have the coolest neighbors
Boat living tends to attract some interesting people: artists, musicians, and engineers. Nick Cave and Rod Stewart both lived aboard in the U.K., as did Alan Watts in Sausalito.
Boat life also fosters a very tight sense of community. You're far more likely to get to know your neighbors (which we think is a good thing!).
Bring your home on weekend getaways
Who needs a second home when you can take your first home with you? Perhaps it's kind of obvious but it's great to throw off the dock lines and go cruising on the weekends.
It should go without saying, but learn to sail (and be competent with your boat) before moving aboard. Not only will you need to be able to move your boat around for safety and practical reasons (e.g., going to and from the gas bar) but also it's a wonderful activity.
While living on our boat we got to visit so many beautiful places in our local Pacific Northwest waters. As we gained sailing experience, we began to think about traveling farther afield.
Many of our liveaboard neighbors were experienced bluewater cruisers. They inspired us to embark on a sailing trip to Mexico and the South Pacific and gave us a lot of help along the way.
If you think you might like to buy a bluewater sailboat and go cruising or sailing around the world, living aboard is a great first step towards that dream.
Leaks and climate control will become your obsession
It's a lot harder to live on a boat during the cold winter months.
Boats leak. If you live aboard in a wet city you're guaranteed to wake up one morning with a soggy pillow or mystery puddle on the kitchen counter thanks to a leaky hatch or deck fitting.
Mold is another basic fact of life aboard and can become a major issue. Many full-time liveaboards opt to run dehumidifiers and heaters to keep humidity in check.
The good news is that both leaks and humidity are totally manageable if you stay on top of it.
If you live in a place with extremely cold winters (regular freezing temperatures) it gets even harder. For instance, on the lakes in Ontario, Canada, it's sometimes necessary to run bubblers to prevent ice damage to the dock and boat.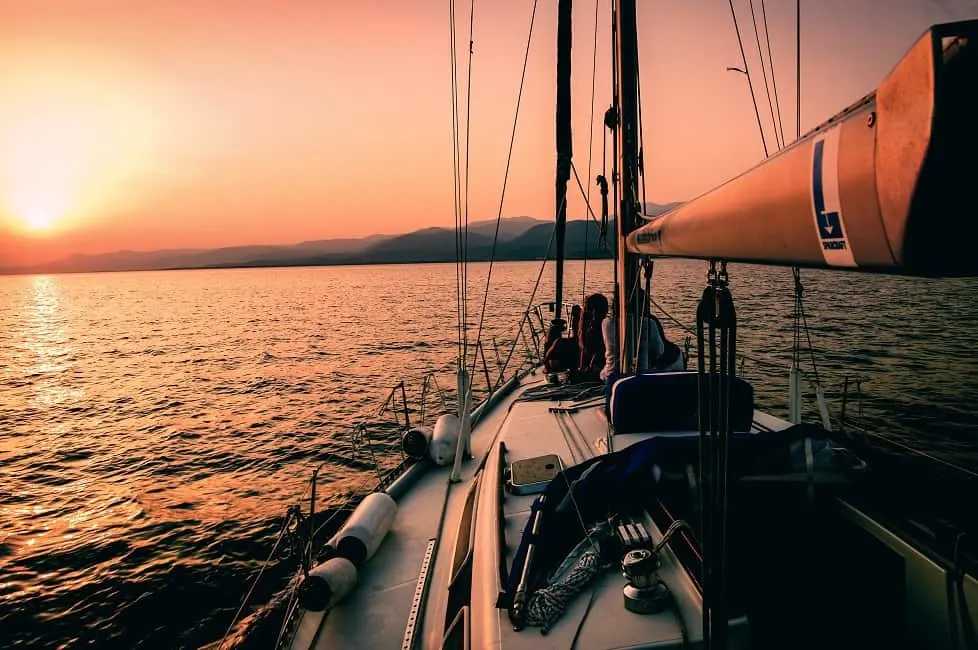 The best view in the city
If the idea of living on the waterfront has always appealed to you, living aboard is a way to get those breathtaking views on the cheap.
It's cliché but the best thing about living aboard is settling into the cockpit at the end of the day with a cup of tea or glass of wine and watching the sunset.
We found life on the water infinitely more peaceful and a great escape from the bustle of city life. If you're up for an adventure, living on a boat full-time can be a great way of life.
Fiona McGlynn is an award-winning boating writer who created Waterborne as a place to learn about living aboard and traveling the world by sailboat. She has written for boating magazines including BoatUS, SAIL, Cruising World, and Good Old Boat. She's also a contributing editor at Good Old Boat and BoatUS Magazine. In 2017, Fiona and her husband completed a 3-year, 13,000-mile voyage from Vancouver to Mexico to Australia on their 35-foot sailboat.