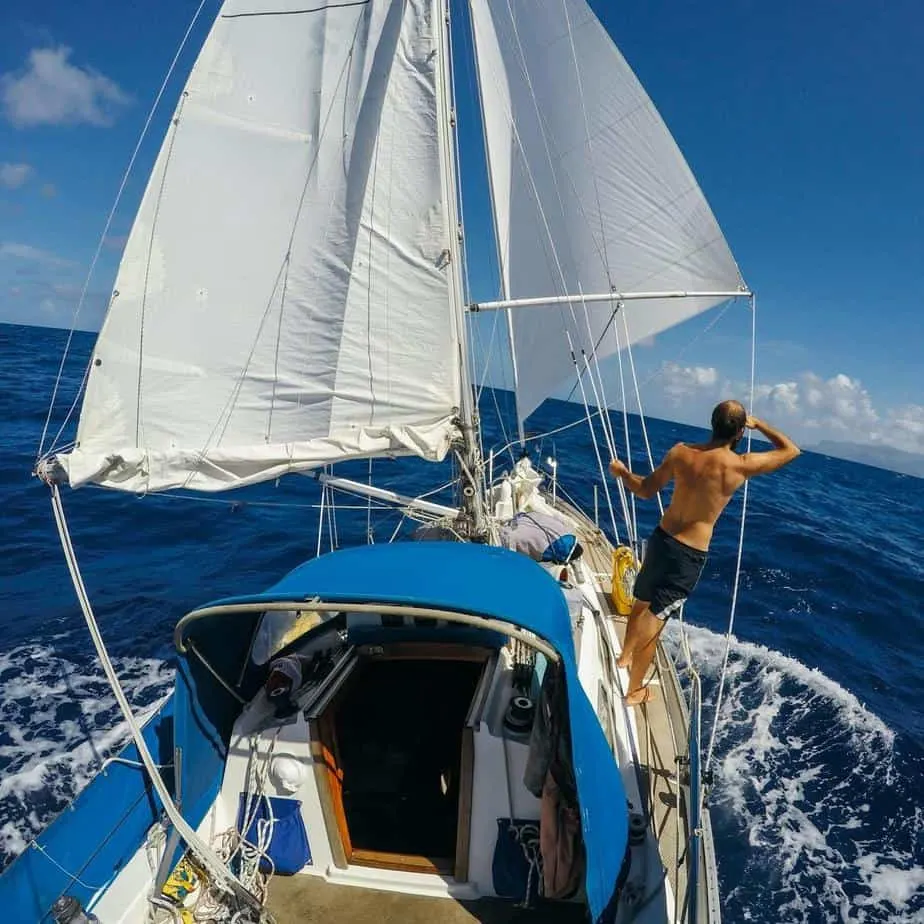 A small sailboat can take you big places
Small sailboats are the ticket to going cruising NOW — not when you retire, save up enough money, or find the "perfect" bluewater cruising boat. In fact, it's the first principle in Lin and Larry Pardey's cruising philosophy: "Go small, go simple, go now."
Small yachts can be affordable, simple, and seaworthy. However, you won't see many of them in today's cruising grounds. In three years and 13,000 nautical miles of bluewater cruising, I could count the number of under 30-foot sailboats I've seen on one hand (all of them were skippered by people in their 20s and 30s).
Today's anchorages are full of 40, 50, and 60-foot-plus ocean sailboats, but that's not to say you can't sail the world in a small sailboat. Just look at Alessandro di Benedetto who in 2010 broke the record for the smallest boat to sail around the world non-stop in his 21-foot Mini 6.5.
So long as you don't mind forgoing a few comforts, you can sail around the world on a small budget.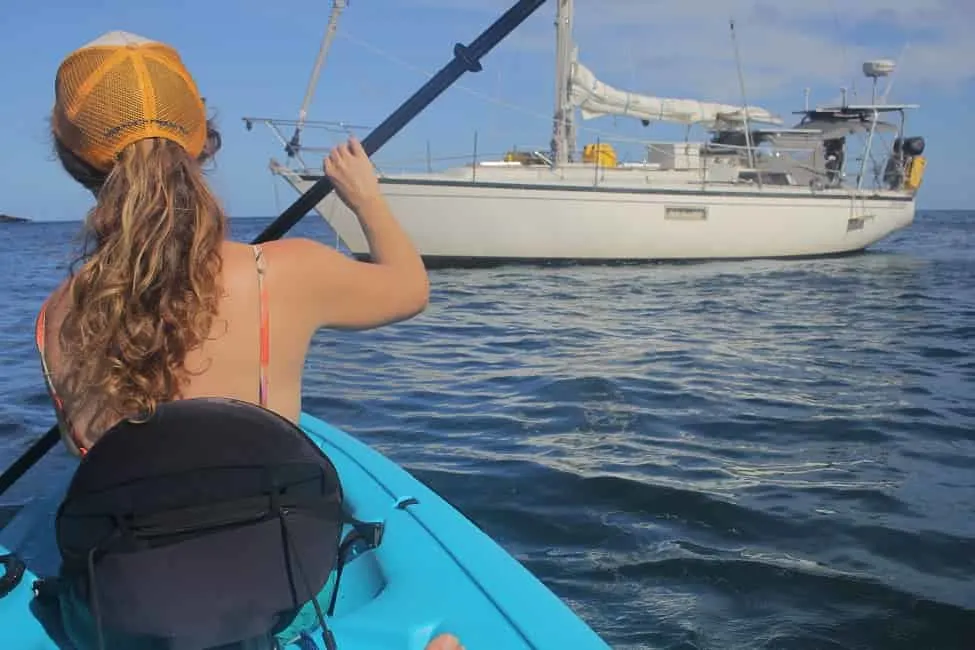 What makes a good blue water sailboat
While you might not think a small sailboat is up to the task of going long distances, some of the best bluewater sailboats are under 40 feet.
However, if you're thinking about buying a boat for offshore cruising, there are a few things to know about what makes a small boat offshore capable.
Smaller equals slower
Don't expect to be sailing at high speeds in a pocket cruiser. Smaller displacement monohulls are always going to be slower than larger displacement monohulls (see the video below to learn why smaller boats are slower). Therefore a smaller cruiser is going to take longer on a given passage, making them more vulnerable to changes in weather.
A few feet can make a big difference over a week-long passage. On the last leg of our Pacific Ocean crossing, our 35-foot sailboat narrowly avoid a storm that our buddy boat, a 28-foot sailboat, couldn't. Our friend was only a knot slower but it meant he had to heave to for a miserable three days.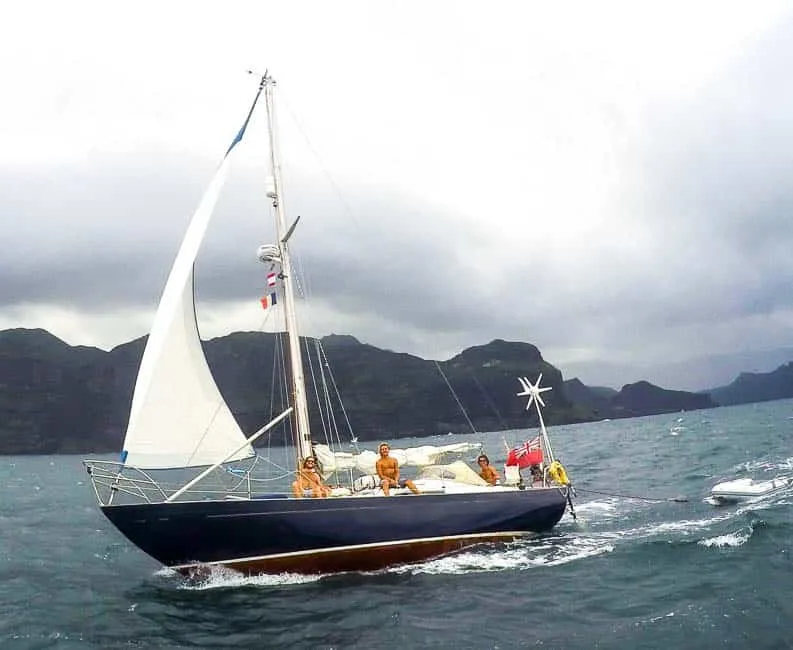 Small but sturdy
If a pocket cruiser encounters bad weather, they will be less able to outrun or avoid it. For this reason, many of the blue water sailboats in this list are heavily built and designed to take a beating.
Yacht design has changed dramatically over the last 50 years. Today, new boats are designed to be light and fast. The small sailboats in our list are 30-plus year-old designs and were built in a time when weather forecasts were less accurate and harder to come by.
Back in the day, boat were constructed with thicker fiberglass hulls than you see in modern builds. Rigs, keels, rudders, hulls and decks – everything about these small cruising sailboats was designed to stand up to strong winds and big waves. Some of the boats in this post have skeg-hung rudders and most of them are full keel boats.
The pros and cons of pocket cruiser sailboats
Pocket cruiser sailboats present certain advantages and disadvantages.
Pros
More affordable
Their smaller size makes them affordable bluewater sailboats. You can often find great deals on pocket cruisers and sometimes you can even get them for free.
You'll also save money on retrofits and repairs because small cruising sailboats need smaller boat parts (which cost a lot less). For example, you can get away with smaller sails, ground tackle, winches, and lighter lines than on a bigger boat.
Moorage, haul-outs, and marine services are often billed by foot of boat length. A small sailboat makes traveling the world, far more affordable!
When something major breaks (like an engine) it will be less costly to repair or replace than it would be on a bigger boat.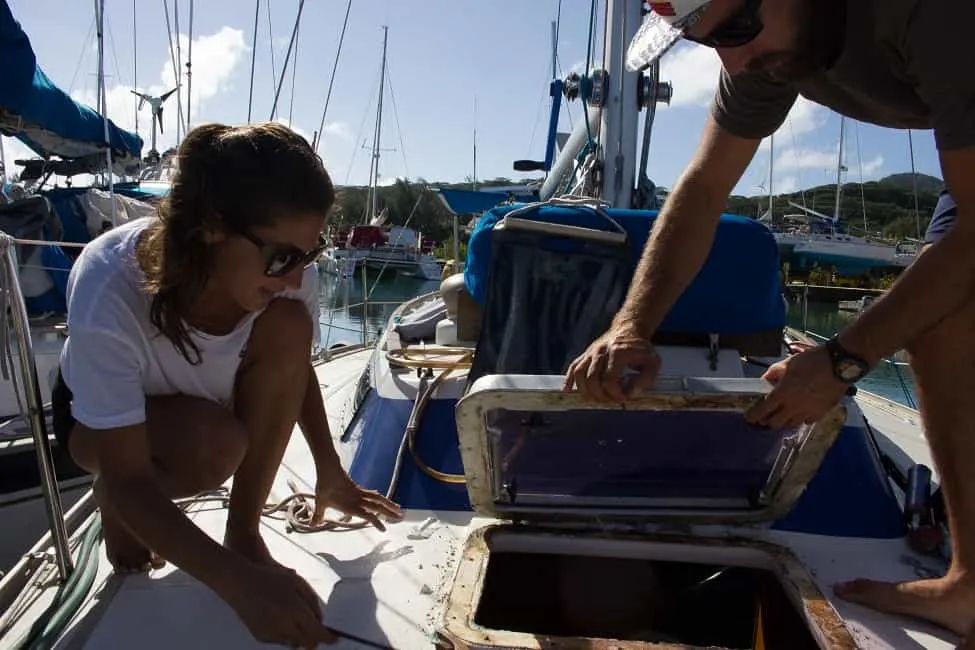 Less time consuming
Smaller boats tend to have simpler systems which means you'll spend less time fixing and paying to maintain those systems. For example, most small yachts don't have showers, watermakers, hot water, and electric anchor windlasses.
On the flip side, you'll spend more time collecting water (the low-tech way). On a small sailboat, this means bucket baths, catching fresh water in your sails, and hand-bombing your anchor. Though less convenient, this simplicity can save you years of preparation and saving to go sailing.
Oh, and did I mention that you'll become a complete water meiser? Conserving water aboard becomes pretty important when you have to blue-jug every drop of it from town back to your boat.
Easier to sail
Lastly, smaller boats can be physically easier to sail, just think of the difference between raising a sail on a 25-foot boat versus a 50-foot boat! You can more easily single-hand or short-hand a small sailboat. For that reason, some of the best solo blue water sailboats are quite petite.
Cons
Slower
As mentioned above small boats are slow boats and will arrive in port, sometimes days (and even weeks) behind their faster counterparts on long offshore crossings.
Consider this scenario: two boats crossed the Atlantic on a 4,000 nautical mile route. The small boat averaged four miles an hour, while the big boat averaged seven miles an hour. If both started at the same time, the small boat will have completed the crossing two weeks after the larger sailboat!
Less spacious
Living on a boat can be challenging — living on a small sailboat, even more so! Small cruising boats don't provide much in the way of living space and creature comforts.
Not only will you have to downsize when you move onto a boat you'll also have to get pretty creative when it comes to boat storage.
It also makes it more difficult to accommodate crew for long periods which means there are fewer people to share work and night shifts.
If you plan on sailing with your dog, it might put a small boat right out of the question (depending on the size of your four-legged crew member).
Less comfortable
It's not just the living situation that is less comfortable, the sailing can be pretty uncomfortable too! Pocket cruisers tend to be a far less comfortable ride than larger boats as they are more easily tossed about in big ocean swell.
Here are our 5 favorite small blue water sailboats for sailing around the world
When we sailed across the Pacific these were some of the best small sailboats that we saw. Their owners loved them and we hope you will too!
The boats in this list are under 30 feet. If you're looking for something slightly larger, you might want to check out our post on the best bluewater sailboats under 40 feet.
Note: Price ranges are based on SailboatListings.com and YachtWorld.com listings for Aug. 2018
Albin Vega 27($7-22K USD)
The Albin Vega has earned a reputation as a bluewater cruiser through adventurous sailors like Matt Rutherford, who in 2012 completed a 309-day solo nonstop circumnavigation of the Americas via Cape Horn and the Northwest Passage (see his story in the documentary Red Dot on the Ocean).
Hull Type: Long fin keel
Hull Material: GRP (fibreglass)
Length Overall:27′ 1″ / 8.25m
Waterline Length:23′ 0″ / 7.01m
Beam:8′ 1″ / 2.46m
Draft:3′ 8″ / 1.12m
Rig Type: Masthead sloop rig
Displacement:5,070lb / 2,300kg
Designer:Per Brohall
Builder:Albin Marine AB (Swed.)
Year First Built:1965
Year Last Built:1979
Number Built:3,450
Cape Dory 28 ($10-32K USD)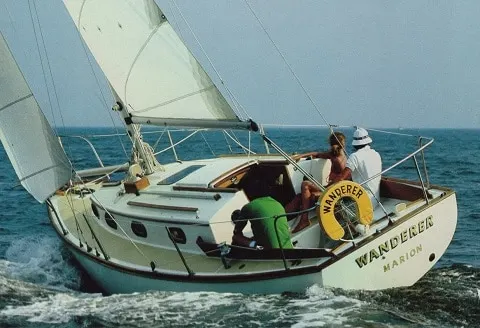 This small cruising sailboat is cute and classic as she is rugged and roomy. With at least one known circumnavigation and plenty of shorter bluewater voyages, the Cape Dory 28 has proven herself offshore capable.
Hull Type: Full Keel
Hull Material: GRP (fibreglass)
Length Overall:28′ 09″ / 8.56m
Waterline Length:22′ 50″ / 6.86m
Beam:8' 11" / 2.72m
Draft:4' 3" / 1.32m
Rig Type:Masthead Sloop
Displacement:9,300lb / 4,218kg
Sail Area/Displacement Ratio:52
Displacement/Length Ratio:49
Designer: Carl Alberg
Builder: Cape Dory Yachts (USA)
Year First Built:1974
Year Last Built:1988
Number Built: 388
Dufour 29 ($7-23K)
As small bluewater sailboats go, the Dufour 29 is a lot of boat for your buck. We know of at least one that sailed across the Pacific last year. Designed as a cruiser racer she's both fun to sail and adventure-ready. Like many Dufour sailboats from this era, she comes equipped with fiberglass molded wine bottle holders. Leave it to the French to think of everything!
Hull Type: Fin with skeg-hung rudder
Hull Material: GRP (fibreglass)
Length Overall:29′ 4″ / 8.94m
Waterline Length:25′ 1″ / 7.64m
Beam:9′ 8″ / 2.95m
Draft:5′ 3″ / 1.60m
Rig Type:Masthead Sloop
Displacement:7,250lb / 3,289kg
Designer:Michael Dufour
Builder:Dufour (France)
Year First Built:1975
Year Last Built:1984
Vancouver 28 ($15-34K)
A sensible small boat with a "go-anywhere" attitude, this pocket cruiser was designed with ocean sailors in mind. One of the best cruising sailboats under 40 feet, the Vancouver 28 is great sailing in a small package.
Hull Type:Full keel with transom hung rudder
Hull Material: GRP (fibreglass)
Length Overall: 28′ 0″ / 8.53m
Waterline Length:22' 11" / 6.99m
Beam:8' 8" / 2.64m
Draft:4' 4" / 1.32m
Rig Type: Cutter rig
Displacement:8,960lb / 4,064 kg
Designer: Robert B Harris
Builder: Pheon Yachts Ltd. /Northshore Yachts Ltd.
Year First Built:1986
Last Year Built: 2007
Number Built: 67
Westsail 28 ($30-35K)
Described in the 1975 marketing as "a hearty little cruiser", the Westsail 28 was designed for those who were ready to embrace the cruising life. Perfect for a solo sailor or a cozy cruising couple!
Hull Type: Full keel with transom hung rudder
Hull Material:GRP (fibreglass)
Length Overall:28′ 3" / 8.61m
Waterline Length:23' 6" / 7.16m
Beam:9' 7" / 2.92m
Draft:4' 4" / 1.32m
Rig Type: Cutter rig
Displacement:13,500lb / 6,124kg
Designer: Herb David
Builder: Westsail Corp. (USA)
Year First Built:1975
Year Last Built:1979
Number Built:78
Feeling inspired? Check out the "go small" philosophy of this 21-year-old who set sail in a CS 27.
Fiona McGlynn is an award-winning boating writer who created Waterborne as a place to learn about living aboard and traveling the world by sailboat. She has written for boating magazines including BoatUS, SAIL, Cruising World, and Good Old Boat. She's also a contributing editor at Good Old Boat and BoatUS Magazine. In 2017, Fiona and her husband completed a 3-year, 13,000-mile voyage from Vancouver to Mexico to Australia on their 35-foot sailboat.