We analyzed two-thousand bluewater sailboats to bring you a list of proven offshore designs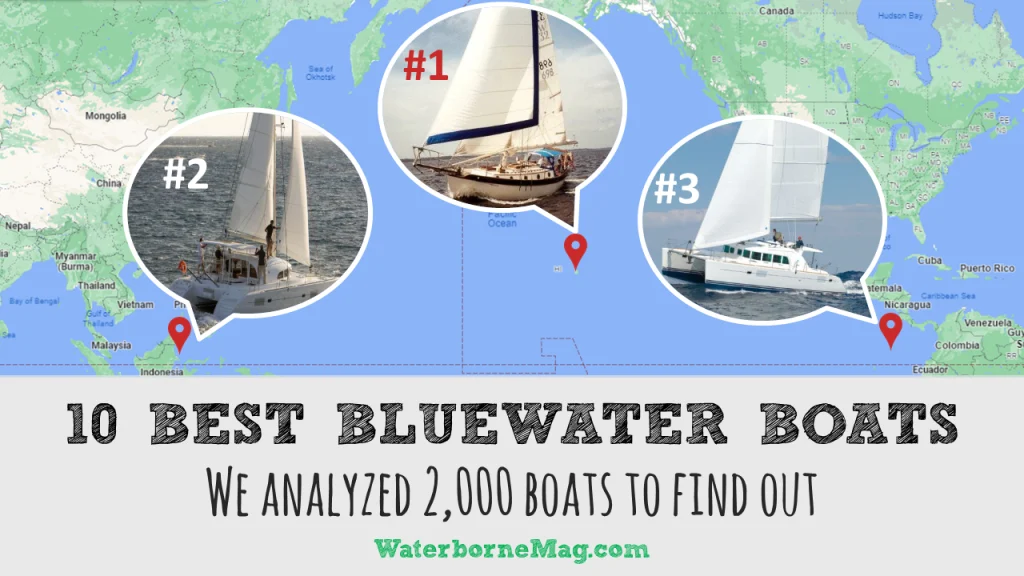 What are the best bluewater sailboats?
This was a question we asked a lot of experienced cruisers when we decided to sail across the Pacific. We needed a boat after all, and we wanted to buy the best bluewater sailboat we could afford.
We heard a lot of strong opinions.
Some sailors thought it was reckless to go offshore in any boat that didn't have a full keel.
Others prioritized performance, and wouldn't dream of going anywhere in a slow boat like the Westsail 32 (a.k.a. a "Wet Snail 32").
Opinions like these left us feeling confused like we had to choose between safety and performance.
If we learned anything from these conversations, it's that what makes a bluewater boat is a hotly debated topic!
However, there's a way to cut through all the opinions and get to the bottom of it. The solution is….
DATA!
We analyzed just under 2,000 boats embarking on ocean crossings (over a 12 year time period) and came up with a list of the ten best bluewater sailboats.
Where did we get our data?
The data for our best bluewater sailboats list comes from 12 years of entries in the Pacific Puddle Jump (PPJ), an annual cross-Pacific rally. We took part in 2017 and had a ball!
You can read about the methodology we used to analyze this data at the bottom of the post.
What do we mean by "best"?
We know, that word is overused on the internet!
Simply, based on our data set, these were the most common makes and models entered in the PPJ cross-Pacific rally. There were at least 10 PPJ rally entries for every make of boat on our top 10 list.
So, these boats are 100% good to go?
No! A bluewater boat isn't necessarily a seaworthy boat. Almost every cruiser we know made substantial repairs and additions to get their offshore boat ready, adding watermakers, life rafts, solar panels, and more.
Also, you should always have a boat inspected by a professional and accredited marine surveyor before buying it or taking it offshore.
But my bluewater baby boat isn't on this list!?
There are hundreds of excellent bluewater yachts that are not on this list. For instance, we sailed across the Pacific in a Dufour 35, which didn't even come close to making our top 10 list.
Choosing the right boat is very much an individual journey.
Where can I find these bluewater boats for sale?
We recognize that a top 10 list won't get you very far if you're shopping for a bluewater boat (especially if you're looking in the used market).
So, to help you find your perfect boat, we're going to create a big list of bluewater boats that you can use to refine your search on Yachtworld, Craigslist, or any other places to buy a used boat.
Sign up for our newsletter to get our big list of bluewater boats list as soon as it comes out.
We're also working on a series of posts by size class. For example, if you're looking for a smaller boat, you can narrow it down to the best bluewater sailboats under 40 feet.
Takeaways from our analysis
There were no big surprises on an individual boat level. All of these makes are considered good cruisers, some of them are even best-selling designs! However, there were a few things that caught our eye.
"Go simple, go small, go now" still holds water
We were thrilled to see the smallest boat in our roundup at the very top of the list! Westsail 32 owners can take pride in their small but mighty yachts (and ignore all those snail-sayers).
While undoubtedly there's been a trend towards bigger bluewater cruisers in recent years, small cruising sailboats seem to be holding their own. 60% of the monohulls on this list were under 40 feet (if you count the Valiant 40 which sneaks just under at 39.92 feet).
Cat got our tongue
So, we knew catamarans were a thing, but we didn't fully appreciate HOW popular they'd become!
50% of our top 10 bluewater boat list consists of catamarans—a good fact to toss out the next time you're trying to garner a happy hour invite on the party boat next door (which will undoubtedly be a catamaran).
Still got it!
We've got good news for all you good old boat lovers! 60% of the boats on our list were first built before 2000.
While these older models are less performance-oriented than modern designs, cruisers value these boats for their ability to stand up to rough seas and heavy weather. It just goes to show that solid bones and classic looks never go out of style.
Alright, without further ado, let's dive into our list of the 10 best bluewater boats!
The 10 best bluewater boats
1. Westsail 32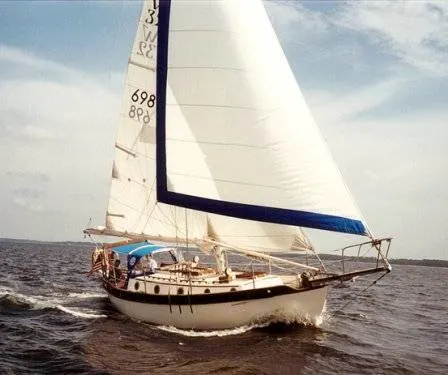 The Westsail 32 is one of the most iconic bluewater cruisers and 19 have set out to cross the Pacific in the PPJ rally since 2009.
In 1973, this small cruising sailboat garnered a 4-page spread in Time magazine. The article inspired many Americans to set sail and the Westsail 32, with its double-ender design, set the standard for what a real bluewater cruiser should look like.
There were approximately 830 built between 1971 and 1980.
This small boat has taken sailors on ocean crossings and circumnavigations. Though considered "slow" by some, the heavily-built Westsail 32 has developed a loyal following for her other excellent offshore cruising characteristics.
If you're interested in small bluewater sailboats, check out our post on the best small sailboats for sailing around the world.
| | |
| --- | --- |
| LOA | 32.00 ft / 9.75 m |
| First built | 1971 |
| Builder | Westsail (USA) |
| Designer | W. Crealock / W. Atkin |
| Hull type | Long keel, trans. hung rudder |
| Rig type | Cutter |
| Displacement | 19,500 lb / 8,845 kg |
| | See more Westsail 32 specs. |
2. Lagoon 380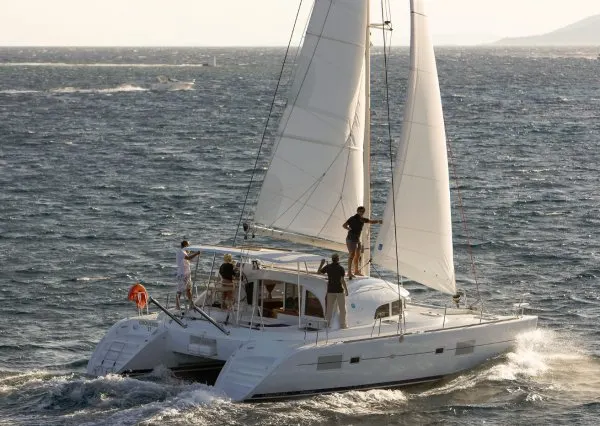 The Lagoon 380 is a reliable, solidly built catamaran and considered roomy for its size. We counted 18 of them in our data set. With over 800 boats built, it may be one of the best-selling catamarans in the world. Like the other boats on this list, the Lagoon 380 has proven itself on long passages and ocean crossings, winning it many loyal fans.
| | |
| --- | --- |
| LOA | 37.89 ft / 11.55 m |
| First built | 2000 |
| Builder | Jeanneau (FRA) |
| Designer | V. Peteghem / L. Prévost |
| type | Cat. twin keel |
| Rig type | Fractional sloop |
| Displacement | 16,005 lb / 7,260 kg |
| More specifications | See more Lagoon 380 specs. |
3. Lagoon 440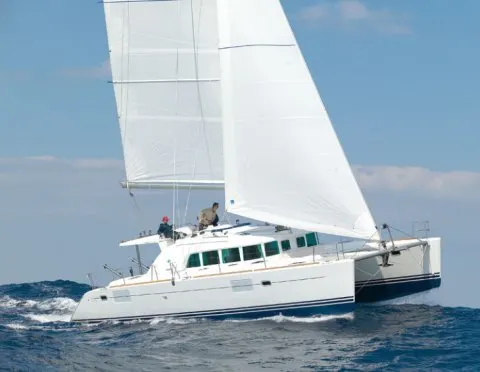 18 Lagoon 440s have set out to cross the Pacific in the PPJ rally since 2009.
Why leave the comforts of home, when you can take them with you? The Lagoon 440 is a luxurious long-range cruiser, offering beautiful wood joinery, spacious accommodations, and a deluxe galley. Oh, and you have the option of an electric boat motor!
SAIL and Sailing Magazine have both done in-depth reviews of the Lagoon 440 if you want to learn more.
| | |
| --- | --- |
| LOA | 44.65 ft / 13.61 m |
| First built | 2004 |
| Builder | Lagoon (FRA) |
| Designer | V. Peteghem / L. Prévost |
| Hull type | Cat. twin keel |
| Rig type | Fractional sloop |
| Displacement | 26,786 lb / 12,150 kg |
| | See more Lagoon 440 specs. |
4. Amel Super Maramu (incl. SM 2000)
If you follow the adventures of SV Delos on YouTube, you probably know that the star of the show (SV Delos—in case the title didn't give it away) is an Amel Super Maramu. These classic bluewater sailboats can be found all over the world, proof they can go the distance.
We counted 16 Amel Super Maramus and Super Maramu 2000s in our list of PPJ entries.
Ready to join the cult of Amel? Read more about the iconic brand in Yachting World.
| | |
| --- | --- |
| LOA | 52.49 ft / 16.00 m |
| First built | 1989 |
| Builder | Amel (FRA) |
| Designer | H. Amel / J. Carteau |
| Hull type | Wing keel |
| Rig type | Masthead ketch |
| Displacement | 35,274 lb / 16,000 kg |
| | See more Amel Super Maramu specs. |
5. Valiant 40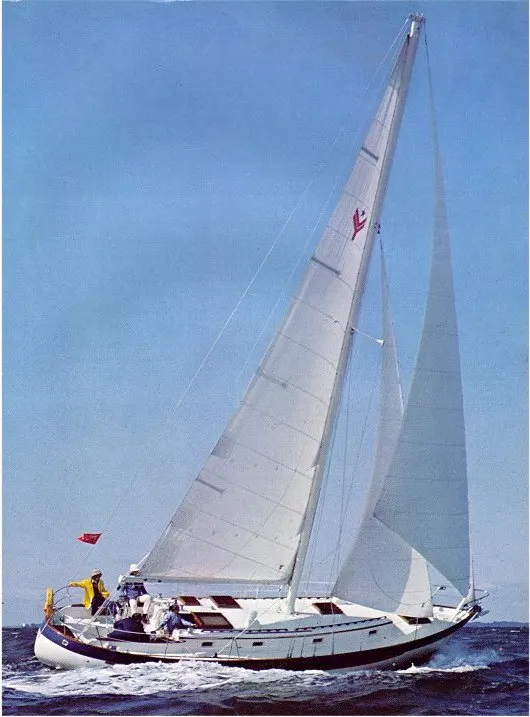 When I interviewed legendary yacht designer, Bob Perry, for Good Old Boat in 2019, he told me that the Valiant 40 was one of the boats that most defined him and marked the real start of his career.
At the time, heavy displacement cruisers were considered sluggish and slow, especially in light winds.
Perry's innovation with the Valiant 40 was to combine a classic double ender above the waterline, with an IOR racing hull shape below the waterline. The result was the first "performance cruiser", a blockbuster hit, with over 200 boats built in the 1970s.
It's no surprise we counted 16 Valiant 40s in our data set.
Cruising World magazine dubbed it "a fast, comfortable, and safe cruising yacht," and there's no doubt it's covered some serious nautical miles.
It's worth noting that there were blistering problems with hull numbers 120-249 (boats built between 1976 and 1981). Later models did not have this problem. Despite the blistering issues, the Valiant 40 remains one of the most highly thought of bluewater designs.
| | |
| --- | --- |
| LOA | 39.92 ft / 12.17 m |
| First built | 1973 |
| Builder | Uniflite/Valiant (USA) |
| Designer | R. Perry |
| Hull type | Fin keel, rudder on skeg |
| Rig type | Cutter |
| Displacement | 23,520 lb / 10,668 kg |
| | See more Valiant 40 specs. |
6. TAYANA 37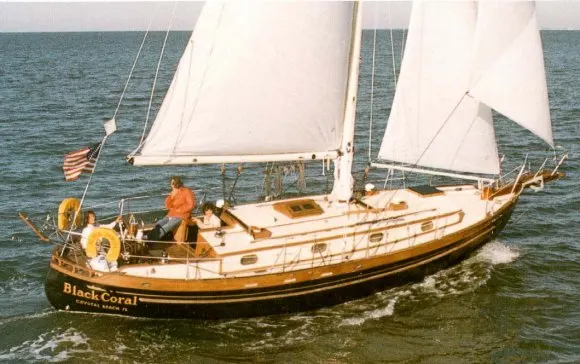 The Tayana 37 is another hugely popular Perry design. The first boat rolled off the production line in 1976 and since then, nearly 600 boats have been built. Beautiful classic lines and a proven track record have won the Tayana 37 a devoted following of offshore enthusiasts.
12 Tayana 37s have set out to cross the Pacific in the PPJ rally since 2009. Read more about the Tayana 37 in this Practical Sailor review.
| | |
| --- | --- |
| LOA | 36.67 ft / 11.18 m |
| First built | 1976 |
| Builder | Ta Yang (TWN) |
| Designer | R. Perry |
| Hull type | Long keel |
| Rig type | Cutter |
| Displacement | 22,500 lb / 10,206 kg |
| | See more Tayana 37 specs. |
7. Lagoon 450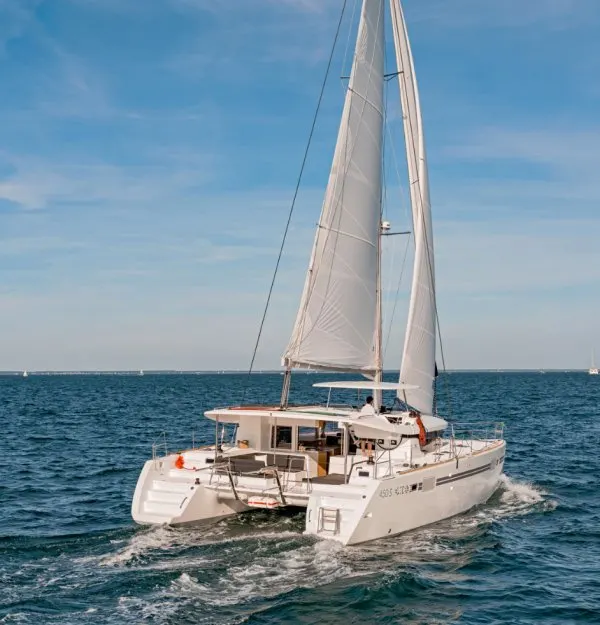 If this list is starting to sound like a paid advertisement, I swear we're not on Lagoon's payroll! This is the third Lagoon on our list, but the data doesn't lie. Lagoon is making some of the best cruising sailboats.
The 450 has been a hot seller for Lagoon, with over 800 built since its launch in 2014. While not a performance cat, the Lagoon 450 travels at a reasonable speed and is brimming with luxury amenities.
At least 12 owners in the PPJ rally chose the Lagoon 450 to take them across the Pacific. It's no wonder SAIL had so many good things to say about it.
| | |
| --- | --- |
| LOA | 45.80 ft / 13.96 m |
| First built | 2014 |
| Builder | Lagoon (FRA) |
| Designer | V. Peteghem / L. Prévost |
| Hull type | Cat. twin keel |
| Rig type | Fractional sloop |
| Displacement | 33,075 lb / 15,003 kg |
| | See more Lagoon 450 specs. |
8. Fountaine Pajot Bahia 46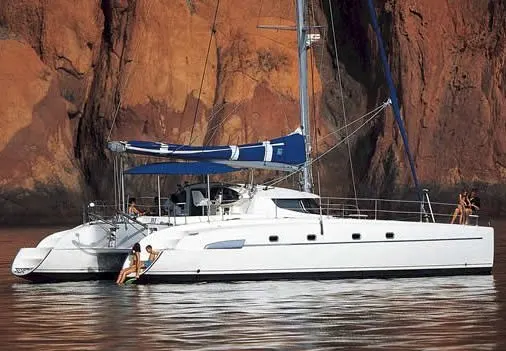 There were 11 Fountaine Pajot Bahia 46s in our data set.
Fountaine Pajot released the Bahia 46 in 1997, a sleek design for traveling long distances. Its generously-sized water and fuel tanks along with ample storage for cruising gear are a real plus for the self-sufficient sailor.
According to Cruising World, "Cruising-cat aficionados should put the Bahia 46 on their "must-see" list."
| | |
| --- | --- |
| LOA | 46.10 ft / 14.05 m |
| First built | 1997 |
| Builder | Fountaine Pajot (FRA) |
| Designer | Joubert-Nivelt |
| Hull type | Cat. twin keel |
| Rig type | Fractional sloop |
| Displacement | 21,385 lb / 9,700 kg |
| | See more Fountaine Pajot Bahia 46 specs. |
9. Catalina 42 (MKI, MKII)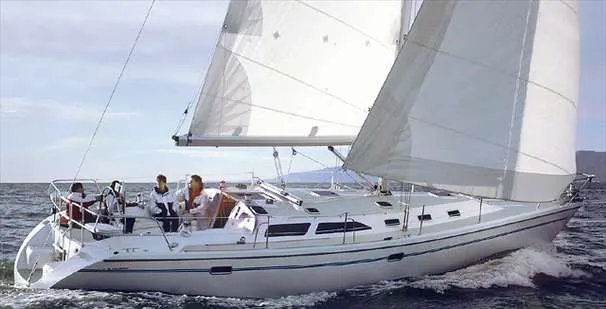 10 Catalina 42s (MKI and MKII) have set out to cross the Pacific in the PPJ rally since 2009.
The Catalina 42 was designed under the guidance of the legendary yacht designer and Catalina's chief engineer, Gerry Douglas.
One of Catalina's philosophies is to offer "as much boat for the money as possible," and the Catalina 42 is no exception. According to Practical Sailor, Catalina aims to price its boats 15% to 20% below major production boats like Hunter and Beneteau.
Practical Sailor has a great in-depth review of the Catalina 42.
| | |
| --- | --- |
| LOA | 41.86 ft / 12.76 m |
| First built | 1989 |
| Builder | Catalina (USA) |
| Designer | Catalina |
| Hull type | Fin keel, spade rudder |
| Rig type | Masthead sloop |
| Displacement | 20,500 lb / 9,299 kg |
| | See more Catalina 42 specs. |
10. Leopard 46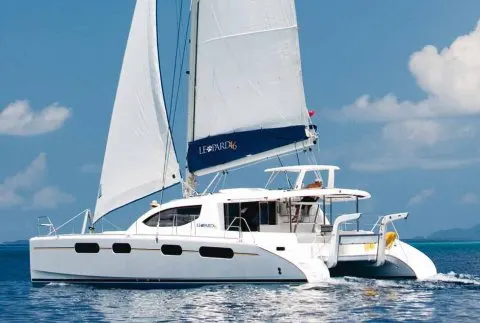 Since 2009, 10 Leopard 46s have embarked on Pacific crossings in the PPJ rally.
Leopards have won legions of fans for their high build quality, robust engineering, and excellent performance.
The Leopard 46 also boasts something of a racing pedigree. It was built in South Africa by Robertson and Caine and designed by Gino Morelli and Pete Melvin, who came up with the record-breaking catamaran Playstation/Cheyenne 125.
Read more about the Leopard 46 in this Cruising World review.
| | |
| --- | --- |
| LOA | 46.32 ft / 14.12 m |
| First built | 2006 |
| Builder | Robertson & Caine (RSA) |
| Designer | Morelli & Melvin |
| Hull type | Cat. twin keel |
| Rig type | Fractional sloop |
| Displacement | 24,206 lb / 10,980 kg |
| | See more Leopard 46 specs. |
Methodology
What the data is and isn't
The PPJ data was a real boon because it reflects a wide range of cruising boats: small, big, old, new, expensive, and affordable. We think this may be because the PPJ is a very financially accessible rally—the standard entry cost is $125 or $100 if you're under 35 (age or boat length!).
We did look at data from other (pricier) rallies but found that the results skewed towards more expensive boats.
Needless to say, the data we used is just a sample of the bluewater boats that crossed the Pacific over the last 10+ years. Many cruisers cross oceans without participating in a rally!
Entries vs. completions
The data we used is a list of the PPJ entries, not necessarily the boats that completed the rally. In instances where we saw the same boat entered multiple years in a row, we assumed they'd postponed their crossing and deleted all but the latest entry to avoid double counting.
Boat make variations
The world of boat building and naming can get pretty complicated. Sometimes a manufacturer changes a boat's name a year or two into production, other times the name remains the same but the boat undergoes a dramatic update.
For the most part, we've used SailboatData.com's classification system (if they list the boats separately, then we have also), except where there are two separately listed models that have the same LOA, beam, and displacement.
Fiona McGlynn is an award-winning boating writer who created Waterborne as a place to learn about living aboard and traveling the world by sailboat. She has written for boating magazines including BoatUS, SAIL, Cruising World, and Good Old Boat. She's also a contributing editor at Good Old Boat and BoatUS Magazine. In 2017, Fiona and her husband completed a 3-year, 13,000-mile voyage from Vancouver to Mexico to Australia on their 35-foot sailboat.