FIND GREAT DEALS ON USED BOAT PARTS AT BOAT SALVAGE YARDS, MARINE CONSIGNMENT STORES, AND ONLINE
If you're like most boaters, you probably have a running list of parts to buy for the boat. But If you're cringing about what it will cost you at the chandlery, you might be interested to know that you can buy used boat parts for less than 50% of the retail price! The trick is knowing where to look.
There are three places to find used boat gear and parts: boat salvage yards, marine consignment stores, and online stores.
Photo credit (above): John Lloyd
BOAT SALVAGE YARDS (BOAT JUNK YARDS)
If you enjoy bargain hunting, you'll love picking over parts at a boat salvage yard. A boat salvage yard is a place where wrecked boats go to be taken apart and recycled.
How it works
Boat junk yards buy boats that are damaged beyond repair (or no longer wanted) from owners and insurance companies for rock bottom prices. Sometimes yards will specialize in a certain type of boat (e.g. yachts or power). The yard then dismantles and sells the parts to customers. Very often the staff can help you find a particular part. If you're looking for something quite specific, call ahead to inquire about availability.
At "pick and pull" yards" you're set loose in the yard with a screwdriver, free to climb all over the boats and pull off the pieces that strike your fancy. The deals can be outstanding. For example, I once spent a pleasant afternoon stripping 30 lbs of Harken blocks and cleats off a grounded race boat and paid only $25 dollars for my bag of booty. That hardware could have easily cost me 10-20x at a chandlery.
What you'll find
If it's attached to boat, you'll likely find it at a salvage yard! Engines, winches, blocks, doors, hatches, booms, masts, etc. Sometimes you'll find items like line, sails, and electronics but many owners will strip out items that can be resold before delivering the boat to the salvage yard.
Pros
Boat salvage yards are THE CHEAPEST place to find parts and there's no shipping cost
You can physically inspect the part before buying it
Boat junk yard staff will know the history of the boat and how this will affect the quality of the parts. For example, boat parts from fresh water boats tend to be in better shape than parts from salt water boats. The way in which the boat was damaged may also affect your decision to buy a part. For example, you might not want to buy rigging hardware from a boat that lost its mast, however buying a boom from a boat with fire damage might be fine.
Cons
You often have to remove the boat parts you want from the boat (bring tools)
Parts are still attached to the boat and therefore not organized like they are in a chandlery. This makes it difficult to find and compare parts
As with all used parts, they can be less durable or faulty and there is no warranty
Boat Salvage yards often have very few staff so don't expect to get advice on your boat project
Boat salvage yards in your area
This map was put together by JunkYardsNearMe.Net – check out their site for auto wreckers and more.
Boat shopping tip! If you're looking for a good deal on a whole boat (not just parts), be sure to check out how to find cheap boats on Craigslist.
MARINE CONSIGNMENT STORES
If you're lucky enough to have a marine consignment store in your area (see map below) you can save a bundle on boat parts.
Minney's Yacht Surplus is a MUST-visit for any sailor traveling through Southern California
How it works
Marine consignment stores buy or consign boat parts from boat owners and liquidation facilities and then resell them with a small markup. Sometimes stores will let you trade-in your old boat parts. For example, we once walked into a boat consignment store with three old sails we didn't want and came out with a captain's chair, spinnaker pole, and $100 in cash. It's a great way to turn your boat clutter into useful gear.
What you'll find
Anything you'd expect to find in a chandlery including great deals on electronics, sails, rigging, hardware.
Pros
Marine consignment stores have great prices and no shipping cost.
Staff only accept consignment items of a certain quality so you won't have to wade through junk for hours
Items are organized throughout the store making them easier to browse
You have the opportunity to trade-in your old boat parts
You can physically inspect the parts before purchase
Knowledgeable staff can advise you on boat parts and your projects
Cons
Though inexpensive, parts cost more than they would at a salvage yard
Occasionally consigned items have prices that are set too high by the owner of the item
There are no warranties or returns
Marine consignment stores in your area
This map includes stores from Good Old Boat's awesome list of boating consignment stores
ONLINE STORES FOR USED BOAT PARTS
While most of the marine consignment stores above, also sell items online, there are a few organizations that specialize in online only.
How it works
Search online to find a wide selection of parts and have them shipped right to your door. Be sure to read the fine print and understand who the seller is. Sometimes it's a company selling parts, in which case the parts have usually been inspected and tested. In other cases, the parts are being sold by an individual, in which case there are really no quality standards.
Pros
Buying online is cheaper than buying at a chandlery
Accessible and convenient
Easy to browse and compare parts in well organized categories
Sometimes parts are inspected and tested before sale
It's possible to find highly specialized and discontinued boat parts
Cons
More expensive than marine consignment stores and boat salvage yards and there'll be shipping costs.
There's no way to personally inspect parts before purchase
No in-person staff to provide advice, though often staff are available by phone
Buy second-hand boat parts online from these websites:
Boat Parts Ferret Instead of contacting multiple boat consignment stores and junk yards, use Boat Parts Ferret to send a single request to multiple stores who may have your item. You can choose to reach out to marine supply stores only in your area or around the world.
MM Salvage buys 150-200 fresh water boats every year and sells the parts all over the world for 50% of the retail price. All parts are inspected and tested before being sold.
Shipwreck Salvage is run by a semi-retired mechanic and sells fresh water parts worldwide.
UsedBoatEquipment is a place for boaters and the marine industry to buy and sell previously owned boating equipment. Created by the founders of a boating gear review site, they offer items like anchors, clothing, electronics, engines, navigation equipment, sails, inflatables and more.
Of course you can always find boat parts by searching buy and sell sites like Ebay, Kijiji, and Craigslist.
Happy boat part shopping!
Summary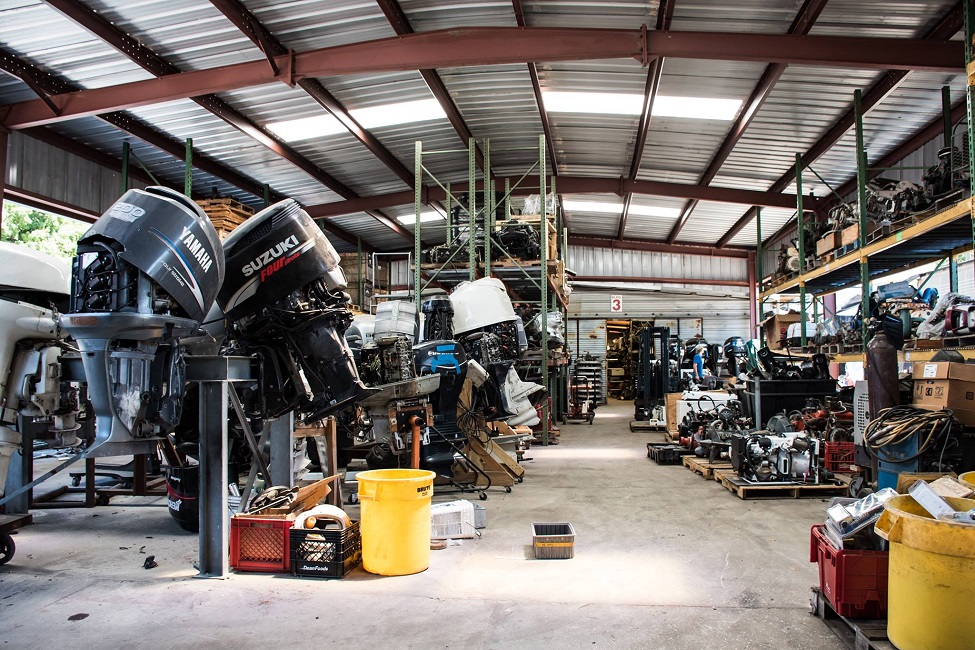 Article Name
Buy USED boat parts and save a fortune
Description
Buy used boat parts for a fraction of the retail price. Here's a list of boat salvage yards and marine consignment stores in your area.
Author
Publisher Name
Publisher Logo