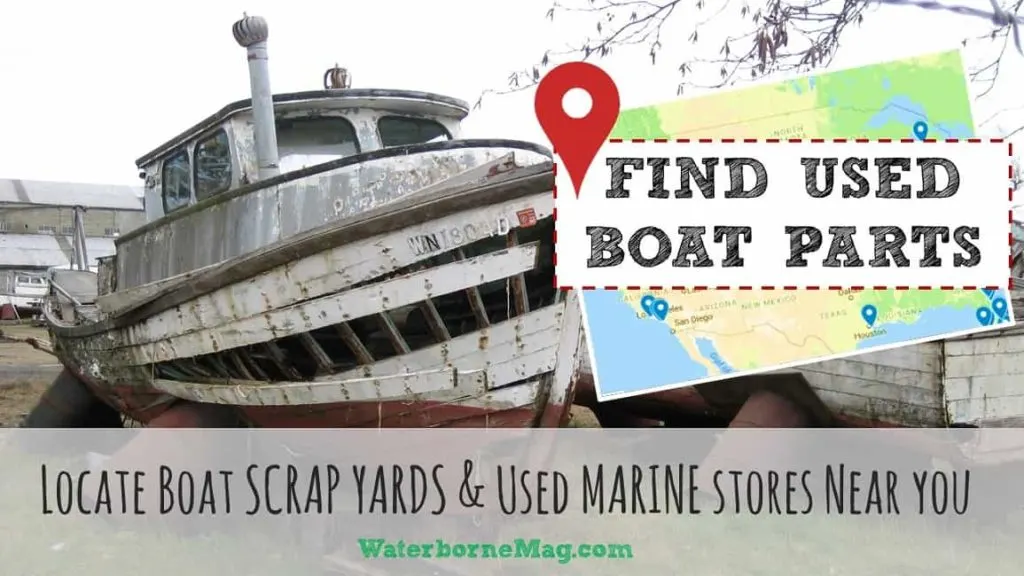 Find great deals on used boat parts at boat salvage yards, marine consignment stores, and online
If prices for new boat parts make you cringe, you can buy used boat parts for less than half the retail price. The trick is knowing where to look.
Where to buy used boat parts?
There are four best places to find used boat parts and marine supplies:
Boat salvage yards (boat junk yards)
Marine consignment stores
Online stores
Salvage auctions
Be sure to check out the maps below to find used boat parts near you.
Photo credit (above): John Lloyd
Boat salvage yards and boat junk yards
If you enjoy bargain hunting, you'll love picking over parts at a boat salvage yard. A marine salvage yard is a place where wrecked and salvage boats go to be taken apart and recycled. Often these companies also specialize in boat removal and offer boat disposal services.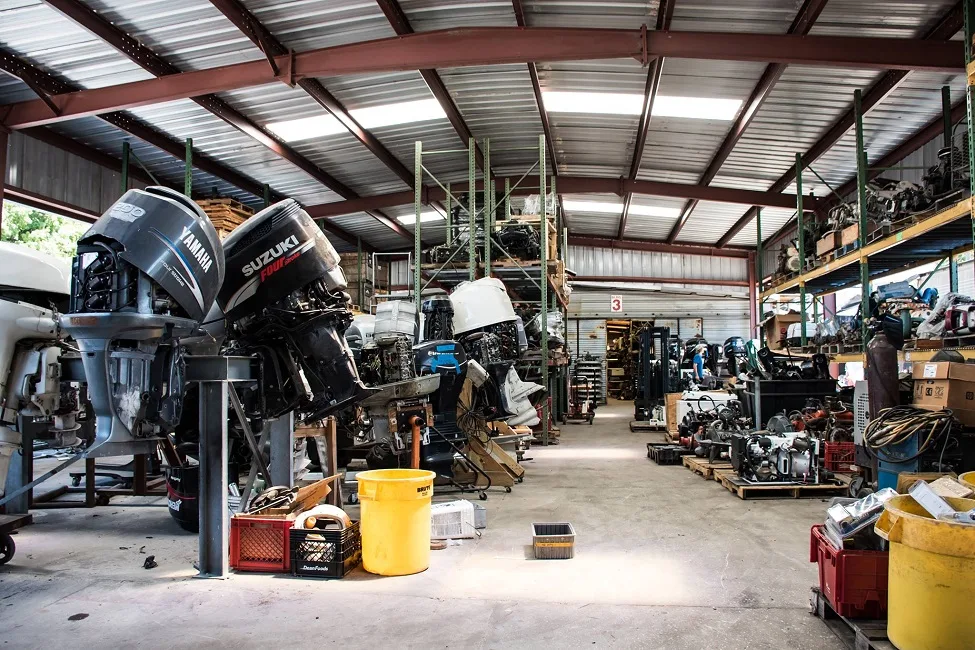 How it works
Boat junk yards buy boats that are damaged beyond repair (or no longer wanted) from boat owners and insurance companies for rock-bottom prices. Sometimes these boat scrap yards will specialize in a certain type of boat (e.g. yachts or power).
The boat junkyard then dismantles and sells the boat salvage parts to customers.
At "pick and pull" yards" you're set loose in the yard with a screwdriver, free to climb all over the boats and pull off the pieces that strike your fancy. The deals can be outstanding.
For example, I once spent a pleasant afternoon stripping 30 lbs of Harken blocks and cleats off a grounded race boat and paid only 25 dollars for my bag of booty. That hardware could have easily cost me 10-20x at a chandlery.
Very often the boat junk yard staff can help you find the right part. If you're looking for a specific part, call ahead to inquire about availability.
What you'll find
If it's attached to a boat, you'll likely find it at a salvage yard! Engines, water pumps, winches, blocks, doors, hatches, booms, masts, etc.
Sometimes you'll find items like used sails, lines, and electronics but many owners will strip out items that can be resold before delivering the boat to the salvage yard.
Pros
Boat salvage yards are the place to go for the best price. Their cheap parts can make your boat repairs and projects a lot more affordable. Plus, there's no shipping cost.
You can physically inspect the part before buying it
Boat junk yard staff will know the history of the boat and how this will affect the quality of the parts. For example, boat parts from freshwater boats tend to be in better shape than parts from saltwater boats. How the boat was damaged may also affect your decision to buy a part. For example, you might not want to buy rigging hardware from a boat that lost its mast. However, buying a boom from a boat with fire damage might be fine.
You get to be on the boat recycling front lines and pull everything apart yourself! It's great weekend entertainment.
Cons
You often have to remove the boat parts you want from the boat (bring tools)
Parts are still attached to the boat and therefore not organized like they are in a chandlery. This makes it difficult to find and compare parts
Unlike new parts, used marine parts may be less durable, faulty, and there is no warranty
Boat salvage yards often have very few staff so don't expect to get advice on your boat project
Find boat salvage yards near you
To find boat junkyards near you, check out this map of boat junk yards in the United States.
Boat shopping tip! If you're looking for a good deal on a whole boat (not just parts), be sure to check out how to find cheap boats on Craigslist.
Marine consignment stores
Good things come to those who rummage! If you're lucky enough to have a marine consignment store in your area (see map below) you can save money on boat parts.
Minney's Yacht Surplus is a MUST-visit for any sailor traveling through Southern California
How it works
Marine consignment stores buy or consign boat parts from boat owners and liquidation facilities and then resell them with a small markup. Sometimes stores will let you trade in your old boat parts.
For example, we once walked into a boat consignment store with three old sails we didn't want and came out with a captain's chair, a spinnaker pole, and $100 in cash. It's a great way to turn your boat clutter into useful gear.
What you'll find
Anything you'd expect to find in a chandlery including great deals on electronics, sails, rigging, and hardware.
Pros
Marine consignment stores have affordable prices and no shipping cost.
Staff only accept consignment items of a certain quality so you won't have to wade through junk for hours
Items are organized throughout the store making them easier to browse
You have the opportunity to trade in your old boat parts
You can physically inspect the parts before purchase
Knowledgeable staff offer fast service and can advise you on boat parts and your projects
Cons
Though inexpensive, parts cost more than they would at a salvage yard
Occasionally consigned items have prices that are set too high by the owner of the item
There are no warranties or returns
Find marine consignment stores near you
Search for boat consignment stores near you. This map includes stores from Good Old Boat's awesome list of boating consignment stores
Online stores for used boat parts
While most of the marine consignment stores above, also sell items online, there are a few organizations that specialize in online only.
How it works
Search online to find a wide selection of parts and have them shipped right to your door.
Be sure to read the fine print and understand who the seller is. Sometimes it's a company selling parts, in which case the parts have usually been inspected and tested. In other cases, the parts are being sold by an individual, in which case there are really no quality standards.
What you'll find
You can buy anything online that you'd find at a chandlery but keep in mind it will be a lot more expensive to ship heavy parts like anchors, chain, or propellers.
Pros
Buying online is cheaper than buying at a chandlery
Accessible and convenient
Easy to browse and compare parts in well-organized categories
Sometimes parts are inspected and tested before the sale
It's possible to find highly specialized and discontinued boat parts
Cons
More expensive than marine consignment stores and boat salvage yards and there'll be shipping costs.
There's no way to personally inspect parts before the purchase
No in-person staff to provide advice, though often staff are available by email or phone
Buy second-hand boat parts online from these websites:
In the last couple of years, many of the online boat part vendors have shut down their websites.
Shipwreck Salvage seems to be one of the few sites left standing. The company is run by a semi-retired mechanic and sells freshwater parts worldwide.
If you know of anyone who is selling boat parts online and has a large inventory, let us know in the comments and we'll add them to our list.
Of course, you can always find boat parts in your local area (and beyond) by searching buy and sell sites like eBay, Kijiji, and Craigslist.
Salvage boats for sale at auction
There is one last place you can buy cheap boat parts – at auction! If you're planning a big project (like outfitting a boat to sail around the world or restoring a classic boat) you may want to find a salvage boat for sale, buy it, and part it out yourself.
Look for police and other auctions in your area or search an online auction site like AutoBidMaster, YachtSalvage.com, Copart, and SCA.
How it works
Find out when an auction is taking place in your area or use one of the online auction sites listed above. Place your bid and watch carefully as the bidding closes.
What you'll find
From storm-damaged sailboats to outboard motors to police-seized sport boats, you can find anything at auction, often at a more than reasonable price.
Pros
Buying a whole boat and parting it out will be very cost-effective because you're buying in bulk
In the case of a live auction, you may be able to physically view the boat
You can sell any parts of the boat that you don't need and recoup some of the purchase price
Buying at auction can be exciting!
Cons
It's hard to know the quality of individual parts as you won't be able to inspect them in detail
You'll need somewhere to store the boat while you're parting it out
Parting out a boat is time-consuming
Once you've finished parting out the boat there will be disposal costs
Tips for buying used boat parts
Be precise. Before purchasing, make sure it's the right part and compatible with your specific boat's make and model. Before calling a parts department, see if you can find a serial number for the part you're replacing. Also, take careful measurements of all the key dimensions and check them against the listing.
Inspect thoroughly. When buying used boat parts, it's essential to inspect them thoroughly. Request detailed photos from different angles and ask the seller about the condition, history, and any known issues with the part. If possible, arrange to see the part in person before finalizing the purchase.
Buy from reputable sources. Your best bet is to purchase used boat parts from reputable sources such as established marine salvage yards or dealers. Professional sellers are more likely to accurately describe the condition of the part as well as provide great service and fast shipping.
Check for warranty or return policy. Ask about any warranties or return policies offered by the seller. A limited warranty or return option can provide you with some peace of mind in case the part turns out to be faulty or incompatible with your boat.
Ask about service history. Inquire about the service history, especially if it's a complex part or system like an outboard motor or stern drive unit. Knowing how the part was maintained, and if it received proper care, can give you insight into its overall condition and potential longevity.
Remember, while buying used parts can save you money, it's important to balance cost savings with the quality and condition of the parts. Take your time to make an informed decision.
Happy used boat part shopping!
Fiona McGlynn is an award-winning boating writer who created Waterborne as a place to learn about living aboard and traveling the world by sailboat. She has written for boating magazines including BoatUS, SAIL, Cruising World, and Good Old Boat. She's also a contributing editor at Good Old Boat and BoatUS Magazine. In 2017, Fiona and her husband completed a 3-year, 13,000-mile voyage from Vancouver to Mexico to Australia on their 35-foot sailboat.