When you dream of sailing into the sunset, do you imagine a romantic partner at your side? Guest poster, Lauren de Remer, shares her story of finding adventure, friendship, and love on the high seas and proves that you don't need a partner to go cruising.
Note: This piece was first published in Latitude 38 magazine in July 2017 and is published here with permission of the author.
It's late afternoon and overcast at Isla Cocos. We're anchored at Chatham Bay and I'm sipping wine in a rain jacket, looking up at Manuelita's lush vegetation as red footed boobies dart above. Suddenly, a tiger shark brushes the portside thort of our inflatable dinghy. Time slows down, reality sets in. Sabrina interrupts herself mid sentence, mumbling: "Where's the camera? Where's the camera!" We lock eyes on the wild animal, motionless. Its tail turns and splashes the surface, diving back toward the bubbles from our friends' regulators just below. In utter shock, we burst out in laughter and for a moment I forget how we got here.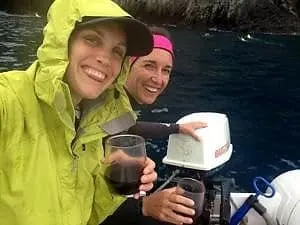 In April of 2013 I bought a 1970 Cal 2-30, and as with any old sailboat, repair and general maintenance was a rather large undertaking. Nonetheless, it made me feel more alive and truer to myself than ever. I was terrified and that was tantalizing, a breath of fresh Bay Area air. I knew it would challenge me in ways I couldn't foresee, majority of which – in retrospect – would have little to do with sailing.
I walked into the old West Marine Sausalito location, perplexed and embarrassed by my lack of salty aptitude. "I don't know exactly what I need," I admitted to a store clerk, "but I know I need a lot." I started with dehumidifying beads, and on my birthday the following week, invited my childhood girlfriends to 'sleep over at my new place.' One of whom was Sabrina Littée, her eyes lit up when I drove us to the Berkeley Marina and she realized what I had purchased. "No way! When can we go sailing, de Remer?" she implored with wide, enthusiastic eyes.
In that moment I was the cool friend who bought a boat on a whim with limited former seamanship. I didn't admit it openly that night, but I had plans, big plans, cruising plans. Ones that included the whole tamale: tropical waters, vibrant cultures, and someone to share endless sunsets with. Unfortunately, responsibilities, financial limitations, and little time to tackle boat projects alone delayed my progress, as it does for many nautical daydreamers; but the most critical component was companionship. I wanted to take Sabrina out for that sail, but ironically, she later beat me to it.
The following week Sabrina met her future fiancé Kristian Beadle through mutual friends at UC Santa Barbara. Kristian owned a 42ft trimaran and ran boat charters to the Channel Islands, which quickly evolved into a sailing co-op called the Green Coconut Run. After falling head over heels for each other, they invited me to join season two of their itinerary. Without much hesitation, I quit my job in 2016 and hopped onboard for the Panama to Galapagos leg.
Within the first few days, I couldn't help but notice how Sabrina and Kristian's bond not only survived in this environment but seemed to thrive in it. The co-op model they pioneered allowed them to distribute the weight evenly: everything from being on watch, to cooking in the galley, to new patrons hand delivering boat parts from the U.S., to sharing time with a constantly evolving crew comprised of one another's friends. They made cruising accessible and affordable to those with little to no sailing background, and in turn it alleviated some of the costs associated with cruising while getting to know their extended network in a non traditional manner. Contrary to my approach, they didn't wait until every project was complete before pushing off; but they pushed off, and that's what counts.
Days started to blur together, but were equal parts fun as they were work. We labored hard and played even harder. Solar panels broke, a new GPS unit needed installation, the galley sink had to be resealed five times over; all the while waves were begging to be ridden, reefs explored, and sails trimmed. Nothing tests a person quite like the delegation of daily tasks and project sharing, much less in a confined space. I began to realize that not only were we navigating the Pacific, we were navigating our own comfort zones.
After nearly a month, I was sure I'd return with answers. I figured I'd become more confident at anchoring, reefing at night, or plotting a course without the use of electronics. Perhaps I'd realize what I really wanted out of this whole sailing thing; if I wanted to keep my boat, sell it for something larger and more seaworthy, or perhaps live on land for a while. Instead, I've come back with a better understanding of my own ego, strengths and weaknesses, wants and needs, even insecurities I didn't know existed. I loved my boat again, and no longer resented it for what it wasn't.
I could go into detail about the things we saw on that trip, people we met, or experiences we shared, but any true sailor knows that's not the point. I sail to become better from it, and was reminded how important human relationships truly are. Everything from helping out in the galley when it's not your turn to cook, to heating up shower water for your friends before they surface from a dive, to morning hugs no matter the mood you're in. Cruising is a lifestyle that demands camaraderie, respect, equality, and patience, and it's not a venture easily achievable by yourself. S/V Aldebaran taught me that "someone to share endless sunsets with" is a complex desire, and that it doesn't have to mean a significant other. Sometimes it's your best friend, sometimes it's a dog, sometimes it's a family member, or sometimes – a cooperative of likeminded sailors.

Lauren de Remer enjoys rock climbing, sailing and currently resides on her 1970 Cal 2-30 sailboat alongside a border collie coincidentally named Buoy. Read more about Lauren here.