For anyone who's experienced an accidental jibe—with the boom whipping across the cockpit at dangerous velocities—the benefits of using a boom brake or jibe preventers will be obvious.
These simple rigging systems are easy to set up and can reduce some of the risks associated with downwind sailing.
Boom strikes can result in crew members being seriously injured or thrown overboard. According to a German study, boom strikes were identified as the most common cause of sailing injuries overall.
Uncontrolled jibes are also hard on your boat. Boom brakes can reduce stress on the rigging and can prevent breakages and material damage.
For these reasons, we invested in a Dutchman boom brake to take on our bluewater sail across the Pacific—and I'm so glad we did!
Over 13,000 nm (most of it downwind), we didn't accidentally jibe once. Our boom brake was part of the reason, often buying us precious seconds to make a course correction when our mainsail began to backwind.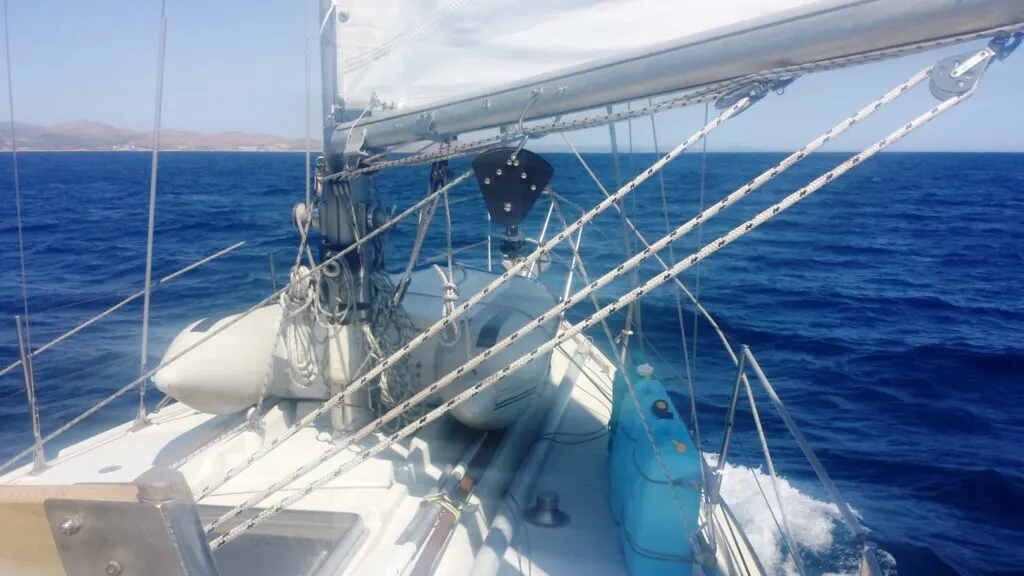 This post contains affiliate links. If you purchase through certain links, we'll earn a small commission. Opinions are 100% our own.
So, why doesn't everyone have a boom brake on their boat? Well for one, it's an additional line to manage (and some may see it as more clutter on deck), but mostly I think it's because they can be so expensive.
Boom brakes can be pricey. However, there are plenty of affordable options, especially if you have a small to average-sized cruising boat.
You can also build a DIY preventer with a bit of line and a few blocks for next to nothing. I've included instructions on how to rig a boom preventer at the end of this post.
So, let's start by diving into your options.
Boom brake vs preventer
The terms boom brake and preventer are often used interchangeably but there's an important difference between the two.
Preventers
A preventer stops the boom from rapidly swinging across the boat's centerline. At its simplest, a boom preventer setup might consist of a line that runs from the end of the boom to a point on the deck forward of the mast.
One of the major drawbacks of a preventer is that it has to be released and resecured every time you jibe or change the point of sail. If you accidentally jibe and don't release the preventer quickly enough, it can lead to excessive heel and a potential broach.
Boom brakes
A boom brake is a type of preventer that slows the boom as it crosses the centerline so that the jibe occurs in a more controlled fashion.
The main advantage of a properly tuned boom brake over a static preventer is that the boom isn't kept in a back-winded position in a gybe. Instead, the boom brake slowly allows the boom to cross to the other side
The level of braking effect can be adjusted either by tensioning a brake line or by changing how the brake line runs through the brake.
There are three types of boom brakes:
Friction path boom brake
This is the simplest type of boom brake. The friction path boom brake is attached to a mid-point on the boom and the brake control line runs port to starboard, through the brake.
You can adjust the desired level of fiction by changing how you run the brake line through the brake.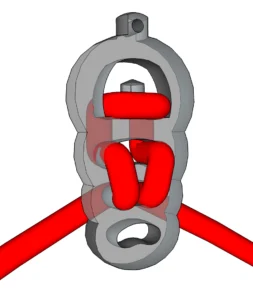 Pros:
More affordable
No moving parts
Cons:
Requires going forward to adjust the friction on the brake when wind conditions change or when you change your mainsail area (e.g., reefing).
More challenging to tune the tension
Brands:
$60
The Capt' Don boom brake is by far the most affordable boom brake on the market. It's made from 14mm polished stainless steel and reportedly makes for easy installation. For the cruiser on a budget, this simple and robust boom brake will likely fit the bill.
One potential limitation is that it's not meant to be used as a preventer and should only be rigged with enough tension to slow the boom travel.

$311.99
The Gyb'Easy boom brake is more expensive though it comes with Wichard's proprietary Gyb'Flex 16m line and a mounting shackle. It can be used on mainsails with less than 430 sqft (40 sqm) in sail area.
Drum boom brake
Drum boom brakes have a fixed cylinder or drum. The brake line runs from port to starboard and is wrapped around the drum. The more wraps around the drum, the more friction is produced.
Pros:
Easy to tune the tension from the cockpit
No moving parts
Cons:
Must rerun brake line and add/remove wraps to adjust the maximum amount of friction
Expensive
Brands:
There used to be a few drum-style boom brakes on the market including the Fleming Gybomatic and Heinson. These two no longer seem to be available (at least online). Currently, drum boom brake options include:
$439 for Walder 203
Walder boom brakes come in a range of sizes. Their Walder 203 model costs $439 and is rated for boats 30 to 39 ft (9 to 12 m) in length with main sail areas of less than 450 sqft (42 sqm) They're available in three finishes (aluminum, black, and titanium) and come with a 10-year warranty.
$$$
The Scott Boomlock, made by Sailspar, has been called "The Rolls-Royce of boom brakes" and it doesn't have a published list price, both of which would suggest that it's a pretty premium option. One of its unique features is a separate line that can be used to lock the boom in different positions without changing the tension of the brake line. It also slides neatly into the track on the underside of the boom (rather than hanging like a pendant).
Adjustable sheave brake
An adjustable sheave brake uses two static sheaves and one adjustable sheave to tension the brake line. The main advantage of an adjustable sheave brake is it's very easy to adjust the tension for a wide range of wind conditions.
Pros:
Easy to tune the tension from the cockpit
Easy to adjust maximum friction with knobs on the boom brake for a somewhat wider variety of wind conditions
Cons:
Moving parts (though we never had an issue with performance or breakage)
Expensive
Brands:
$492 for Dutchman 500/500B
The Dutchman Boom Brake, made by Dutchmar, is unique and the only adjustable sheave-type brake. It comes in three sizes with the 500/500B model being designed for 30 to 45 ft (9-14m) boats and a maximum of 500 sqft (45 sqm) sail area.
Tension is controlled from the cockpit with a brake line. The maximum friction can be adjusted with knobs on the boom brake itself (though after the initial setup, we rarely touched them).
Under full tension, it worked like a preventer. With the tension off, the boom swings freely. Of course, it can be set for any degree of tension in between.
We found our Dutchman Boom Brake very easy to install and use. We bought it second hand and in three years of bluewater sailing and near-constant use, we never had an issue.
How to rig a boom preventer
Rigging a boom preventer is pretty straightforward. It requires line and a couple of blocks.
Loop line to the outboard end of the boom with a long bowline. Make the loop long enough that you could undo the bowline without having to bring the boom to the center of the cockpit.
Attach a turning block to a strong point on the deck forward of the mast (e.g., pad eyes, toe rail, anchor roller). When choosing the forward attachment location, keep in mind that the preventer will be strongest when the brake line runs perpendicular to the boom.
Run the line from the end of the boom forward through the block and back to the cockpit where it can be trimmed with a cockpit winch and secured on a cleat.
[Optional] Repeat the first three steps on the other side of the boat.
If you do not add the second boom brake line, a crew member will have to go forward and rerun the preventer line every time you jibe. You can avoid this by running two lines to the boom, one on each side of the boat. Simply tension the windward line and leave the leeward line lazy. When a jibe is made, release and take up the tension on the new side.
You'll find there are lots of deck configurations for jibe-preventer rigging, and designs that can improve rope management, deck access, or ease of use. For example, some gybe preventers attach to the mid-point of the boom and others use pendants that are permanently attached to the boom.
I highly recommend experimenting with preventers and boom brakes. For newer sailors, they can take some of the scariness out of gybing, and for experienced sailors, they can add peace of mind.
May the wind always be at your back (and your jibes always be controlled).
Fiona McGlynn is an award-winning boating writer who created Waterborne as a place to learn about living aboard and traveling the world by sailboat. She has written for boating magazines including BoatUS, SAIL, Cruising World, and Good Old Boat. She's also a contributing editor at Good Old Boat and BoatUS Magazine. In 2017, Fiona and her husband completed a 3-year, 13,000-mile voyage from Vancouver to Mexico to Australia on their 35-foot sailboat.