Considering making the switch to an electric boat motor? With electric vehicles now commonplace on the roads, it's no wonder so many boaters are curious about electric boats.
While electric boat motors have been around for a while, in the last several years the technology has taken huge leaps, resulting in more powerful motors, longer-lasting batteries, and ultimately more options for recreational boat owners.
Today, many types of boats can be outfitted with an electric propulsion system including pontoon boats, sailboats, jon boats, powerboats, fishing boats, yachts, and trawlers. If your boat's combustion engine is in the range of 1 to 135 hp (.75 to 100 kW), you should be able to find an electric substitute.
While electric boating hasn't gone mainstream—it's estimated that close to 2% of recreational boats are electric—it's still a great time to be thinking about making the switch, particularly if you own a tender, sailboat, or boat on a green lake where combustion engines are prohibited.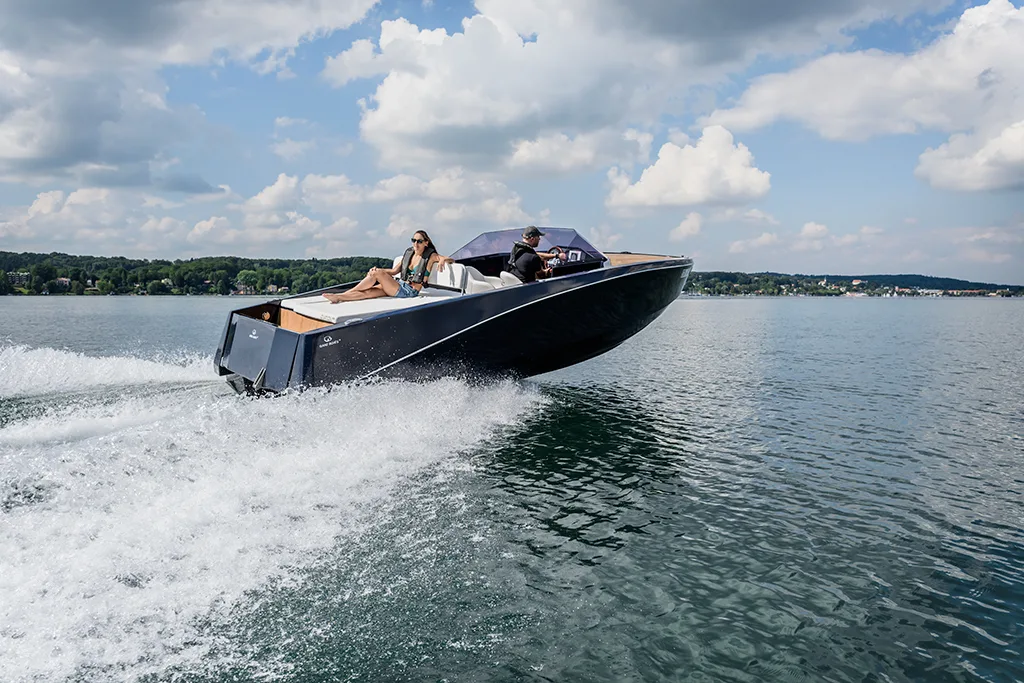 Benefits and drawbacks of electric boat motors
Benefits
Electric marine motors offer several advantages over internal combustion engines:
They're completely silent.
No noxious fumes or smelly exhaust gases to deal with.
Instant torque. Electric propulsion provides instant torque, giving you better maneuverability and more consistent speeds in choppy conditions.
Lightweight. An electric setup (including motor, batteries, and generator) typically weighs less than its diesel counterpart.
No fuel cost. Charging an electric boat may cost a couple of dollars per charge.
Easy to maintain. Imagine the maintenance on an outboard with no gas, spark plugs, or oil! Electric motors are simple, more reliable, and virtually maintenance-free.
Renewable power. Once you've gone electric you can get power from renewable sources like wind generators and solar panels.
Better for the planet. Electric marine motors don't produce water pollution or produce harmful emissions like carbon dioxide (CO2), nitrogen oxides (NOx), and hydrocarbon (HC).
Drawbacks
Range. The greatest drawback of electric boats is their limited range, which is often measured in the 10s of miles. Range is limited because batteries don't have the same energy density as fuel — they can't provide the same energy, pound-for-pound as a tank of gas. A good battery monitoring system, one that displays the remaining range in real-time, can help boaters manage energy consumption and ease range anxiety. For those who want to go farther afield, hybrid propulsion may be a better option.
Upfront cost. This new technology isn't cheap. For example, a small electric outboard boat motor may sell for two-and-a-half times the cost of a gas outboard. However, prices are expected to come down as the industry reaches scale.
Types of electric boat motors
Electric outboard boat motors
Some of the first electric outboards to hit the recreational boating market were smaller electric motors, typically used as trolling motors on fishing boats.
Today, it's possible to buy far more powerful electric outboard motors in the 1 to 80 hp (.75 to 60 kW) range, with ever more powerful versions hitting the market each year. In 2022, Norwegian start-up, Evoy launched the world's most powerful outboard to date, the 225kW Storm, a 300-hp beast of an electric outboard!
The range on electric outboard boat motors varies dramatically depending on your boat, total weight, propellor, and battery capacity.
The range also depends on how fast you want to travel. If you go slowly you'll have a much greater range.
For instance, at a slow speed (5 knots) Torqeedo's Deep Blue 50R, a 50 kW motor (80 hp equivalent) with a 40 kWh battery, has a listed range of 33-100 nm. But at full throttle (20-25 knots), the listed range drops to 16-20 nm.
To get a better sense of what range to expect on your boat (at both low and high speeds), you can look at the manufacturer's website. See our list of electric outboard brands below.
One of the great things about electric outboards is that they can use renewable power sources. So, for instance, you could plug your boat into a portable solar panel while picnicking and get an extra boost for the trip home.
Some electric outboard boat motors can even generate power! Motors with hydro regeneration capabilities can charge the batteries while the boat is being towed or under sail.
While hydro regeneration is a fairly new feature for electric outboards, some manufacturers, like EPropulsion, are offering it across their outboard product line.
Key features of electric outboard boat motors
Each electric outboard motor brand has slightly different standard offerings and add-on features. Here are some of the key features and options to look for.
Waterproof. Some electric outboards are fully sealed and designed to withstand immersion
Remote controls. Choose between tiller and remote throttle controls
On-board computers. Some electric outboards come with chartplotter connectivity, navigation functions, sonar, GPS anchoring, and autopilot features
Built-in or stand-alone batteries. Some of the smaller motors come with built-in batteries, while the larger ones have separate battery packs
Battery monitoring and tracking systems that calculate and display the remaining range in real-time
Shaft length. Electric outboards come in both short and long shaft lengths to accommodate a variety of applications.
Hydro regeneration capabilities
Electric outboard manufacturers
These electric outboard boat motor manufacturers (listed in alphabetical order) range from small startups to large companies and serve the North American market.
If you're looking to learn more about what each of these companies offers (and how they compare) I'd highly recommend checking out the Plugboats' electric outboard guides and directories. Jeff Butler, the editor at Plugboats has done a great job of compiling motor specifications from across the market.
Bixby
Headquartered in San Diego, California, Bixby makes a small electric motor system for kayaks, inflatable boats, canoes, and paddleboards.
Elco
Elco has been building electric motors for 125 years and counts the likes of Henry Ford and Thomas Edison among their customers. Their award-winning electric marine motors range from 5 to 50 hp. The company is based in Lake George, New York, and its electric motors can be found on boats around the world.
Flux Marine
Flux Marine was founded by mechanical engineering Princeton grads and offers three outboard models—a 40 hp, 70 hp, and 100 hp. In 2021, they won an award for the best new green product at the Newport International Boat Show.
EP Carry
Joe Grez, a consumer product developer from Washington, invented the EP Carry, a compact, ultralight electric outboard system because he was concerned about exposing his young daughter to the carbon monoxide (CO) emissions produced by gas outboards.
The EP Carry retails for $1,600 and is a great size for small vessels like dinghies, canoes, inflatable boats, and kayaks.
ePropulsion
ePropulsion, based in Guangdong, China, manufactures 3 to 9.9-hp electric motors for sailboats, fishing boats, as well as dinghies and tenders. They all come with hydro regeneration capabilities.
Mercury
Mercury Marine launched the Avator 7.5 electric outboard (3.5 hp equivalent) in early 2023. The leading outboard manufacturer is currently developing more powerful 20e and 35e models which it plans to release later this year.
Newport
In 2023, Newport, a well-known US-based inflatable boat manufacturer, launched three small outboards ranging from 1.8 to 3 hp.
Minn Kota
If you're into fishing, you're probably familiar with the Minn Kota name, derived from MINNesota North DaKOTA, prime fishing country where the company has its roots. They introduced their first electric trolling motor back in 1934 and they've been making them ever since.
Pure Watercraft
Pure Watercraft was founded by CEO Andy Rebele in Seattle in 2011. Their 25 kW (50 hp) motor starts at $16,500.
Ray Electric Outboards
Ray Electric Outboards is a 3rd generation family-owned business based in Cape Coral, Fl. They manufacture one outboard model that can be operated at different power ratings ranging from 10 to 22 hp.
Stealth Electric Outboards
The 50 and 75-hp Stealth electric outboards were developed by Scott Masterston of Houston, Texas.
Torqeedo
German manufacturer, Torqeedo, has been leading the propulsion industry for years and sells some of the best e outboard motors in the 1 to 80-hp range
Vision Marine Technologies (formerly The Canadian Electric Boat Company).
Based in Quebec, Canada, Vision Marine Technologies has been in the boating industry for 25 years and produced some very innovative electric boats. In 2021, they launched E-Motion 180E, one of the most powerful electric outboards on the market.
Electric inboard boat motors
Today's electric inboard motors can provide anywhere from 3- to a whopping 330 hp (2 to 246 kW) and are used in a range of applications from heavy displacement vessels to fast, planing powerboats.
Similar to outboards, the range on electric inboard engines will vary based on your boat, load, battery capacity, and boat speed (among other things).
However, with an inboard electric boat motor, you have the option of a hybrid motor which can significantly extend your range. We'll discuss the pros and cons of hybrid boat motors later in this post.
Sailors may also want to consider choosing an inboard electric motor with hydro regeneration capabilities. These electric power motors can charge the battery while the boat is under sail.
DIY electric inboard boat motor conversion
One way to save money on an electric inboard is to do the installation yourself. There are a few DIY electric inboard boat motor conversion kits available on the market.
I've spoken with a few sailors who've had great success replacing their inboard diesel engines with these electric boat motor conversion kits from Thunderstruck-EV, an electric drive manufacturer in Santa Rosa, California.
Key features of electric inboard boat motors
Each brand has a slightly different set of electric inboard motor options. Here are some of the key features and options to look for.
DIY conversion kits
Battery monitoring and tracking systems that calculate and display the remaining range in real-time
On-board computers and touchscreen display
Waterproof system components
Hydro regeneration capabilities
Electric inboard manufacturers
Elco
US manufacturer, Elco Motor Yachts, has been building electric motors for over 125 years, having gotten their start in 1893, supplying electric boats for the Chicago World's Fair. They have seven inboards ranging from 6 to 200 hp.
Electric Yacht
Electric Yacht is a US supplier focused on providing plug-and-play electric motors for DIY installations on sailboats. Their electric propulsion systems range from 10 to 30. They've had over 450 installs in 10 years of production.
Oceanvolt
Oceanvolt is a leader in regenerative systems and their electric inboard motors are popular among sailors. They offer shaft drive systems ranging from 6 to 60 hp.
Torqeedo
Torqeedo, a German manufacturer, is the world's leader in electric boat motors. They have two lines of inboards, one for displacement boats and another for fast planing boats. Their Deep Blue inboard systems range from 25 kW to 100 kW (40 to 135 hp)
Hybrid systems
Hybrid systems combine an electric motor and combustion engine, so you can cruise in silence (but know you've got enough gas to get home). These systems offer many of the benefits of pure electric motors, without the limited range.
If you want additional power for onboard luxuries like air-conditioning, hybrids can also provide a significant increase in house-side fuel efficiency.
The downside to any hybrid solution is that the systems are far more complex. Not only do they require more equipment, but, for an optimized system, you'll need highly sophisticated software to manage multiple power sources and switch back and forth between diesel and electric.
Unsurprisingly, the increased complexity adds cost, making hybrids less economical than either a conventional or pure electric install.
Serial vs. parallel hybrids
As with cars, there are two types of hybrid systems: serial and parallel. A serial hybrid uses a generator to power a large electric motor connected to the drive shaft. Whereas, a parallel hybrid has both a conventional combustion engine and a small electric motor connected to the drive shaft.
There are plenty of factors to consider when choosing between a parallel and serial system. Marine mechanics and electrical expert, Nigel Calder, does a great job of explaining serial and parallel hybrids in detail.
In general, serial systems may be a better fit for boats that can get most of their propulsion energy from renewable sources (e.g., a sailing catamaran). Whereas, a parallel system makes more sense on boats that regularly require sustained propulsion (e.g., Greenline's power yachts).
Key features of marine hybrids
Parallel and serial hybrid options
Integrated energy management systems
On-board computers and touchscreen display
Hydro regeneration capabilities
Marine hybrid manufacturers
Elco Motor Yachts
Elco manufactures serial, parallel, as well as a combined serial-parallel system. Their systems can be used on sailboats, trawlers, yachts, and boats up to 85′ feet.
Hybrid Marine Ltd.
Hybrid Marine sells parallel hybrid systems in the 10 to 230 hp range. Beta, John Deere, and Yanmar's hybrids all incorporate Hybrid Marine technology.
Oceanvolt
Finnish manufacturer, Oceanvolt, offers serial hybrid systems for both sailboats and powerboats.
Torqeedo
Torqeedo makes hybrid systems for yachts up to 120 feet as well as powerful motorboats.
Electric pod drive and sail drive
Several manufacturers are now making electric pod and sail drives. These electric drive systems are more efficient and can save space onboard.
Electric pod and sail drive manufacturers
Electric Yacht produces a range of sail drives that can replace diesel engines up to 75 hp.
propulsion sells a 3 hp, 6 hp, and 9.9 hp fixed pod drive.
Oceanvolt's sail drives range from 6 kW to 15 kW (8 to 20 hp)
Torqeedo sells a 40 hp and 80 hp equivalent electric sail drive as well as electric pod drives in the 6 to 25 hp range.
Batteries
While it's possible to power an electric motor with a conventional lead-acid battery, there are many good reasons to upgrade to lithium-ion batteries.
Their increased usable capacity is roughly double what you can get out similarly sized lead-acid battery. More battery capacity means more range—and hours of fun—on your electric boat.
They also charge more quickly and have a longer life span than lead-acid batteries. Unlike flooded lead-acid batteries, which need to be watered, lithium-ion batteries are practically maintenance-free.
The downside is that lithium-ion batteries are far more temperature-sensitive and can't be charged much above 113 F (45 C) or below 32 F (0 C).
They can also present major safety issues. Lithium-ion batteries can go into what's known as thermal runaway—a self-heating process that can cause the battery to catch fire.
Simply put, lithium-ion batteries are NOT a drop-in substitute for lead-acid batteries. They need to be specially designed for the marine environment and paired with a robust battery management system.
Electric motor manufacturers often provide complete solutions (including motor, batteries, and battery management system). It's a good idea to work with a manufacturer with extensive marine experience and an ABYC-certified technician on any installation.
The other catch is that lithium-ion batteries cost two to four times as much as lead-acid batteries. However, the increased capacity and longer life span may make lithium batteries a better value option over the long run.
Ready to catch the electric boating wave?
With ever more powerful and feature-packed electric options launching each year, it's an exciting time to be in the market for a new motor or engine. If you have any doubts about whether an electric boat motor is right for you, head to your local boat show and see, first hand, what all the buzz is about.
Fiona McGlynn is an award-winning boating writer who created Waterborne as a place to learn about living aboard and traveling the world by sailboat. She has written for boating magazines including BoatUS, SAIL, Cruising World, and Good Old Boat. She's also a contributing editor at Good Old Boat and BoatUS Magazine. In 2017, Fiona and her husband completed a 3-year, 13,000-mile voyage from Vancouver to Mexico to Australia on their 35-foot sailboat.