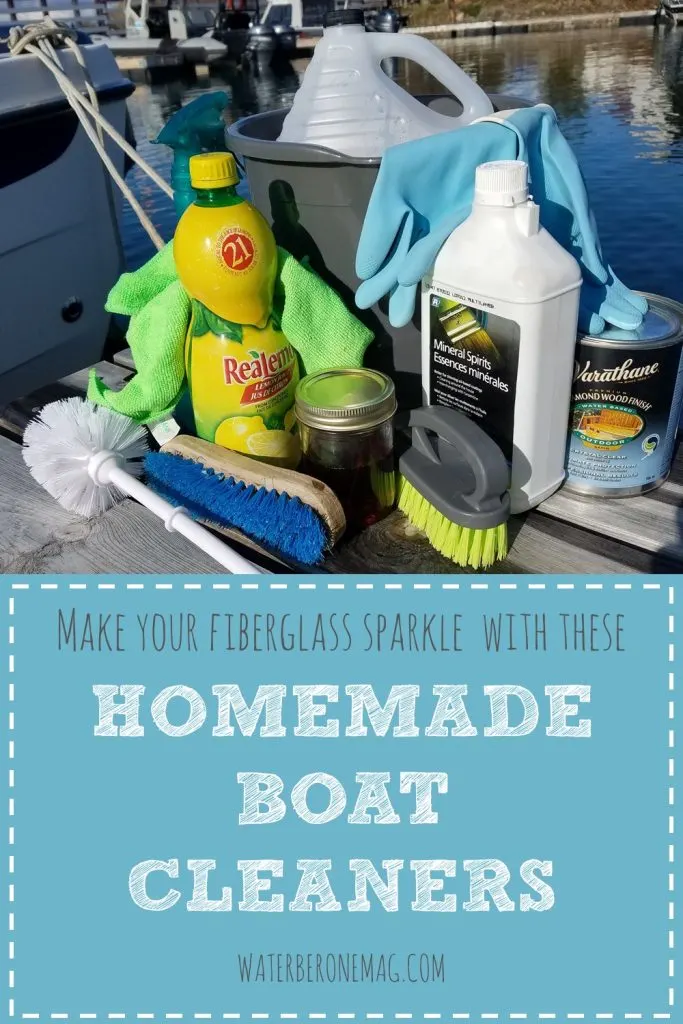 These easy DIY boat cleaners only cost a few cents to make.
Homemade boat cleaners are more affordable, more environmentally friendly, and work just as well as commercial cleaners.
Over five years of living on a boat, I gradually ditched store-bought boat cleaning products and made my own. These boat cleaners are easy to make – you can whip up a batch in less than a minute – and most of the ingredients can be found in your kitchen.
Making your own homemade boat cleaners is also a great way to save space in the galley. There's no need to devote precious storage space to an arsenal of specialized cleaning solutions when you can simply make your own.
Here are my favorite homemade boat cleaner recipes for cleaning fiberglass boats above the waterline. If you're interested in boat bottom cleaning, we've covered that in another post.
Also, if you don't want to make your own DIY boat cleaners, there are some great green boat cleaning products that you can buy. The BoatU.S. Foundation tested several green cleaners and has some great recommendations.
Caution: – Don't use these products on an aluminum boat as some of the ingredients will cause corrosion. NADA Guides has some good tips on how to clean aluminum boats. Whenever applying cleaning solutions to your boat, it's always a good idea to first do a test patch on a small area in an inconspicuous place.
Some of the ingredients listed below are strong chemicals so always read the labels and take the appropriate precautions when making and using these cleaners.
HOMEMADE FIBERGLASS BOAT CLEANERS
Homemade boat deck cleaner
Sailors have been swabbing the decks for as long as they've been going to sea. It's a simple job and part of regular boat maintenance.
If you regularly rinse your boat you won't need boat soaps. You can also add a bit of vinegar to your bucket of water to help to remove water spots and brighten your gel coat. This solution also makes a great homemade boat hull cleaner.
Materials
1 bucket (5 gallons) of water
2 cups of white vinegar
Scrub brush or soft cloth
Application
Dip your brush in the vinegar and water mix and scrub the deck! Use a stiff-bristled brush for removing bird poop, dirt, and debris.
For cleaning the sides of your hull, apply the solution with a spray bottle and wipe in a circular motion with a soft cloth.
Rinse with clean water
How to remove rust stains from a fiberglass boat?
When water and elbow grease won't remove stubborn stains, it's time to up the ante. Low PH ingredients are great fiberglass cleaners and will remove rust stains (e.g., those ugly brown stripes running down from the anchor locker) and waterline stains (e.g., the yellow and brown tannin marks at your waterline).
I've found the best way to tackle these stains is to start with milder acids like vinegar and work your way up to using more aggressive acids like phosphoric acid. It works incredibly well and is probably my favorite homemade boat cleaner.
If you're looking to remove rust stains from a sail, check out our article on how to clean a sail.
Materials
An acid: vinegar, lemon juice, phosphoric acid.
Freshwater for rinsing
Application
Start with a gentler acid like vinegar or lemon juice and apply it to the stained area.
Let it sit for a couple of minutes and then rinse thoroughly.
For really tough stains, you may want to try a more aggressive chemical like phosphoric acid. Beware, phosphoric acid is a very strong chemical. You should always wear gloves, protective eyewear, and long sleeves and pants as well as follow the instructions on the bottle.
Dilute the phosphoric acid in water according to instructions on the bottle.
Apply with a rag or acid-safe brush and immediately rinse with water.
The stain should wash off. If this doesn't work you can experiment with less dilute mixes or longer application times. Be careful as you can bleach fiberglass surfaces if you leave the product on for too long or forget to rinse.
Boat water spot remover
Water spots are easy to remove with a bit of vinegar and water.
Materials
1 gallon of water
1 cup of white vinegar
Application
Mix the vinegar and water and pour into a spray bottle
Apply the mixture to the water stains
Wait a minute or two
Rinse and wipe clean. If it doesn't work, reapply and leave the mixture on for an additional couple of minutes. You can also increase the vinegar in the ratio of vinegar to water.
HOMEMADE BOAT VINYL CLEANER
Vinyl boat seats can take a real beating and are prone to mold and mildew. You can clean vinyl seats and remove mildew stains with this great cleaner made from natural ingredients.
We also have a recipe for removing mildew stains from Dacron sails.
Materials
1 cup of white vinegar
1 tsp of a natural dish soap made from plant-based ingredients
1 gallon of water
Application
Mix solution in a bucket or spray bottle
Apply to vinyl with a soft microfiber cloth
Rinse and let air dry
HOMEMADE STAINLESS STEEL CLEANER
The first time I saw rust on our stainless steel pulpit, I panicked. Wasn't stainless steel supposed to be, well, stainless? Fortunately, it was easy to remove with this technique.
Materials
2 tablespoons of baking soda
Water
White vinegar
Application
In a small bowl mix the baking soda with enough water to make a thick paste
Rub the baking soda paste onto the stainless steel using a cloth
Rinse off the paste with water
Dip a clean cloth in vinegar and wipe down the stainless steel to remove water spots
HOMEMADE BILGE CLEANER
Nobody wants a smelly, oily bilge, but lets be honest, bilge cleaning isn't much fun either. Here's how to clean your bilge with as little scrubbing as possible.
Materials
Biodegradable dish soap
Warm water
Application
Turn off your bilge pump (you don't want to pump out the bilge cleaner)
Pour warm water and dish soap directly into your bilge
If your bilge is shallow, it may be easiest to scrub by hand. If your bilge is deep and hard to reach, drive your boat around to help move the soapy water around inside the bilge. Keep a close eye on your water levels as the bilge pump is off.
Pump out the water with a shop vac or into a container. It's harmful to marine life (and often illegal) to pump your dirty bilge water into the lake or ocean.
If your bilge is very dirty, you may need to repeat this several times.
Remember to turn your bilge pump back on when you're finished.
CLEANING A MARINE HEAD
Cleaning your marine head will not only keep your boat interior smelling nice but will also reduce the chances of a plugged up or broken head (a worst nightmare for many boat owners).
When I first moved onto our boat I quickly noticed that the head bowl would develop a scale that was impossible to scrub away. I tried using CLR and other products to no avail.
Any head flushed with salt water will develop this problem. Uric acid and saltwater produce calcium scale in the head and discharge hoses. These deposits accumulate and can make it harder to flush and even block the head completely. Fortunately, it's an easy problem to fix.
Materials
2 pints of white vinegar
A splash of mineral oil
1 gallon of water
Application
Pour a pint of white vinegar into the bowl and slowly pump through such that the cleaning solution sits in the hoses.
Pour another pint into the bowl if you have scale in the bowl itself.
Let the solution sit for a couple of hours.
When you return scrub the bowl with a toilet brush (the scale should easily come off)
Flush with 1 gallon of fresh water.
Lastly, lubricate the pump by flushing a dash of mineral oil.
Do you have a favorite DIY boat cleaning tip or recipes for homemade boat cleaners? Let us know in the comments below.
Fiona McGlynn is an award-winning boating writer who created Waterborne as a place to learn about living aboard and traveling the world by sailboat. She has written for boating magazines including BoatUS, SAIL, Cruising World, and Good Old Boat. She's also a contributing editor at Good Old Boat and BoatUS Magazine. In 2017, Fiona and her husband completed a 3-year, 13,000-mile voyage from Vancouver to Mexico to Australia on their 35-foot sailboat.